The Height of Summer: New Plays from Williamstown Theatre Festival 2015–2021
Dominique Morisseau, Martyna Majok, Anna Ziegler, Harrison David Rivers, Sylvia Khoury, Bess Wohl
Methuen Drama
Released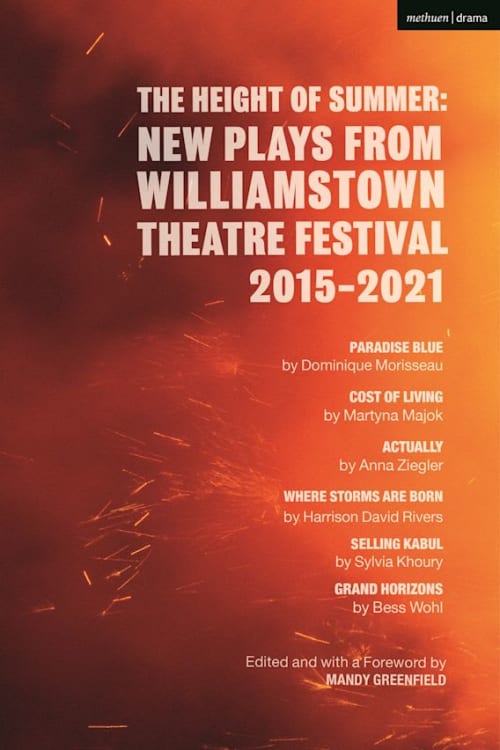 As the foreword from editor Mandy Greenfield, who was Artistic Director of the Williamstown Theatre Festival during the period when these plays were produced, makes clear, this annual summer cultural outing in Massachusetts is something special.
Repeatedly, she was able to commission top playwrights to write the kinds of plays that regularly won awards and frequently transferred on- and off-Broadway. The quality shines through in this selection.
Paradise Blue by Dominique Morisseau
The volume opens with what has the feel of an instant modern classic. Paradise Blue is the opening play in Dominique Morisseau's three-play cycle The Detroit Project and has strong echoes of August Wilson at his best, with a feminist strand bolted on.
Set in 1949, as Detroit's white Mayor is attempting to clear the slums of Paradise Valley, it explores territory somewhere between Jitney and Ma Rainey's Black Bottom.
Paradise Blue is a jazz club run by trumpeter Blue. Across two acts, we get a strong feeling for what the club means not only to its owner but also the unforgettable men and women for whom it both a home from home and a source of employment.
The piece s built around striking conflicts, as Blue has to decide whether to sell up, thereby destroying the community, or support his friends and that community.
This powerful play was so good that it was selected by New York's Signature Theatre for an almost instant revival and it can only be a matter of time before an enterprising producer brings it to a British stage.
Cost of Living by Martyna Majok
Cost of Living won the Pulitzer Prize and, following successful runs at Williamstown and off-Broadway, also proved successful on its London debut at Hampstead Theatre.
Unlike so many plays and particularly films, this piece looks at life from this perspective of the socially downtrodden and those with physical disabilities.
Two of the main characters are severely disabled, while the other pair, both working class, act as their carers.
Through this prism, Martyna Majok gives us an opportunity to understand the generally hidden challenges that millions of people in wealthy countries like the USA, and for that matter the UK, face every day.
Actually by Anna Ziegler
Once again, after wowing audiences in the States, Actually crossed the Atlantic and proved to be claustrophobically effective in the intimate studio space at Trafalgar Studios.
It is basically a modernised rerun of many of the themes explored by David Mamet in Oleanna.
At swanky Princeton, Jewish Amber spends a drunken, sexy evening with hot African-American Tom.
The aftermath is explosive, since in slightly contrived circumstances, the young woman accuses her lover of rape, leading to a tribunal that proves frightening for them both.
Following Mamet's lead, Anna Ziegler does her level best to present the lives and thoughts of each of the protagonists in a balanced fashion, with the intention of ensuring that sympathies shift from moment to moment.
Where Storms are Born by Harrison David Rivers
A deceptively simple play has hidden emotional depths.
Harrison David Rivers takes a standard dramatic situation but turns it into something very different.
Bethea Solomon (the wise surname seems far from coincidental) is a middle-aged black woman mourning the death of her elder son in Sing Sing.
In a series of short scenes, including some flashbacks to Myles's youth, she and her son Gideon try to come to terms with their loss, eventually finding the truth about a murder but little by way of catharsis.
At the same time, Gideon attempts to discover his own personality and sexuality, while also finding an accommodation with a loving but sometimes oppressive parent.
Selling Kabul by Sylvia Khoury
Selling Kabul was written after the first American evacuation of the Afghan capital but achieved coincidental topicality at the time of its Broadway transfer in the aftermath of the disastrous American withdrawal last year.
It focuses on translator Taroon, who has been callously left behind by his American employer and 'friend' but constantly expects an invitation to flee to safety in United States.
In the meantime, as his wife gives birth, the young man enjoys a kind of Anne Frank experience hidden in the home of his long-suffering sister and brother-in-law.
Both political and personal consequences of the long civil war in Afghanistan are brought out against the plot that veers between empathy and occasionally a little too much sentimentality.
Grand Horizons by Bess Wohl
There is a general assumption amongst all but their peers that octogenarians are doing little more than waiting to die.
While that might be the opinion of their two sons, even after 50 years of marriage and a move into sheltered accommodation, Bill and Nancy (belying any Oliver Twist connotations) are preparing themselves for something completely different.
The play opens as Nancy shockingly announces that she is planning to sue for divorce.
What follows is a comedy that explores their current condition, their past lives and a shared imagination that goes far past anything the selfish children can manage.
Reviewer: Philip Fisher