The Hollow Crown - Henry IV Part 2
William Shakespeare
BBC
Released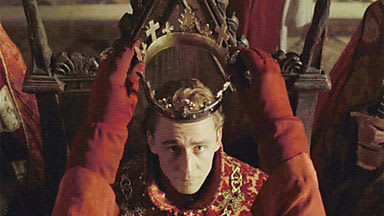 The combination of politicking and wisecracking continues in the second part of Henry IV, under the impeccable direction of Sir Richard Eyre.
There is rich comedy to be derived not only from Simon Russell Beale's Falstaff but also Julie Walters as the ever-wronged Mistress Quickly, who eventually takes a stand for womanhood following a highly amusing brawl.
In addition to Miss Walters, Maxine Peake taking the role of Doll Tearsheet and Paul Ritter playing drunken Pistol make fine foils for the ever lusty but perennially lazy Falstaff.
Despite his heroism on the battlefield at the end of Part 1, Prince Hal is still more intent on enjoying his youth than behaving in a manner fit for someone of his station. However, as the play develops, Tom Hiddleston's future King begins to show significant signs of the kind of responsibility that will be necessary to lead a divided country.
Even though Hotspur is dead, the conspirators in the North led by his late father are still keen to challenge Jeremy Irons's Henry IV. They are helped by battles on other fronts—in France and Ireland—which divide the ailing, insomniac King's loyal troops.
The power of film is perhaps most apparent in the scenes during which one of Henry's younger sons, John of Lancaster played by Henry Faber, ventures out into the beautifully photographed countryside to sue for peace.
His meeting with Nicholas Jones, portraying the Archbishop of York, and other representatives of the White Rose faction is impressively tense, with the opportunity to look right into the eyes of each of the key players to see which might be double-crossing any of the others.
Jeremy Irons really comes into his own in this episode, never more so than when the King is lambasting his eldest son practically from beyond the grave prior to the most touching of final reconciliations, in which Tom Hiddleston also plays a full part.
The depth of casting is demonstrated by strong performances from Geoffrey Palmer as a particularly humourless Lord Chief Justice and David Bamber, his polar opposite as a madly witty (or wittily mad) Justice Shallow.
Once again, this programme lives up to the high standards of its predecessors and bodes well for what is likely to be the best play in the series, Thea Sharrock's adaptation of Henry V.
The Hollow Crown comprises
Reviewer: Philip Fisher