The Lion, The Witch and the Wardrobe
C.S.Lewis, Adapted for the stage by Rupert Goold
The Threesixty Theatre, Kensington Gardens
–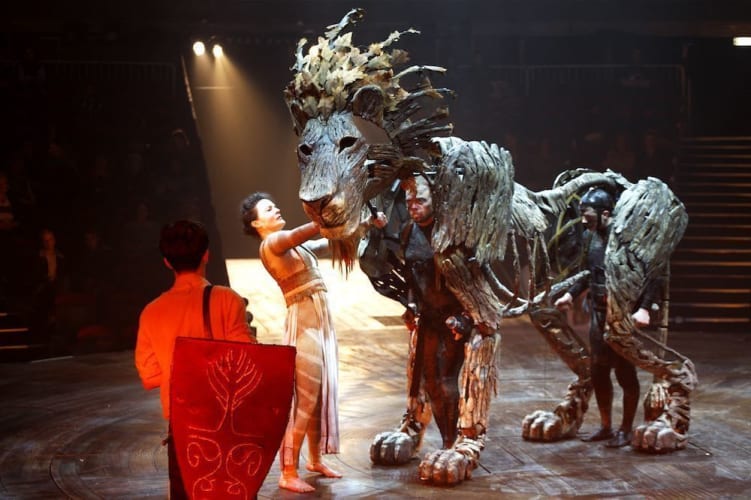 Disaster almost struck on the opening night of what became The Lion, The Witch and the Misbehaving Wardrobe.
Thankfully, if scary monsters couldn't put them off their stride, a sticky door was never going to spoil the brave efforts of four brave children to vanquish evil, let alone detract from the spectacle that characterised Rupert Goold's charming adaptation of CS Lewis's much-loved children's classic.
The Threesixty Theatre at the corner of Kensington Gardens is a wonder in its own right, having tardis-like expanding qualities to seat 1,500 viewers at every performance. Once inside, the big top has much more magic to offer above, below and around its circular stage.
The plot, which has some of the attractions of both Peter Pan (the last show to be staged in this space) and The Wizard of Oz, sees a quartet of siblings enter a wardrobe in wartime Britain and emerge in magical Narnia.
The fantasy has its dark side as the children and an assortment of friendly animals, particularly two beavers with tuneful voices played by Paul Barnhill and Sophie-Louise Dann, line up in battle with the forces of evil marshalled by The White Witch.
Rebecca Benson, who catches the eye as ultra-plucky, pint-sized Lucy, along with Peter and Susan (Philip Labey and Carly Bawden) supports the good guys. However, their mischievous and to be frank not very bright brother, Jonny Weldon's Edmund, is intoxicated by the creepy but seductive charms (and Turkish Delight) of the self-proclaimed Queen of Narnia.
The evening's star is Sally Dexter, who relishes this role. Her real competition comes from Aslan, the oversized Lion King, played by a large team including David Suchet's voice. The leonine articulation, created by puppeteer Max Humphries and the vision of designer Tom Scutt, will remind fans of Handspring's work on War Horse.
While the fight between good and evil is the core of the story, the 2½ hours will ultimately be remembered for the staging and Adam Cork's songs and music which add to the atmosphere, peaking when the drama really hots up.
However, the true highlights are Chris Randall's 360 3D graphics that at times take the breath away, never more so than on a treacherous ride through Narnia's icy wastes. These add to a series of epic effects with people flying and rising from the ground, spectacular props plus stilts, puppets and other really special effects, all courtesy of Scutt and his team.
Although some scenes and fiendish, sub-human characters ought to freak out the little ones, this show had obvious appeal for spectators of every age from virtual toddlers to their great grandparents. As such, and bearing in mind the enduring appeal of The Chronicles of Narnia, this visual delight should be a sure-fire hit.
Reviewer: Philip Fisher