The Little Match Girl
Direction and choreography Arthur Pita
Lilian Baylis Studio, Sadler's Wells
–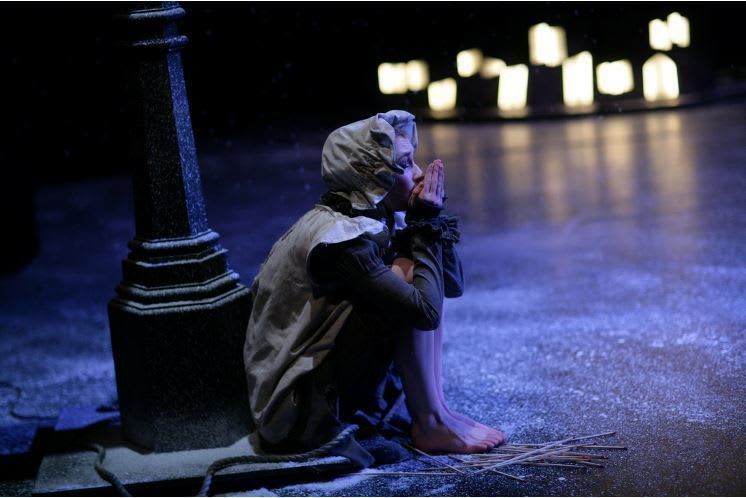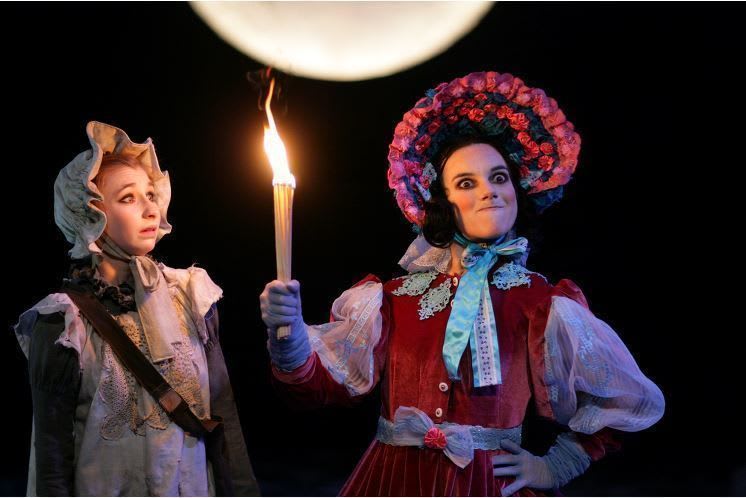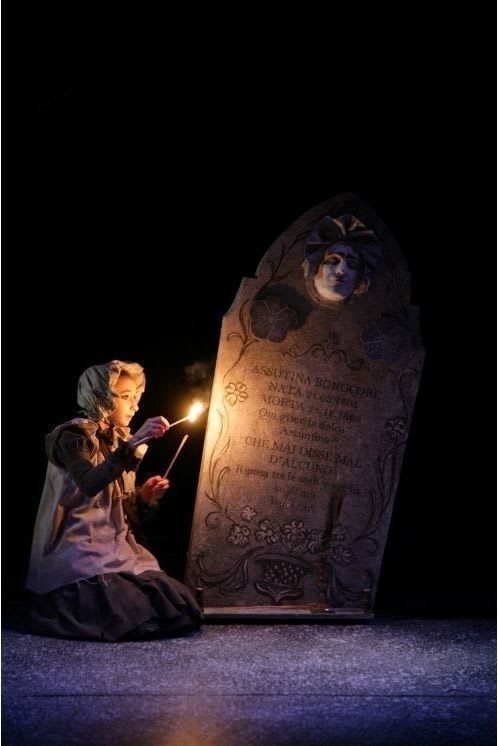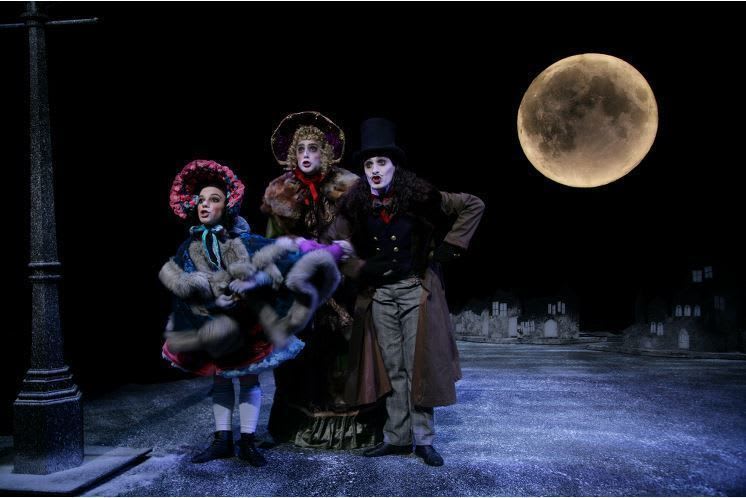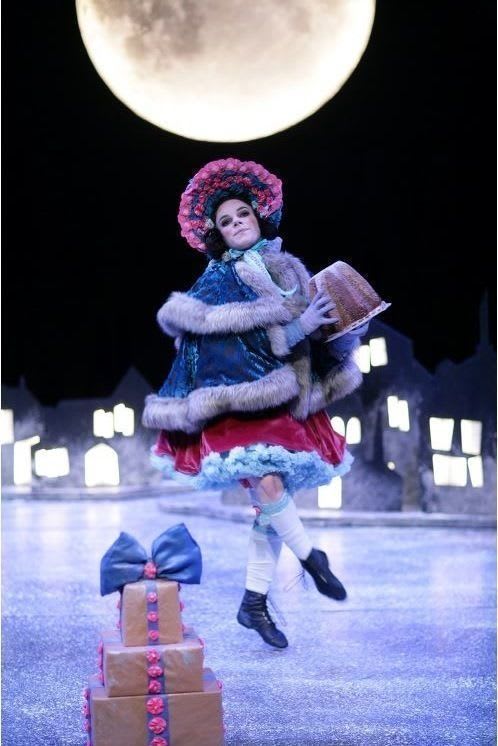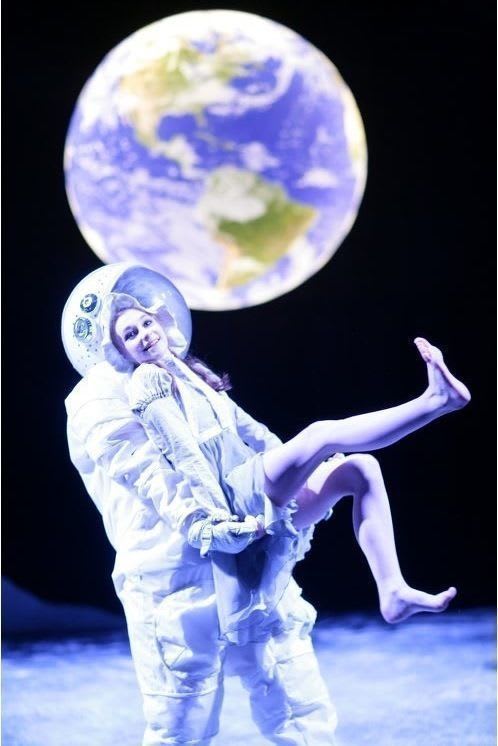 You mustn't miss The Little Match Girl for all the world—or the moon and the stars. Or frankly, for Frank Moon and his multitude of sounds: delectable live music on oud, guitar, hurdy gurdy, violin, and theremin.
Standing at the side, looking like Robert Helpmann in his Child Catcher top hat and Tim Burtonesque make-up, game for anything even dance, Moon is a subtle magician—his eloquent music spins the tale and breaks our little hearts with its dreamy soulful notes… I rode home humming La Luna.
Yes, this nineteenth century Danish tale is presented in Italian, though in Dickensian garb: multinational, inclusive, intertextual lyrical opera buffo cum dance theatre demands much from its performers. They rise to the commedia dell'arte occasion with joyful exuberance and enchanting comic panache.
It takes teamwork, vision and astute casting for something to be so good, so finely tuned and all of a piece: Yann Seabra's simple but witty costumes and set design (lamp post, moon, and rows of little houses dragged on to the stage like sleighs), Ed Yetton's lighting, Pita's direction and choreography.
A small cast of four dancers, three of whom take on several roles, are a pleasure to watch. They entice the row of schoolchildren behind me into awed expression. Ah and wow—I mentally join in with them.
For ages four and upwards, Pita's production magically transports me back to my childhood, when stories such as this helped me come to terms with the world around me.
In the imaginary town of Santo Stefano sul Tuscio, Fiammetta, the little match girl, ekes out her life selling matches for which there are no takers. Francesco the lamp man brings her moments of joy, but Artful Dodger bullyboys drive her away.
A rich Dickensian family, lanky mother, father a John Galliano (in his hey day) lookalike, and spoilt daughter out of Lewis Carroll, stuff themselves to the gills in grotesque silhouette play, but there's none for Fiammetta. No food, no room at the inn on this cold Christmas Eve.
She remembers Assuntina Bonocore (assumption and good heart) her grandmother, her Nonna Luna, and visits her grave where she leaves a couple of matches. Of course, we all know her grandmother beckons her to join her in heaven. Right?
Wrong. Via a silver ladder she sends her to the moon, from where she sees the earth below. A lunar module descends and a toy space buggy scuttles across the stage. Hank the huge astronaut appears and dances a weightless duet with tiny Fiammetta.
But he has to leave. She doesn't mind: happy lighting up the stars in the sky with her everlasting matches Fiammetta is not cold or hungry any more. No one can intimidate her; no hearts of stone can drive her away. She has found her place.
In the cosy Lilian Baylis studio Pita outshines his partner Matthew Bourne's Edward Scissorhands next door. And there's a cheeky moment when he has his two bullyboys Carletto and Franco scare off Fiammetta with bunches of long matches in their fists, which mimic Edward Scissorhands's mitts.
Corey Claire Annand, delicate and tiny—there really is nothing to her—in mob cap and fingerless gloves transferred to her bare feet, tugs at the heart with her gentle sweetness.
Light on her feet Valentina Golfieri as gluttonous brat, bully Carletto and girl selling lighters (supplanting matches, eh!) is outstanding—I loved her facial expressions: stuck-up, a teensy bit of shame flickers across her face momentarily, ultimately defiant.
All are outstanding. Karl Fagerland as astronaut, match boy, lamp man, and Clementina De Magistis Donnarumma—there are many tucked away in-jokes, which give The Little Match Girl its unexpected buoyancy.
And Angelo Smimmo—rich paterfamilias Fulvio Donnarumma and Nonna Luna (as well as passerby Don Arturo)—not only does he dance but he can sing and hold his note as a countertenor. Remarkable. See what I mean about casting.
But the treat for me—well it is all a treat—is Frank Moon in Futuristic space helmet performing centre stage on the mysterious theremin (named after its Russian inventor)—very 1910/20s space age.
Some of Pita's colleagues and former collaborators were in the audience—I sat next to Edward Watson on whom he created his award-winning The Metamorphosis (music by Frank Moon). Matthew Bourne was there to support him, too. Now if that doesn't give you a warm feeling … Buon Natale!…
A co-production with DanceEast Arthur Pita's adaptation of Hans Christian Andersen's poignant morality tale—a timely one in our shameful world of food banks—warms the cockles and touches the soul.
Reviewer: Vera Liber