The Little Prince
Adapted, directed and choreographed by Luca Silvestrini, music Frank Moon
Protein Dance Company
The Place
–

Listing details and ticket info...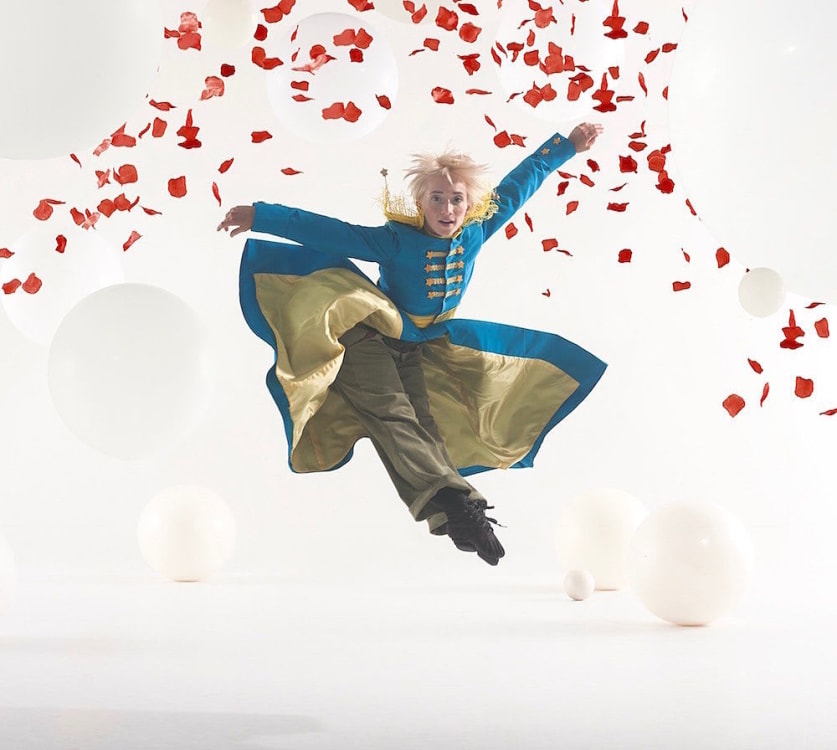 The Little Prince comes from a similar pedigree to that of The Little Match Girl (Lilian Baylis studio, Sadler's Wells): both are co-produced with DanceEast, world music for both is from the ever-impressive Frank Moon, Valentina Golfieri is performer in the later and associate producer on the former, and so on.
Yann Seabra provides costumes for both and, I must say, he excels with his wonderful 'Alice in Wonderland' fantasy creations here: I'm thinking the King with his tiered sequined crown and the Businessman with his pinstriped high priest hat with its digital clock. And his Garden of Roses has surely stepped out of some fashion plate mag.
Stylistically, the two shows are similar—there's even a Lamplighter in both, and the leads are both diminutive, childlike in stature—in execution and tone, too, if this one, by Luca Silvestrini, is somewhat softer. Stars are mirrors and the Lamplighter, who comes from a planet where a day lasts half a minute, blips them on and off (lighting design Jackie Shemesh). Another planet, the Prince telling the Pilot of his travels, has 44 sunsets in a day. So good to talk after being alone on his asteroid…
The dancers had an input in the devising and that investment shows. The cast of four, playing multiple roles, is excellent, each in their distinctive ways. Tonight, I see Kip Johnson as the Pilot (on other nights Karl Fagerlund Brekke from The Little Match Girl can be seen), Faith Prendergast as the Little Prince, Andrew Gardiner as Fox, Lamplighter and the Geographer (in planetary suit, magnifying glass attachment, his mortar board piled high with books), who has never travelled, and the multitalented Donna Lennard as the Garden of Roses, Business Man, Rose, Snake and King (five roles, phew!).
Antoine de Saint-Exupéry's 1940s much-loved and much adapted fable (I bet you all have a copy somewhere on your shelves), with its much needed moral philosophy, gently put, of love across differences, about time, is told simply in dance, speech, song, animation and multipurpose white globes that spin, bounce, open and are launchpads for Prendergast's cartwheels and musings.
The Prince comes from a tiny asteroid B-612, with three volcanoes, two active, one not, where he cultivates a vain and bossy Rose. He asks the Pilot to draw him a sheep—he needs a sheep to keep the weeds down—and the Pilot, not the best drawer, draws a box, which he says contains the sheep. The boy Prince says that's exactly right—child logic, which adults have lost… I beg your pardon, not all of us… "What is essential is invisible to the eye". "One sees clearly only with the heart."
Both are stranded in a desert with only enough water for eight days. The Pilot tries to mend his plane—paper plane. The Snake offers to despatch the boy back to his planet with her sting. Mortality is hinted at, the loss and value of friendship: when you get attached to things, taming the Fox for example, it's hard to part. All of life is here. But told with such verve and vivacity and animation (Daniel Denton's video design provides the sketched scenery) that one's spirits never fall.
Lennard's voice-throwing Garden of Roses, her number-fixated Business Man, queen of the desert Snake (costume fit for a catwalk surely) and her demented King who rules a planet with no people have a touch of a panto Barry Humphries about them and the Red Queen. And for some reason I see the outspoken painter Maggi Hambling...
She's the commanding standout for me, which is not to take away from the others... Prendergast is a delightful open-faced Prince with the wisdom and assurance of a child. Bearded Pilot Johnson appropriately flies her through the air, a tall foil to her tiny stature, and his voice is so laconically right.
In the end, the boy Prince succumbs to the Snake's promise of returning him home, if not in body then spirit. He falls backwards off a globe. Is he dead, has his spirit left and returned to B-612? There's some drama in that, but the serpent sting metaphor is deliberately underplayed, confusingly perhaps. Sadness lingers, immediately distilled by experienced performers flying paper planes at us. Rose petals fall. He is reunited with his Rose, I guess.
There's something for everyone, from 5 to 105 the blurb has it, and I'd agree with that. Only an hour long, The Little Prince does not outstay its welcome. I ask the teenager sitting next to me who she likes best, and she says the Fox—the sexy French Fox—Gardiner (with his array of accents) connects with the audience, there's even a saucy bit for those that can catch it. "Is this too close?"
Is this all the Pilot's hallucination? The Little Prince draws on Saint-Exupéry's own crash in the Sahara in 1935. Dehydration is a topic. Mirages can and do happen, but the Fox is taken from actuality, he did once raise a fox. Saint-Exupéry's wartime death / disappearance in 1944 is a mystery, there's much speculation still: now there's a tale as fantastical as The Little Prince's.
In 2020, The Little Prince tours the country. Look out for it.
Reviewer: Vera Liber