The Martha Graham Dance Company: House of the Pelvic Truth
Blakeley White-McGuire
Bloomsbury Publishing
Released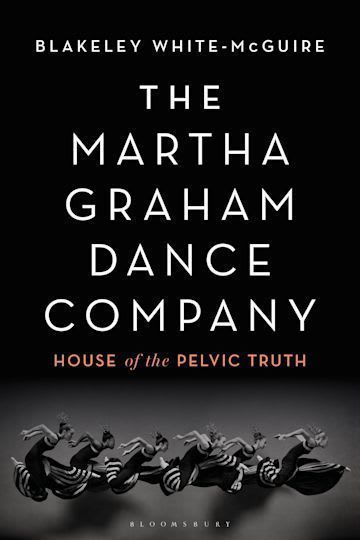 Researched and written during 2020–2021 lockdown (time put to good use…) The Martha Graham Dance Company: House of the Pelvic Truth by Martha Graham Company dancer and teacher Blakeley White-McGuire is a must for students and practitioners of dance.
I wish I'd had it when studying the tough Graham technique in the early 1980s (and Merce Cunningham technique, José Limón, and Erick Hawkins—her husband for a while, 1948–54—now his I liked the best). There are many books about and by Graham, needless to say, but this one takes us to the very core of her 'truth' from a contemporary perspective. Dance as revelation and "sacred legacy".
White-McGuire writes of personal experience, through her body ("movement never lies")—she has lived and studied Graham for twenty-six years—and gives a lot of space to interviews with past and present Graham acolytes. And to those that keep the flame burning thirty years after Graham's death—there are many. Who didn't she influence—Cunningham (one of her dancers, the original Preacher in Appalachian Spring), Alvin Ailey (you might like to check out a recent film out now about him), Paul Taylor ("I'm her rightful son"), Ohad Naharin, Maurice Béjart, and many more... Richard Alston, Pam Tanowitz, and Nureyev introduced her technique to the Paris Opera Ballet School.
Robert Cohan kept her flame burning at The Place. Only recently (November 2021) Yorke Dance Project did two Cohan tribute programmes at the Royal Opera House, both of which included her famous short Lamentation piece of 1930. There was also film of Lloyd Knight, one of Cohan's favourite Martha Graham Company dancers, and here he is interviewed by White-McGuire. The past brought into the present, the flame burning brightly. Amazing.
Only four chapters, 176 pages in total, with black and white photos (Baryshnikov and Nureyev in Appalachian Spring…), it is easy to read. We are taken through Graham's philosophy (Jungian), some of her works (she created 181 dance works, her last at the age of 96), the extant films of her work, her own influences (not least First Nation rituals and visual language, and Isamu Noguchi—his retrospective recently at the Barbican), her collaborators, the lineage that came after her. She was a formidable ("small in stature but large in presence") woman in her time (1894–1991) and remains so to this day.
The first chapter lays out Graham in a nutshell: her discipline, the music she commissioned (she didn't choreograph to music—so that's where Cunningham's chance comes from…), her refusal to perform at the 1936 Berlin Olympic ceremony or to segregated audiences.
Chapter two interrogates her work, words, and crucially emotion—the transformative and cathartic dance ritual—and the personal in her creations with quotes from her Blood Memory book. And the Japanese Zen—"quiet beauty speaks loudly". Apparently, Twyla Tharp was "obsessed with Martha".
Chapter three is about teaching and learning through the female form, from Graham's own body, from the female inside the patriarchal society—radically, she "anticipated the second wave feminism by twenty years". Her Greek dramas were naturally from the female perspective, women as subject not object. But her choreography was not gender-centric—so many men took up her baton. And she was inspired by William Blake and Rilke—now that's interesting.
Practitioners reflect on how empowering her work is, its profundity and spirituality, what it opened in them, how it saved one from injury. It's all about self-discovery but her technique is not set in aspic, and chapter four, the longest, "Endurance / Re-birth", gives us present day evaluations and practices. Does one simply preserve the canon or make new dances… Past and present students and artistic directors of the company explain what it means to them, and how to maintain the legacy and spread the word worldwide.
How does one pass it on to a new generation with different references and context, who may know the breadth of her work but not on their skins the times she lived through—many of her former dancers were lost to the AIDS epidemic. The historical vicissitudes of the 94-year-old company after her demise are revealed as well as the determination to retain the rights to perform her work—a court case.
Well, a diaspora does exist—she was a great builder of bridges. "A guru". It's all about the breath, her famous contract and release technique, and don't we need it now more than ever.
There's a bibliography and an index, I'm pleased to say.
Reviewer: Vera Liber