The Ritual Slaughter of Gorge Mastromas
Dennis Kelly
Royal Court Theatre Downstairs
–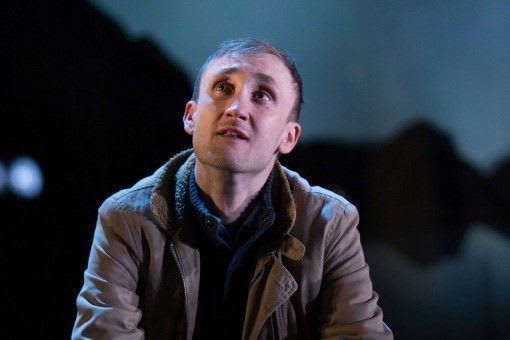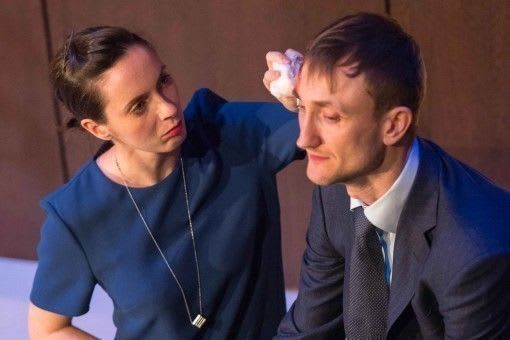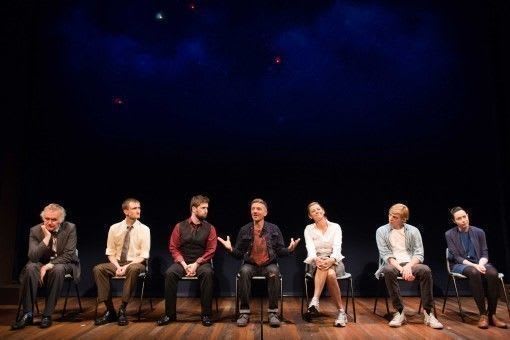 Vicky Featherstone's first full-scale piece as Artistic Director at the Royal Court was always going to excite expectations, as was the choice of playwright Dennis Kelly who wrote the book for Matilda the Musical.
Readers may remember that when she joined the National Theatre of Scotland, Miss Featherstone's debut was Gregory Burke's Black Watch, one of the finest plays of the last decade.
While The Ritual Slaughter of Gorge Mastromas may not have too much in common with that play, there is a quiet homage as the protagonist makes a life switch with an action-packed change of clothes lifted straight from the earlier production.
Tom Brooke's Gorge Mastromas is an everyman, possibly created to explore the state of the nation today, or at least a number of its strands.
The 2¾ hours fall into distinct sections. The first half hour is delivered by the seven actors seated on chairs facing the audience while sharing narration of the early years of a boy who could do no wrong.
The theme becomes "goodness or cowardice" as repeatedly Gorge (pronounced as if the "e" were not missing) fails to take the easy way out, thus showing the kind of moral grounding that might lead to martyrdom and beatification in the longer term.
Phase two sees him as the young sidekick of Martin, a self-made millionaire played with feeling by Alan Williams. When we enter the boardroom, Martin is facing ruin in the shape of Pippa Haywood's sharply-dressed, sadistic corporate raider.
Her ruthlessness is sadly believable, right down to the request that Gorge helps her to finish off his mentor as if the latter were some modern Julius Caesar.
Suddenly, the young man begins to see life differently and, instantaneously changes, inheriting Martin's mantle but also that of the asset-stripping venture capitalist, eventually stabbing her in the back in a form of poetic justice.
Having turned bad, in a fashion that inevitably brings to mind Enron, our anti-hero builds up riches beyond belief. At the same time he wins himself Louisa, a reluctant wife played with great conviction by Kate O'Flynn, primarily by having a breakdown.
After the interval we move on again, as Gorge retires from business and becomes the author of a best-selling book about an abused childhood.
This indirectly leads to confrontations with two family members not seen for decades. Gel, portrayed by Jonathan McGuinness, is almost the picture to Gorge's modern Dorian Gray.
A few decades on, Joshua James as the younger Pete also appears to haunt an old man now all too ready to succumb to life's vicissitudes.
The Ritual Slaughter of Gorge Mastromas features an outstanding performance by Kelly favourite Tom Brooke in the title role as a representative man who is more like four of them, such are the changes in his behaviour and personality from section to section.
The changes in theatrical style can look a little contrived, although they do add interest to the evening. At times, this is needed since there are a number of longueurs in a play that, lost due to be thought-provoking, would be much sharper for some judicious cutting.
Reviewer: Philip Fisher