The Ruling Class
Peter Barnes
Jamie Lloyd Productions
Trafalgar Studios 1
–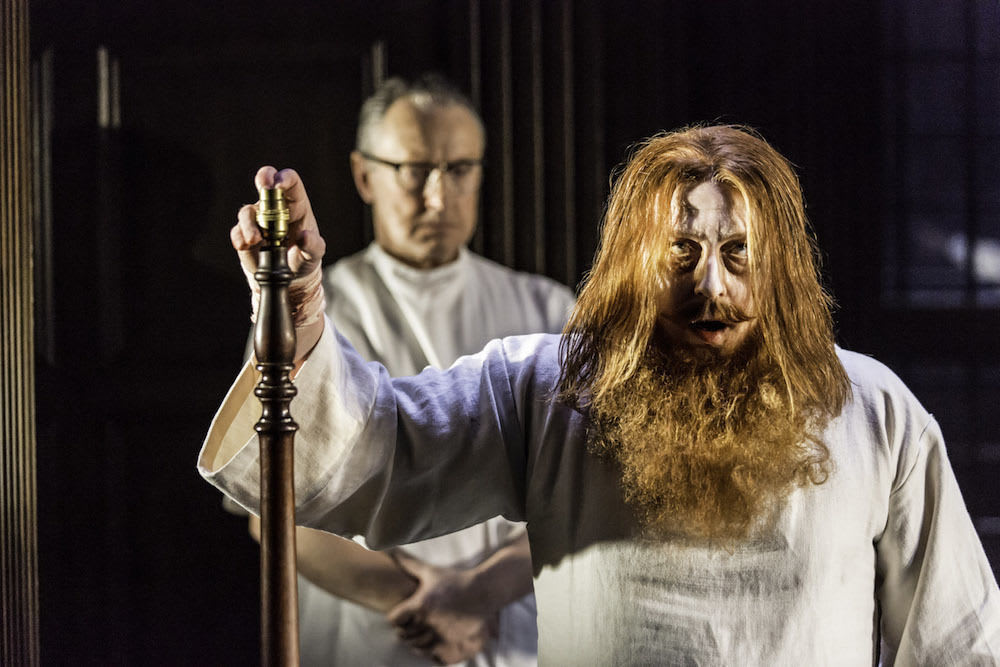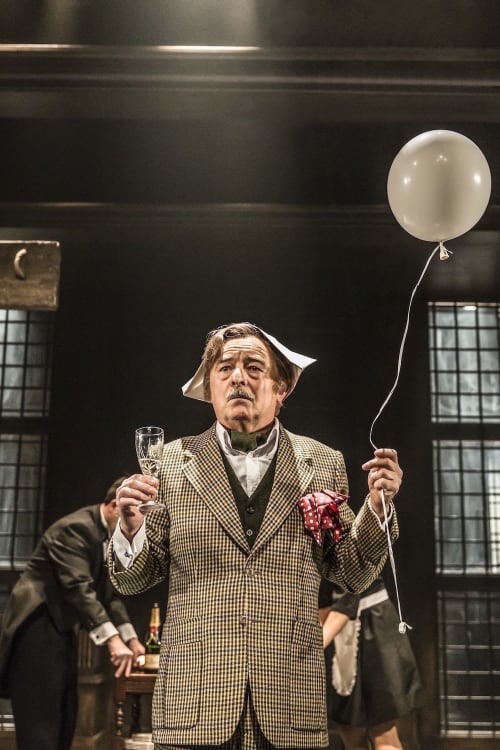 Peter Barnes has slipped out of the public remembrance remarkably quickly, given his writing skill and quirky sense of adventure.
The Ruling Class, written in 1968, is very much of its time and one imagines that it owes this revival to the opportunity it offers to a leading actor.
After his triumph as Macbeth earlier in the Trafalgar Transformed Season, X-Men's James McAvoy returns in a very different role as Jack, 14th Earl of Gurney, following in the footsteps of Peter O'Toole who starred in the film version.
Barnes's attitude to the aristocracy becomes apparent from the opening speech, proudly delivered by the 13th Earl before he dons a tutu and accidentally hangs himself while seeking the kind of perverse sexual gratification that the tabloids always seem to associate with the wealthiest in society.
Even he feared for his fourth and last surviving son, with some justification since Jack has spent the previous seven years as a voluntary inmate in a mental institution.
Early on, the signs are not good for McAvoy's Earl as he happily proclaims himself the Messiah following a natural pattern for a paranoid schizophrenic, the condition diagnosed by a rather neurotic psychiatrist played by Elliot Levey.
His family, who seem like cast-offs from Kind Hearts and Coronets or, in its current American musical form, A Gentleman's Guide to Love and Murder, include a Bishop, a lecherous Aunt, a witless cousin and a wicked, depraved uncle who sees a chance for his own progression.
Ron Cook is delicious in this last role and soon enlists the assistance of his lover, Kathryn Drysdale as an actress called Grace who is happy enough to humour the dotty rich for a chance at ennoblement.
This tale of the Gurneys is rarely predictable, with sanity and insanity drifting in and out with confusing regularity and even Jack the Ripper making an eerie appearance, greatly helped by designer Soutra Gilmour and lighting colleague Jon Clark.
While the critical and popular spotlight will undoubtedly focus on James McAvoy, who clearly relishes his opportunity to play mad with just a hint of Hamlet, director Jamie Lloyd has hand-picked a cast of comic character actors to die for.
In support, Joshua Maguire is the dim aspiring Tory MP and Serena Evans his sexed-up mother, while at times, even in this company, Anthony O'Donnell playing Tucker, the butler with an inheritance and a drink problem, threatens to steal the show.
All of this is fun but Peter Barnes very clearly had a desire to make his satire much more. From the outset, he pokes fun at that dying breed, The Ruling Class.
Not only does the playwright wickedly lampoon the individuals who inherited wealth if not brains through the family line, but goes much further.
Perhaps the most telling scene of all comes right at the end when the 14th Earl finally takes his place in the Upper House, accompanied by his fellow peers, every one of whom is so far past his sell by date as to resemble a corpse.
Peter Barnes has written a somewhat diffuse play that can be very funny and also politically astute and cutting. However, whether shrewd attacks on the class system of almost 50 years ago still have the power to draw in audiences today will only become apparent over the three-month duration of this run.

Reviewer: Philip Fisher