The Sleeping Beauty
Choreography Kenneth MacMillan after Marius Petipa, music Pyotr Tchaikovsky
English National Ballet
London Coliseum
–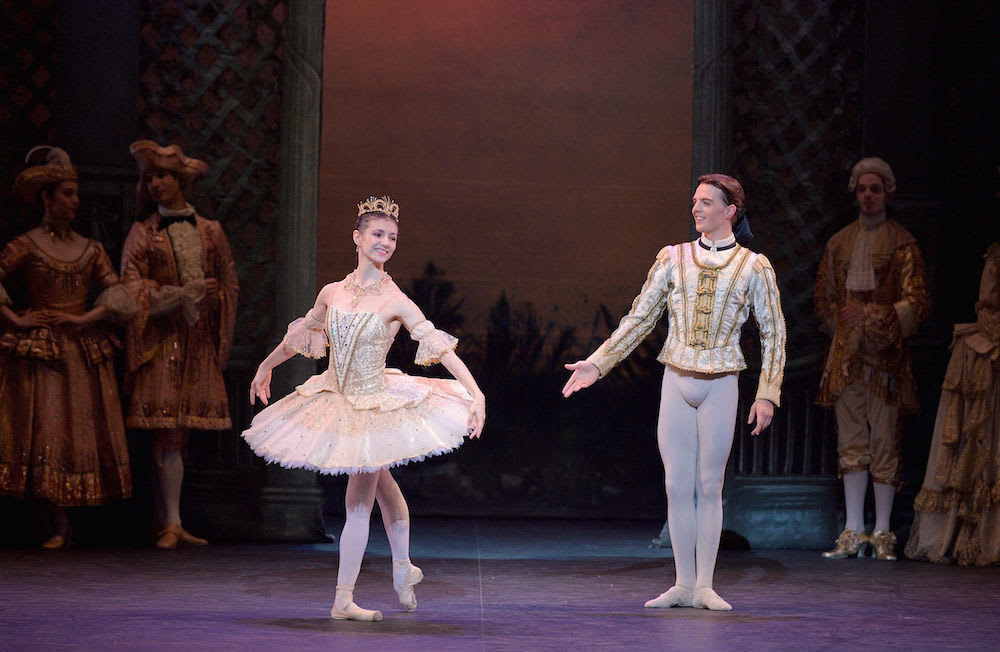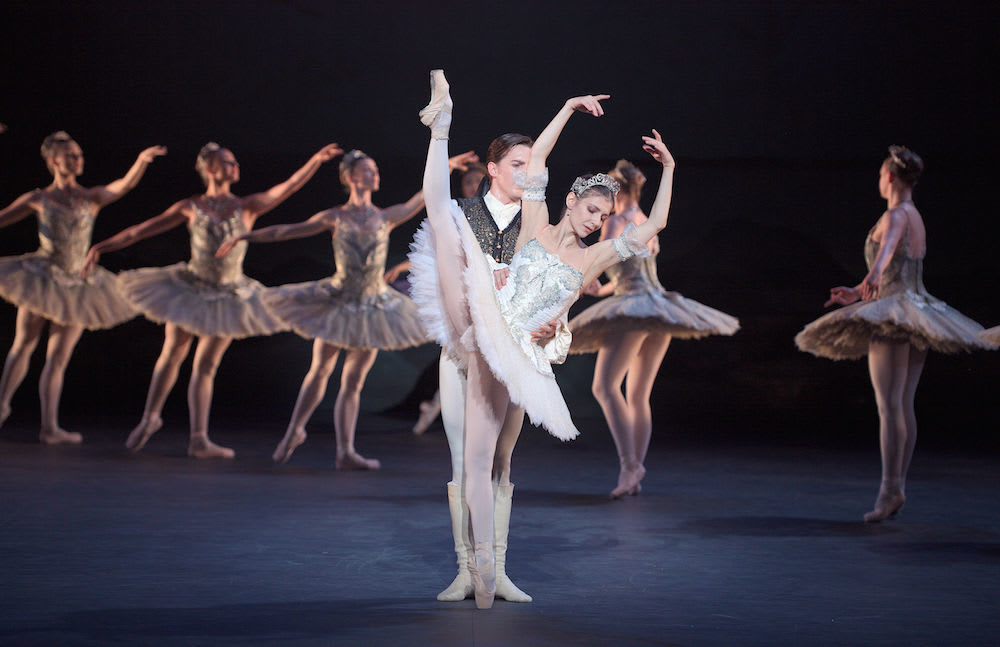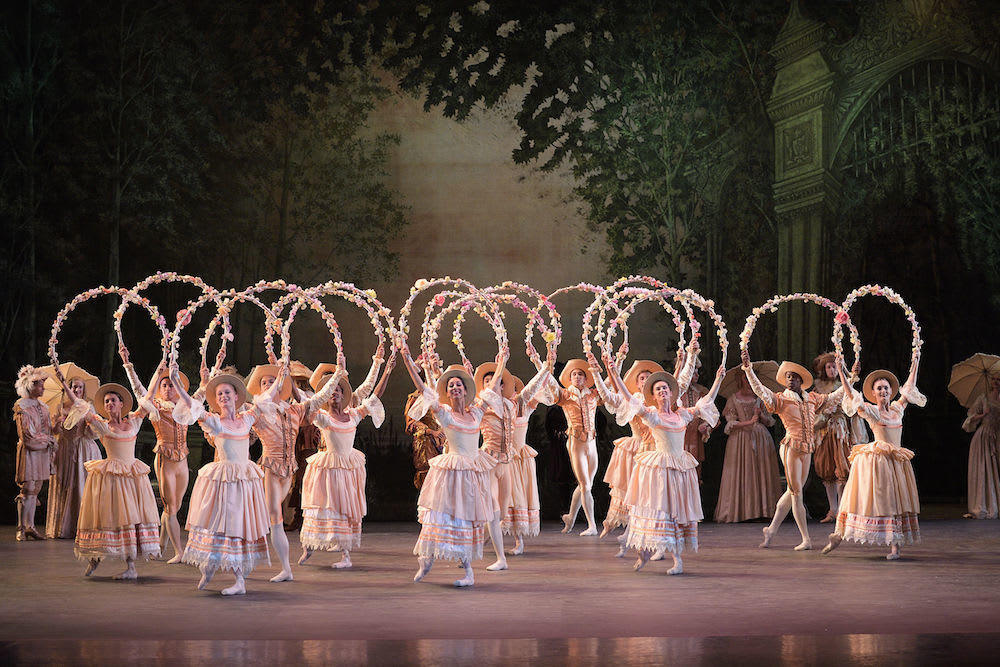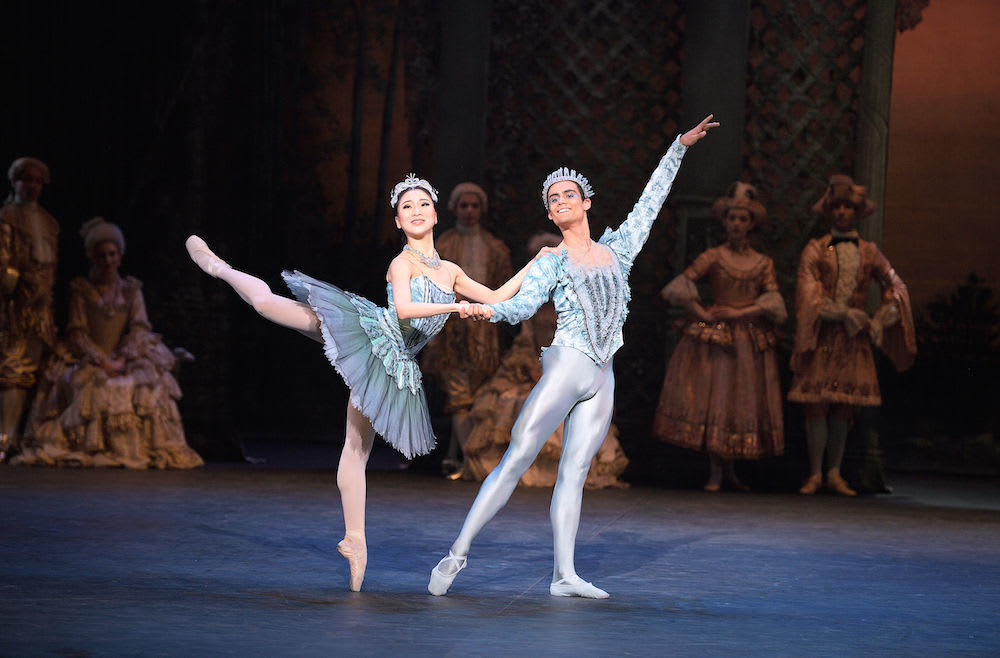 Glorious music, three hours of it, played live by the English National Ballet Philharmonic under Gavin Sutherland's baton, and glorious choreography—so tempting I go on two consecutive nights. So much for the eyes and ears to take in…
Not least lots of mime in a busy scenario, which is based on the Brothers Grimm version of the Charles Perrault original with bits of other fairy tale characters thrown in for good measure at the celebratory grand court divertissements at the end: Puss in Boots and The White Cat, The Bluebird and Princess Florine, Red Riding Hood and the Wolf, as well as Balanchinean precious metals and diamonds. A right royal showcase entertainment...
You all know the fairy tale story of The Sleeping Beauty in one form or another: its fight between good and evil. Royal baby, Princess Aurora, at her christening is blessed by all the good fairy godmothers, except there's always one baddie left out, Carabosse, who gifts her with a death curse if she pricks her finger on a spindle.
Dopy Cattalabutte (Michael Coleman), an overdressed Master of Ceremonies, tied up like a Fabergé egg with a huge bow on his bum, deserves to have his hair pulled out for messing up the guest list.
The Lilac Fairy steps in and dispels the spell into a hundred-year sleep until a prince comes along and wakes Aurora with a kiss. And they all live happily ever after, except for Carabosse who goes off in a huff and a puff of smoke.
Nicholas Georgiadis's flamboyant costumes, against Peter Farmer's, of necessity, understated set, shout le Roi-Soleil bling, placing the action in the glamorous courts of Bourbon kings Louis XIV and Louis XV: a joy for fashion historians.
But the joy on the first night is Alina Cojocaru's triumphant return to the stage after maternity leave. It is Aurora's ballet, and my goodness is it Cojocaru's. She is magnificent.
Technically flawless, and Aurora is a hugely demanding role, she plays the music to grand effect, stretching its adagio phrases demurely, sweetly, an elusive beauty. Characterisation is wonderful: eye contact, thoughtful small gestures…
Debuting—I know, I am surprised, too, but she joined ENB in 2013 after the company's 2005 acquisition of this 1987 version - there are quite a few debuts this evening—in the role, she makes it her own (she, of course, danced Sleeping Beauty at the Royal Ballet). I can't imagine anyone else in the part.
And I'm right. Maria Alexandrova, guesting principal, formally of the Bolshoi, from which she retired last year, on the second night only reaffirms the emotional splendour of Cojocaru's interpretation. Alexandrova, a vivacious Kitri in February's Russian Ballet Icons Gala, is not a natural Aurora.
And I'd like to know why the king and queen don't kiss Alexandrova's finger to make it better, as they do Cojocaru's? Is Alina so inspirational? Are they swept up by the moment? Is Alexandrova too regal for them? Are they intimidated by Bolshoi status?
Watching the same show twice, one notices the small touches, the concentration of the ensemble, the rapport, Precious Adams picking up the flowers Alexandrova throws in the direction of the thrones and handing them graciously to the queen.
Alexandrova is not entirely at ease in the part: her passionate Prince Désiré partner Aaron Robison (great Romantic presence) must be complimented on facilitating her passage through a taxing role.
Joseph Caley, Cojocaru's Prince, on the other hand, is a sweet boy but an unengaged partner—little sense of falling in love with her. Both Princes dance well in their introspective solos, cabrioles blazing.
It's wonderful to see Carabosse, a ferocious Elizabeth I in red wig, black gown, huge ruff, and white chalk face, interpreted by both male and female soloists. I recollect seeing Anthony Dowell and Monica Mason in the roles at Covent Garden: pleasing to see that replicated here.
On first night, James Streeter revels in playing up the panto villain, giving it plenty of gothic largesse, whereas second cast Stina Quagebeur is a deliciously spiteful Nicole Kidman lookalike, a vengeful woman wronged (and much more of a mirror image to Alison McWhinney's Lilac Fairy—I love McWhinney's indulgent smile when the dim Prince finally realises he must kiss the girl of his dreams).
Both Carabosses are amazing, both worth seeing, both excellent actors. Funny, too, seeing Streeter as a Cavalier on the following night, giving that small role as much oomph as he gives Carabosse, exemplifying the company's versatility.
Shiori Kase as first night Lilac Fairy, Senri Kou as Fairy of the Enchanted Garden (second night), and Songbird Fairy (first night), Rina Kanehara and Daniel McCormick as Princess Florine and The Bluebird, Ken Saruhashi in his Gold solo, Jung ah Choi, Francesca Velicu and Julia Conway of the expressive face stand out.
And last but not least—to prove that no role is too small in which to make one's mark—has to be Giorgio Garrett, hilarious as frantic Herald and Gallison, the obsequious Prince's aide.
Faithful to Petipa's 1890 original for the Mariinsky Imperial Ballet, one would never guess this is the MacMillan of Manon, Mayerling, Romeo and Juliet and The Judas Tree. Respectful of tradition, he added his touch delicately with the Garland waltz, variations for Prince Désiré and Princess Aurora in act II, the journey to the castle, the Awakening, and the Jewels divertissement.
And do you know that Tchaikovsky's musical apotheosis of The Sleeping Beauty is the French national anthem from the 16th century called Vive Henri IV—first Bourbon king of France? I expect you do.
There are several more casts to sample: Erina Takahashi and Aitor Arrieta, Jurgita Dronina and Isaac Hernández, Shiori Kase and Ken Saruhashi. And you can still catch Cojocaru on Thursday 14 June matinée.
Reviewer: Vera Liber