The Snow Queen
Conor Mitchell after Hans Christian Andersen
Sherman Theatre
Sherman Theatre, Cardiff
–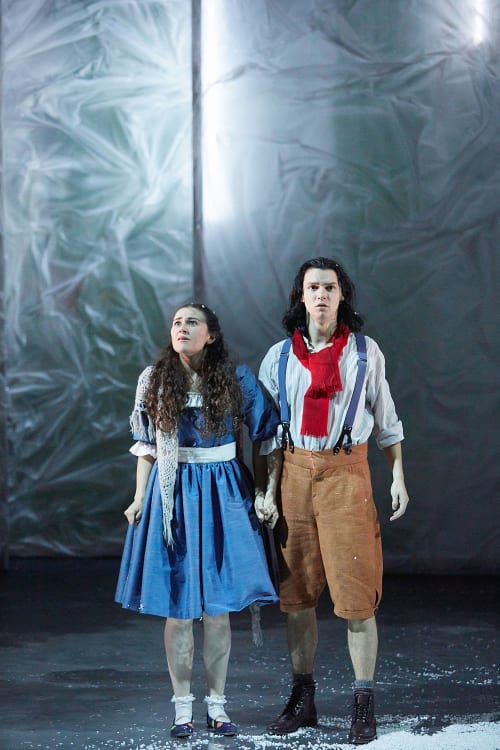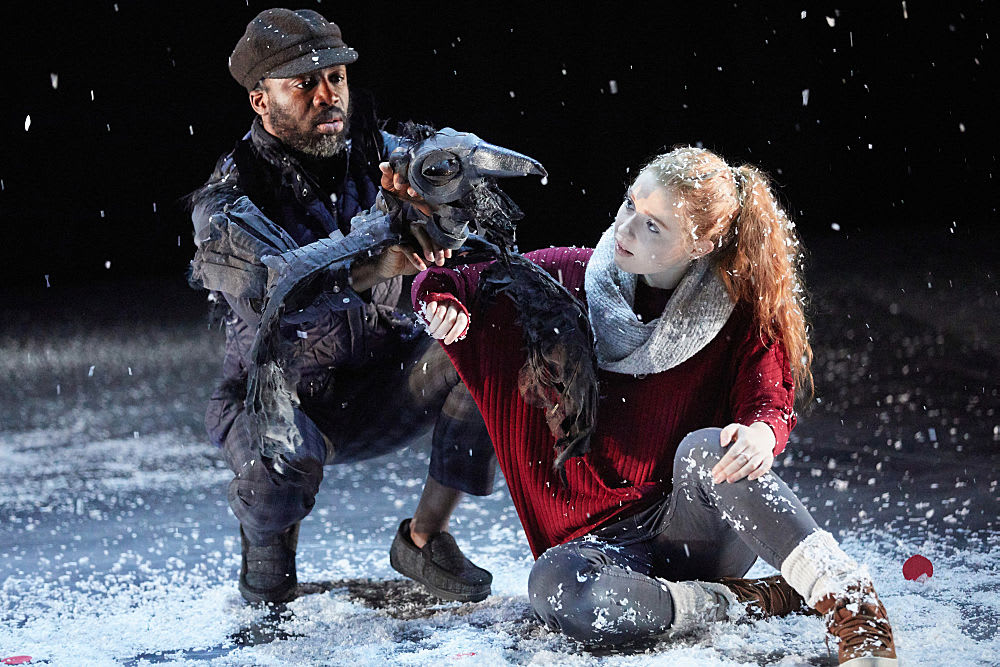 Both of this year's Christmas offerings at the Sherman are based on works by Hans Christian Andersen. While under-sevens and their parents get Katherine Chandler's take on The Ugly Duckling, the main-stage production is a loose adaptation of The Snow Queen from Conor Mitchell, who has stepped up to scriptwriting duties here rather than just providing the music, as he did for previous shows The Wind In The Willows and The Lion, The Witch and The Wardrobe.
The story begins in a Welsh living room on a snowy night (the precipitation being near-constant throughout). A young boy played by Morgan Llewelyn Jones is being babysat by a girl, played by Grace O'Brien, who isn't that much older in terms of years, but certainly seems to be, wisdom-wise. The boy's widowed mother is out and the weather has caused a power-cut, which means no lights, no television and no wi-fi.
To little initial enthusiasm, the sitter begins to tell one of her grandmother's stories. Quickly, though, the boy is drawn into the narrative, both physically and emotionally, since it seems to have subtle relevances to his own situation.
This is the tale of young Kai—Ed Parry—who, having lost his family, is forced to live with his friend, Gerda—Anni Dafydd—and her aunt, played by Hanna Jarman. What seems to be a petty disagreement—although it is rooted in Kai's sense of loss—leads him to run away, drawn by the promise of a new life under the aegis of the Snow Queen. It is therefore incumbent on Gerda to go after him, before he is lost forever in her glacial kingdom.
Along the way, she meets with a series of bizarre characters: a winter-hating gardener—Rachel Nottingham—and her flowers; a helpful Crow—Jo Servi (with puppetry designed and directed by Rachael Canning); a confused prince (Parry); a young robber—Jarman again—and her not-quite-pet reindeer, amusingly played by Callum Lloyd in an engagingly non-lifelike costume; and manages to incidentally impact positively on their lives even as her focus remains on rescuing her friend.
The idea of having the tale unfold in three dimensions around the boy and his babysitter works well under the fluent direction of Tessa Walker, Jones frequently commenting cynically on the action, Princess Bride-style. Cecilia Carey's unfussy but effective set elements effortlessly transport us between suburbia and the realm of fairy tales (with its eccentrically clad inhabitants) and the lighting and sound design (by Katy Morison and Ian Barnard, respectively) is suitably wintry.
Mitchell's script is likeably irreverent and his songs (played mostly live by himself and a small, multi-tasking, on-stage ensemble), are very pleasing. If I have a criticism, it is that Stephanie McConville's ethereal Snow Queen makes only fleeting (if magical) appearances; thus her impact on the narrative (weather aside) seems somewhat limited.
But then this is basically Gerda's tale, Dafydd impressing as the enterprising and determined heroine—indeed, the cast is uniformly strong. And the point—that we need the winter in order to help us to value the summer—comes over strongly.
Even more importantly, the many children in attendance on press night remained (for the most part) engrossed in the action. A captivating couple of hours.
Reviewer: Othniel Smith