The Starship Osiris
Aiden Willis and George Vere
Willis and Vere
VAULT Festival
–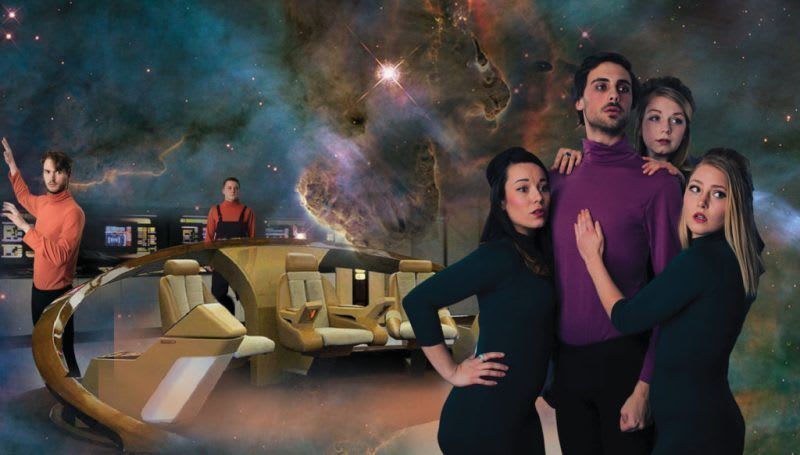 The Starship Osiris is wonderfully bonkers.
It has the appealing play within a play structure where the play within hits a self–destruct button, of the type perfected by Michael Frayn in Noises Off and capitalised more recently by Mischief Theatre (The Play That Goes Wrong, Peter Pan Goes Wrong).
The Starship Osiris' 'play within' is a budget production and well suited to the cramped and damp surroundings of the aptly named Pit, one of the smaller spaces at the subterranean Vaults in London's Waterloo.
As water oozes out of the brickwork of the walls around them, a disconsolate cast make ready to perform a play that is nothing more than a vehicle for the ego of George Vere who plays the lead in the "sci–fi masterpiece" which he has produced, directed and written.
Vere's play is a comic agglomeration of platitude, anachronism, stereotype and plagiarism particularly in the sci–fi spoof element.
The would–be James Bond-like Star Trek–ish Captain Richard Harrison has a crew of pretty, skinny girls—Roxie, Trixie and Lexie—who have to swoon and kiss him intermittently as demanded by his self–aggrandising script. He mercilessly bullies the spaceship's engineer, Evans, whilst he tackles his arch nemesis and spouts cliché.
The coming apart of the play is cleverly structured. The crew mutiny led by Evans who ends up in his underpants ranting and raving—only outdone in dementedness by Vere who tries to claw back control, enlisting members of the audience to replace the cast who have walked out, only to return to further sabotage his efforts.
It is all very daft and very funny. There is real skill in the writing of Aiden Willis (who is excellent in the role of downtrodden Evans) and George Vere, not least knowing when enough is enough and it's time to get off.
All the cast possess spot on comic timing and I particularly enjoyed the performances of Willis and of Jo McGarry as Lexie. Vere as the self–parodying Harrison paces himself expertly from petulance to tantrum to hysteria.
Willis and Vere are masters of their trade and if what your life needs is a dose of cheering, energetic foolishness then get aboard The Starship Osiris and enjoy the ride.
VAULT Festival runs until 5 March.
Reviewer: Sandra Giorgetti