The Tempest
William Shakespeare
Royal Shakespeare Company
The Roundhouse
–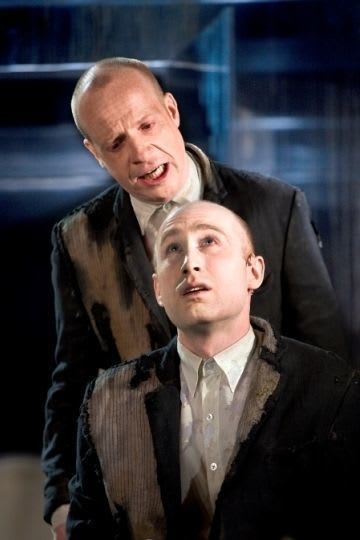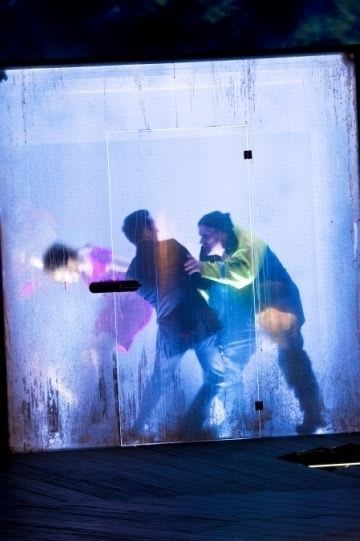 Like Twelfth Night, the final play in RSC's Shipwreck Trilogy is directed by David Farr. His vision of The Tempest seems to suggest that it is largely played out in the head of Jonathan Slinger's generally humane Prospero.
The first indication of something out of the ordinary in this production comes with the appearance of the spirit Ariel who, ignoring Sandy Grierson's Scottish accent could be a clone of his master, or possibly an alter ego.
The concept is consolidated when the tempest of the title traps a ship full of travellers in an intermittently opaque Perspex cube that additionally introduces many of the characters to the main, rocky playing area.
It also contributes to the stylish, modern Jon Bausor design that has been one of the characteristics of this short season and is once again complemented by carefully chosen costumes. The pick of these terms are flying aerial into some dark bird of prey.
The love between the former Duke of Milan and his daughter is a joy to behold, though it presents problems later on when father must accept the inevitable, as Emily Taaffe's sweet Miranda falls head over heels in love with the impeccably polite Solomon Israel playing shipwrecked Prince Ferdinand, immaculately attired in a white military dress uniform.
Ferdinand was part of a crew that just happens to contain Prospero's joint nemeses (if there is such a word). They are fronted by Jonathan McGuinness as his evil brother Antonio, Kevin McGonagle's regal if rather gormless King of Naples, Alonso and somewhat confusingly Sebastian, played by Kirsty Bushell in a pink frock and black stilettos with appropriately adjusted pronouns. The only good man (or woman) amongst them is Nicholas Day's somewhat estuarine but instinctively decent Gonzalo.
The light relief as always comes in the form of an unusually intelligent and sympathetic not to mention cuddly Caliban played by Amer Hlehel who falls in with pompous Stephano and dim Trinculo, Bruce MacKinnon and Felix Hayes reprising their Dromio double act from The Comedy of Errors much to the amusement of the audience.
The dreamy, ethereal qualities come to the fore after the interval, as Ariel is supplemented by a quartet of spirits who both enchant and cause mischief, as required.
All comes out well at the end of 2¾ quietly satisfying hours that round off a very successful mini season at the Roundhouse.
Reviewer: Philip Fisher