The Tempest
William Shakespeare
Taking Flight
Thompson's Park, Cardiff
–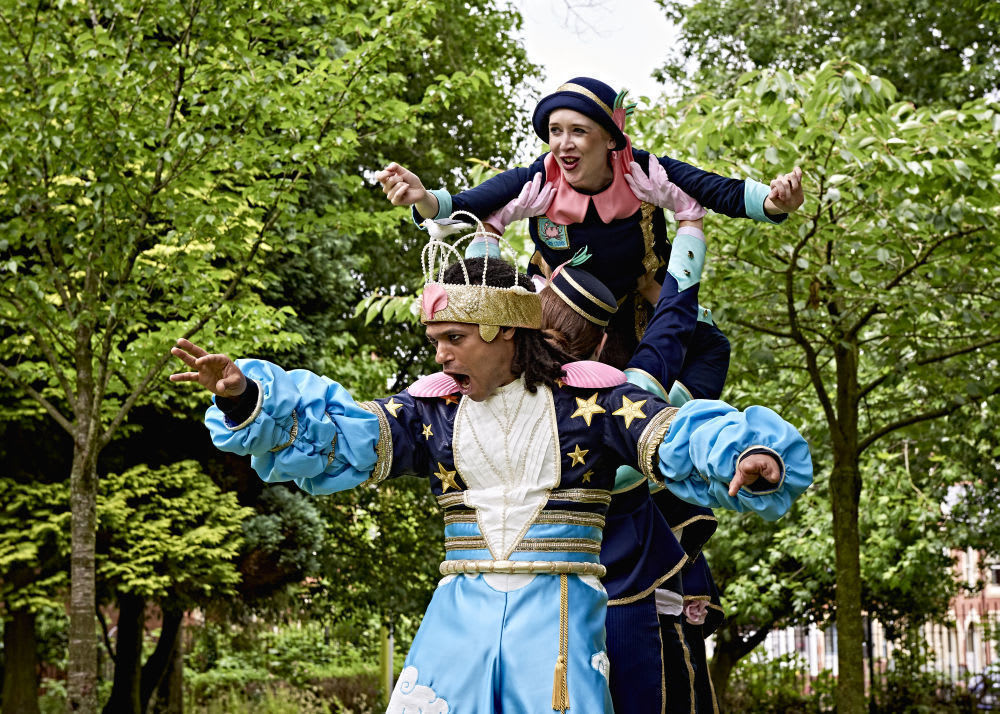 Taking Flight is a company which has taken the idea of inclusivity in terms of artists and audiences with hearing impairments and other disabilities and run with it as an essential element of its aesthetic rather than a mere box-ticking exercise.
Despite the unpredictable summer weather, its annual tours of Shakespearean comedies to outdoor venues have become something of a tradition. Following on from As You Like It and A Winter's Tale (I missed last year's Romeo And Juliet), the 2017 production is The Tempest, given a Golden Age Of Hollywood makeover by director Elise Davison.
Arriving at the outdoor venue (climatic conditions: dry, but cool and muddy underfoot), we are ferried by liveried staff to the island where Prospero, the exiled Duke of Milan—a suitably commanding Dean Rehman—has set up a movie studio, and associated tour.
Immediately, he introduces sign-language interpreter Sami Thorpe, who remains central to the experience throughout as tour guide and frequent commentator on (and occasional participant in) the narrative.
We watch as Prospero engineers a shipwreck, which strands his enemy and (in this version) sister Antonia (Sian Owen) on the island, along with her co-conspirator Alonso (Samuel Bees), his son Ferdinand (Ioan Gwyn) and other oddballs, including the scholarly Gonzalo (Paul Henshall) and drunken servants Trinculo (Huw Blainey) and Stephano (Bees, again).
Meanwhile, we become acquainted with Prospero's fellow permanent island residents. Most important, from his point of view, is his beloved daughter, played by the striking Steph Back, whose other-worldliness is underlined by her having to communicate verbally with the assistance of another actress (Owen).
There is also the magical Ariel, played with matinée idol charisma by Milton Lopes; a constant presence, largely unseen by those in whose adventures Prospero orders him to intervene. Not to mention Ioan Gwyn's unhappy Caliban, who falls in with Stephano and Trinculo and attempts to enlist them in his plan to overthrow Prospero.
The cast is completed by Lauren Burgess and Shannon Davison, as Prospero's employees, who are tasked with being amusing whilst attempting to help the audience find their way safely from one studio tour location to another.
The meat of the plot involves the slow-burning romance between Ferdinand and Miranda, which is conveyed with great charm and humour by Gwyn and Back.
Much use is made of a rickety sound-effects desk, which also incorporates a keyboard, enabling Huw Blainey to perform much of Dan Lawrence's song score. The costumes, presumably the responsibility of designer Becky Davies, are also hugely impressive, lavish and glamorous (and, one would imagine, hard-wearing).
There are inevitable practical issues inherent to a performance in a public park (audibility, loss of audience focus etc). On the whole, however, this is a constantly diverting two hours.
Reviewer: Othniel Smith