Top Hat
Music and Lyrics by Irving Berlin, Adapted for the Stage by Matthew White and Howard Jacques
Aldwych Theatre
–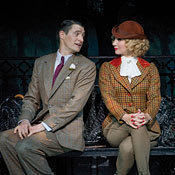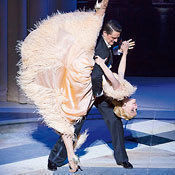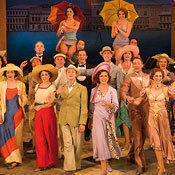 In the midst of the current, TV-engendered passion for dance, it is hardly surprising that theatre producers are jumping on to the bandwagon.
Singin' in the Rain is already enjoying great success at the Palace and now another movie favourite has been transported to the London stage.
This vogue is also great news for the Strallens, since the massively talented Scarlett Singin' and Summer Top-Hattin' are the darlings of these musical revivals.
Top Hat was an RKO Radio Pictures hit in 1935, starring Fred Astaire and Ginger Rogers, but only now makes its debut on stage. The care devoted to this production oozes out of every aspect, virtually guaranteeing a long and lucrative run.
Designer Hildegard Bechtler has cleverly produced a stream of art deco-influenced designs, primarily recreating the interiors of luxurious hotels, though there are also a couple of lovely park scenes.
Her sumptuous sets are complemented by Jon Morrell's lavish, colourful costumes that number into the hundreds and will have dedicated followers of fashion going weak at the knees throughout the two hours, 40 minutes.
It takes more than great design to make a hit and director Matthew White is lucky enough to have a sextet of versatile leading performers well backed-up by strong teams of song and dance specialists, the latter impeccably choreographed in a mix of breathtaking tap and something more romantic by Bill Deamer.
The plot is wafer thin before the interval but gains depth after the main players drift over from London to Venice for a few days of epic comic confusion.
Handsome "Broadway song and dance sensation" Jerry Travers, played by Tom Chambers, a household name after winning Strictly Come Dancing, encounters love at first sight when he meets Miss Strallen's sassy society beauty, Dale Tremont.
They are a lovely couple, singing and tapping their way to comic heaven, though a bad case of mistaken identity almost derails the path to matrimony.
Their greatest support comes from an older married couple who wallow in the script's corny Vaudeville one-liners, the Hardwicks. Martin Ball is Horace, a rich theatre producer with a roving eye but precious little brain behind it and Vivien Parry, Madge who packs a punch as powerful as her voice if she spots hubby philandering.
To add additional screwball comedy, excellent baritone ("Latins Know How" is unmissable) Ricardo Afonso plays highly-strung dress designer Alberto, while Stephen Boswell's Bates is the funniest manservant in London—outside the Haymarket.
The final element of a great night comes courtesy of Irving Berlin who packed the movie with what were to become standards, launching the evening with "Puttin' on the Ritz", hitting peaks in "Top Hat, White Tie and Tails" and "Cheek to Cheek", though Summer Strallen's solos such as "You're Easy to Dance With" are all delights too.
Top Hat is a welcome arrival in the West End that should ride high on the dance wave but has far more to offer with its high production values and well-chosen cast.
Reviewer: Philip Fisher