Murder, Mystery & A Party: Tomorrow / Terra Incognita / A Linha Curva
Choreography Lucy Guerin, Shobana Jeyasingh, Itzik Galili
Rambert
Sadler's Wells
–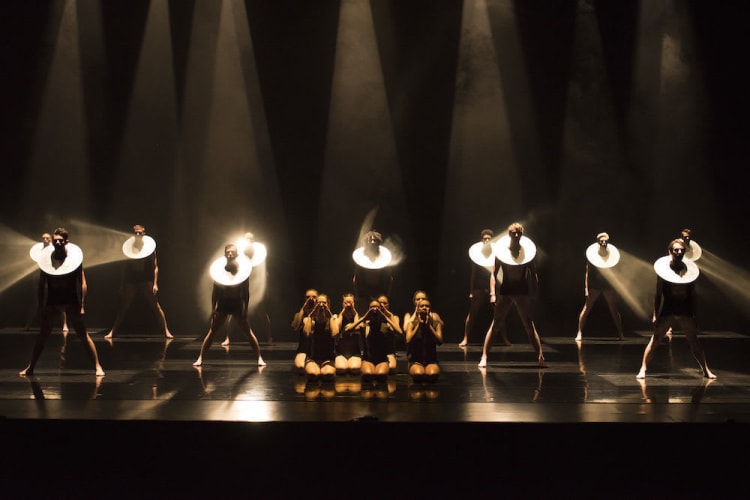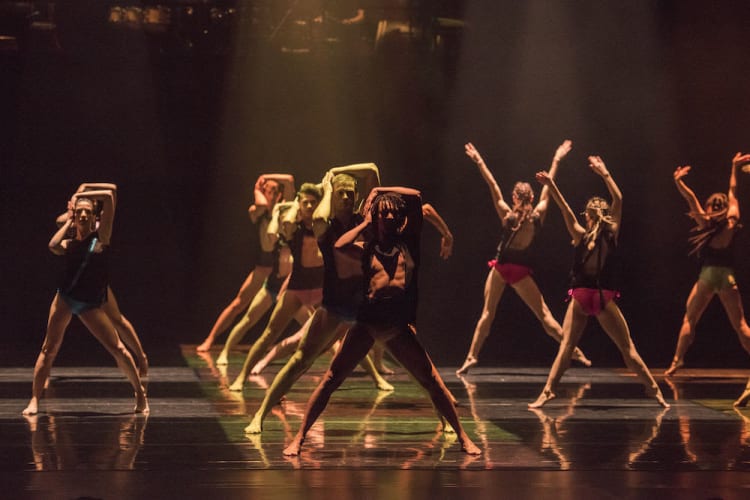 Under the coverall title of Murder, Mystery & A Party, Rambert brings back two tried and tested popular works and celebrates the quatercentenary of Shakespeare's death with a new work from Lucy Guerin developed from her recent collaboration with Carrie Cracknell on Macbeth at the Young Vic theatre.
Cushioned between Shobana Jeyasingh's intelligent intense Terra Incognita and Itzik Galili's exuberant A Linha Curva, Guerin's Tomorrow is a dour piece. A stage split by a descending beam, dividing the spirit world from the physical, parallel worlds which eventually conjoin, promises much but stretched over twenty-five minutes Guerin's dance and mime vocabulary exposes the limitations of too much literalness.
The sexless spirit world dressed in beige fringed smocks, the physical world in unisex black, seven (a significant number in biblical terms) performers either side, one group twisting and cavorting and dancing in fairy rings, the other playing out Shakespeare's scenario in reverse, miming drinking, slitting throats and the washing of hands, until mirror moves reveal the descent into the amorality of the universe from which no traveller returns. Macbeth finally meets his three witches as the lights go out.
Scanner's electronic music, orchestrated by Quinta, and Lee Curran's lighting casting long shadows augment Conor Murphy's minimalist set design, but the obviously well-considered dance content, devised with the dancers, seems to me a sterile promontory.
Jeyasingh's two-year-old Terra is far from sterile. A journey into the unknown, along Lucy Carter's latitudinal lighting lines, reflected in Jean-Marc Puissant's panels, against a stormy whirlpool backcloth, undertaken by five men and five women, becomes not only a journey to new lands but a journey of relationship exploration. Couples spar in moves that flex and flow seamlessly, organically. Luke Ahmet leads a superb group.
In kilts of burgundy (the men) and mustard yellow (the women) and waistcoats of different shades of grey and taupe—a reduced colour palette that makes for strong visual images—they are both the sites they visit and the travellers experiencing them, traversing a mapped-out terrain in geometric patterns and unexpected confrontations.
A story in several chapters: the joyous and the arduous, as they climb the mountain ridges of each other's bodies. A physical manifestation, too, of the musical landscape of Jeyasingh's regular collaborator, composer Gabriel Prokofiev, which ranges from chugging electronica to "Rite of Spring" strings and jazzy tango syncopation, a feast of sound.
A feast of percussive sound and tropical forest noises—the Percosa quartet arranged high on stage above the action—and an attack on all the senses is Itzik Galili's 2005 A Linha Curva, first performed by Rambert in 2009. A huge crowd of dancers, including guest performers from the Rambert School of Ballet and Contemporary Dance, go hell for leather in a complex, precision-drilled, roof-raising cabaret / gymnastic Olympic opening ceremony extravaganza.
Overhead disco lights throwing changing chessboard patterns on the floor, which each dancer has to hit exactly, A Linha Curva must be a nightmare to restage and Mikaela Polley must take the rosette for that, for organizing twenty-eight cheerleaders in this dynamic Brazilian-inspired carnival.
The lighting squares, Galili's design, are like an electronic musical pad, linked to the four magician musicians above. Jump, wiggle, stomp, but keep to that military samba beat throb. And repeat the routine. Join the beach party, if you can.
It opens with boys in scene-setting, sun-reflecting collar ruffs, girls in skimpy shiny pants, and turns quickly bawdy with bootylicious twerking en masse and limber limbo. They glide across the floor like swimmers (on skateboards), leap like chimps, beatbox, take flying lifts—this is some jungle fever. Macbeth is forgotten. This is the way to go.
Macho boys break away and do capoeira battle in the village square to impress the girl, but she can do it, too, though Miguel Altunaga has some great moves. Rambert dancers are a joy to watch, that goes without saying. And to have the music played live is a treat. Hats off to Rambert Orchestra.
Rambert is ninety this year, is now included on the GCSE and A-level Dance syllabus, and Galili's A Linha Curva "will be a compulsory area of study as part of the Dance Anthology for the new GCSE Dance specification". How about that: serious fun…
Reviewer: Vera Liber