Uncle Vanya
Anton Chekhov, in a new version by Mike Poulton
Print Room, Notting Hill
–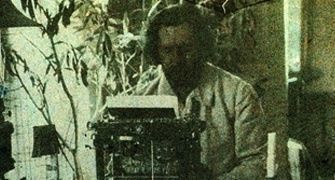 The ever-popular Uncle Vanya has become a fringe favourite recently, as this Print Room incarnation follows hard on the heels of versions at the Arcola, Camden People's Theatre and just up the road from this venue at the Gate.
Mike Poulton, who has already created three Vanyas, has seemingly set out to write a breezy, funny take on Chekhov that races through in 2½ hours.
The venue's artistic director Lucy Bailey has the ability to draw top casts to this West London location, not to mention the best designer around, William Dudley. On this occasion, he has opened up the space to allow the actors to play in the round with spare, period props and a set comprising little more than four ornate entrances.
The country house of Professor Serebryakov has seen better days, as have its regular inhabitants. David Yelland makes the absentee host as memorable as anyone is likely to get in this role. The gouty old codger is cruelly self-centred as he whines and dictates while sucking the family dry.
It does not help that he has managed to ensnare a delectable seductress for a wife. Lucinda Millward's Yelena starts out as a blonde ice maiden but soon thaws then overheats in the presence of the drunken idealist Doctor Astrov played by William Houston.
While he can be wilfully dangerous, the eponymous Vanya achieves this despite his fuzzy better judgement, driven there by boredom. Iain Glen magically turns the sensitive eccentric into a self-pitying manic depressive who suddenly realises that he has sacrificed his best years and the chance of happiness for nothing.
Glen angrily excels in the play's pivotal scene as the Prof calmly (at least to start with) informs his dependants that he is withdrawing support and rendering them homeless.
Vanya hardly has a monopoly on melancholy as his niece, Charlotte Emmerson's Sonya, is eventually forced to accept that the man whom she loves, ecological warrior Dr Astrov, feels nothing for this sweet, kind girl. He prefers to have a drooling competition over the young mother-in-law who on this occasion gets far more passionate about him than one might usually expect.
The cast also boasts a trio of veterans who each offer lovely cameos, Caroline Blakiston, Marlene Sidaway and David Shaw-Parker as (using their more familiar names) Maman, Nanny and Waffles respectively, the last playing an integral part in a joyful, drunken revel with Vanya and Astrov, shamelessly borrowed from Twelfth Night.
This small-scale version of a classic is well worth a visit for its mixture of old ideas and more modern sensibilities delivered by a universally strong cast.
Reviewer: Philip Fisher