Untold Stories
Alan Bennett
National Theatre
Duchess Theatre, London
–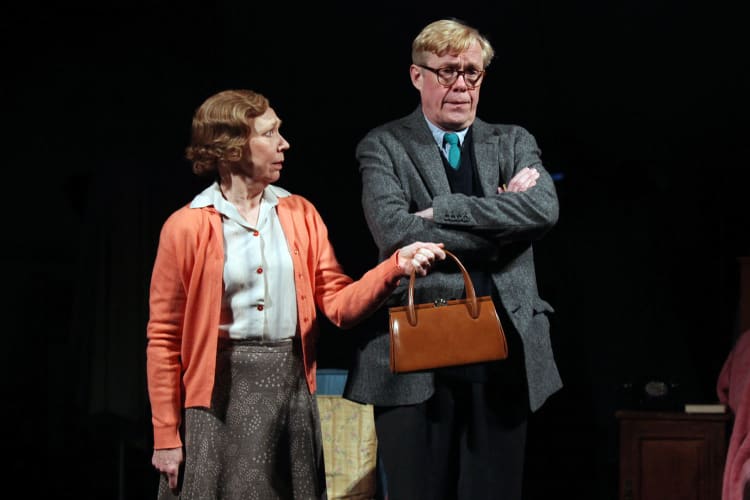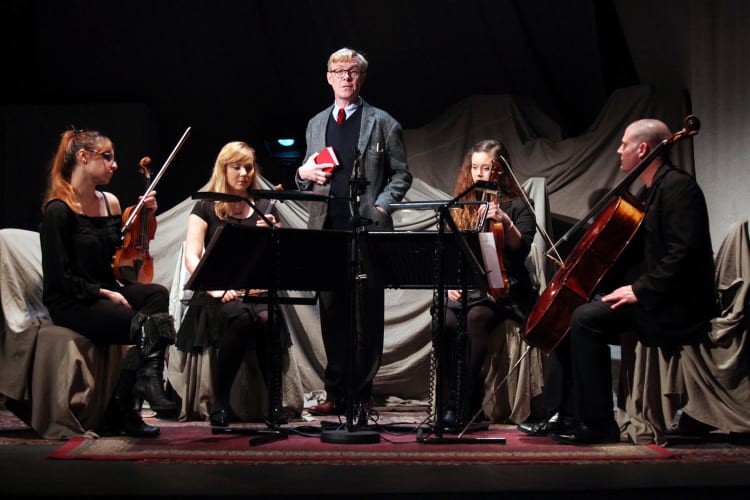 As People continues to play on the South Bank, these "two recollections" move across Waterloo Bridge to please Alan Bennett aficionados from a new location in the West End.
The Duchess has been spruced up for the opening night with the discovery of an old art deco foyer ceiling, which fits nicely with the period of these works. It also welcomed several of The History Boys, reuniting on a poignant night when the West End was celebrating the life of their Hector, the inimitable Richard Griffiths.
The two short pieces have been adapted from Bennett's magisterially quirky book of the same title and combine to paint a portrait of one of theatre's most popular personalities.
They also allow Alex Jennings to deliver an impeccable imitation of the writer, which should delight and impress all visitors both verbally and visually.
Hymn
The 30-minute homage to music combines the subject's experiences in the musical field with an accompaniment composed by George Fenton for a live string quartet.
The quiet Yorkshireman had several different kind of musical encounters in childhood. To start with, like so many of his generation, the young lad had Hymns Ancient and Modern drummed in at school.
Then, his father was a music-loving amateur violinist, overcoming a butcher's oversized hands. The 10-year-old Bennett was therefore persuaded to see if he could emulate the old man and proved decisively and amusingly inept.
He was however able to enjoy trips to Leeds Town Hall where one could enjoy performances by the short-lived Yorkshire Symphony Orchestra.
These memories would be slight, if gently amusing in typical Bennett style, but gain much from the pleasures of the quartet playing Fenton's compositions.
Cocktail Sticks
After the interval, the audience is regaled by a meatier work, which paints an affectionate, if not wholly respectful portrait of AB and his unworldly Mam and Dad, starting with Leeds childhood and running through to the former's death at the advanced age of 91.
For this, Jennings gets support, primarily from Gabrielle Lloyd and Jeff Rawle as the older Bennetts, Lillian and Walter. He starts by bemoaning the happiness of his childhood, which may sound a delight but gives no grist to his budding creative writing mill.
However, this theory is soon disproved by 70 minutes of unadulterated pleasure as Bennett, through the impeccable Jennings, makes his parents come to life on stage, even his father from beyond the grave.
Cleverly, while portraying them in their good-natured simplicity, the future satirist, actor, author and polymath manages to put over his own life and personality, almost as a by-product.
The Leeds upbringing while happy was characterised by collective embarrassment and lack of ambition to do anything much beyond Mam's hankering to enjoy the kind of social life described in Ideal Home magazine but that was never going to happen to them.
With the much-loved, incredibly dry wit on constant display, our guide leads the audience through a quiet childhood, eight years in Oxford, Beyond the Fringe and his uniquely successful subsequent career writing for stage and screen. None of this makes an impression on loving parents who happily plough their own furrow, seemingly blissfully unaware that their son is a genius, renowned across the UK and much of the world.
The real achievement of Bennett—who has adapted his own memoir—director Sir Nicholas Hytner and Alex Jennings plus support is to turn what is effectively a very personal monologue into an animated play that looks as if it was made for the stage.
Reviewer: Philip Fisher