Wild
Mike Bartlett
Hampstead Theatre
–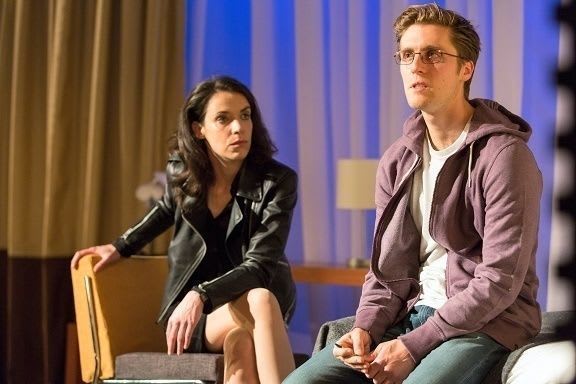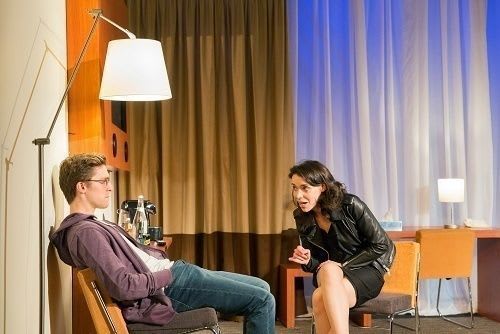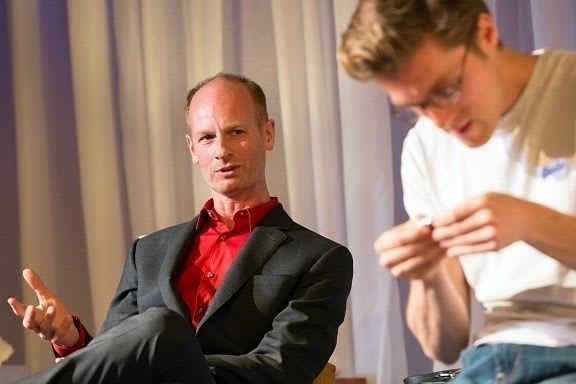 One of the theatre critic's most potent and vicious weapons is the overblown compliment to a set, with the underlying inference that the play, acting etc. should best remain unnoticed.
There is no doubt that Miriam Buether's set for Wild will probably be remembered for years to come by everyone who sees the play.
It is to be emphasised that this is merely a compliment to what is possibly the most unforgettable theatrical design that most visitors will ever have the good fortune to witness outside the biggest budget musicals.
Mike Bartlett has made his name with a stream of big hits including King Charles III, Earthquakes in London and Bull, not to mention Chariots of Fire, which started out in the same space.
This small-scale, 100-minute play may not see the talented writer at his very best but still poses some challenging philosophical and political questions.
It takes the first few minutes of James Macdonald's production for viewers to realise that Jack Farthing's Andrew, the unprepossessing young American occupant of a bland chain hotel room, is actually a man in a million.
Earlier in the week, he had affected the kind of material espionage coup that has made Edward Snowden into a legendary cyber-terrorist or superhero, depending upon taste.
We learn of Andrew's undercover activities from his interactions with the undeniably beautiful but anonymously mysterious Woman, played with wit and vigour by Caoilfhionn Dunne.
She gradually but relatively subtly interrogates him on behalf of an unidentified but rather shady organisation that might be intended to bring to mind WikiLeaks, assuming that she is not really a government-sponsored (but which?) spy.
The American has been forced to flee his home country and seek asylum in Moscow, desperately in need of the support that his unpredictable and possibly unstable visitor may be able to offer.
As the conversation continues, spectators are invited to consider questions of identity, truth and trust along with relatively calm but inevitably confused Andrew.
Just when things begin to fall into place, Woman leaves to be replaced in scene two, perhaps inevitably, by John Mackay's Man.
He more aggressively replicates the activities of his predecessor, while denying that she has anything to do with the unnamed organisation.
By the end of this relatively short scene, nobody either on- or off-stage can be sure of what is true or false, which is clearly Mike Bartlett's intention.
Round three sees the return of the much more candid and now tipsy Woman, offering some assurances that are hard-won but not necessarily as reliable as she would like to make us think—but then again perhaps they are.
Any critic who delves into events depicted in the final minutes is doing this play an extreme disservice, since people really should trip along to Hampstead to enjoy the spectacle.
Wild is simultaneously both ambitious in terms of ideas and relatively conservative in its approach. On the acting front, Caoilfhionn Dunne has by far the best part and makes the most of it, while her colleagues do all that is required of them more than capably.
Although the running time is not long, this is a piece that might still benefit from some cutting to bring the most significant ideas into the spotlight more quickly and more directly. Even so, it is an amusing intellectual puzzle that makes some pithy comments on this new age of instant and all-pervasive information gathering and dissemination.
Reviewer: Philip Fisher