XENOS
Director, choreographer and performer Akram Khan, music Vincenzo Lamagna
Akram Khan Company
Sadler's Wells
–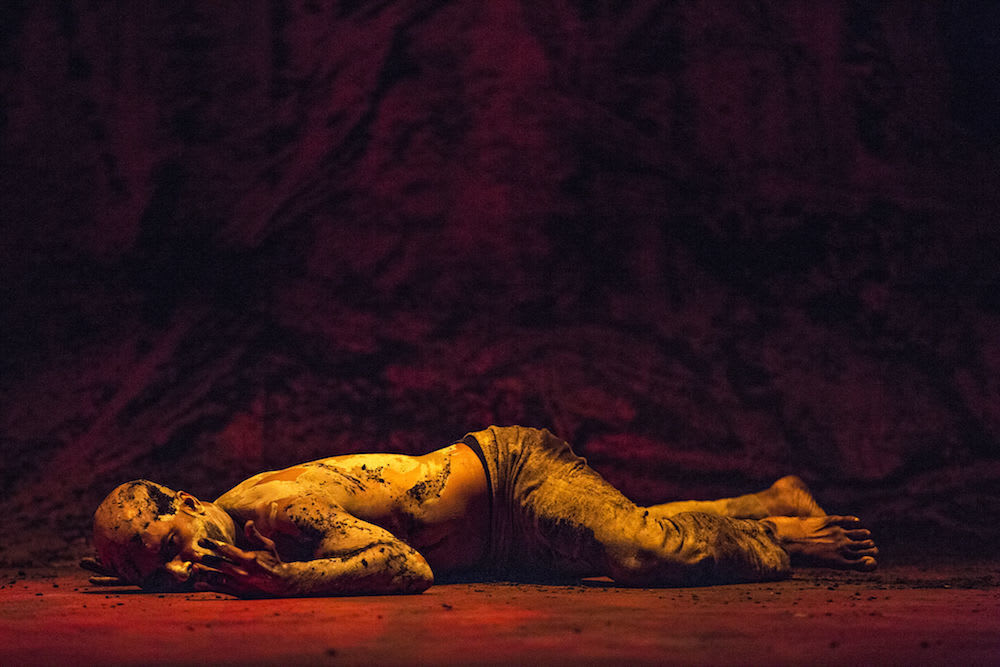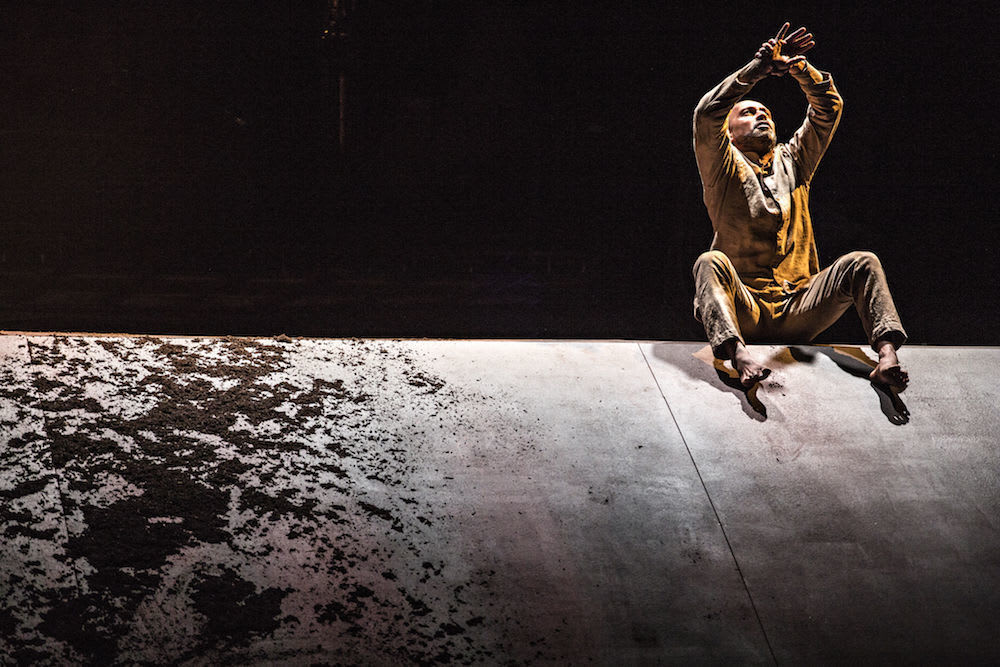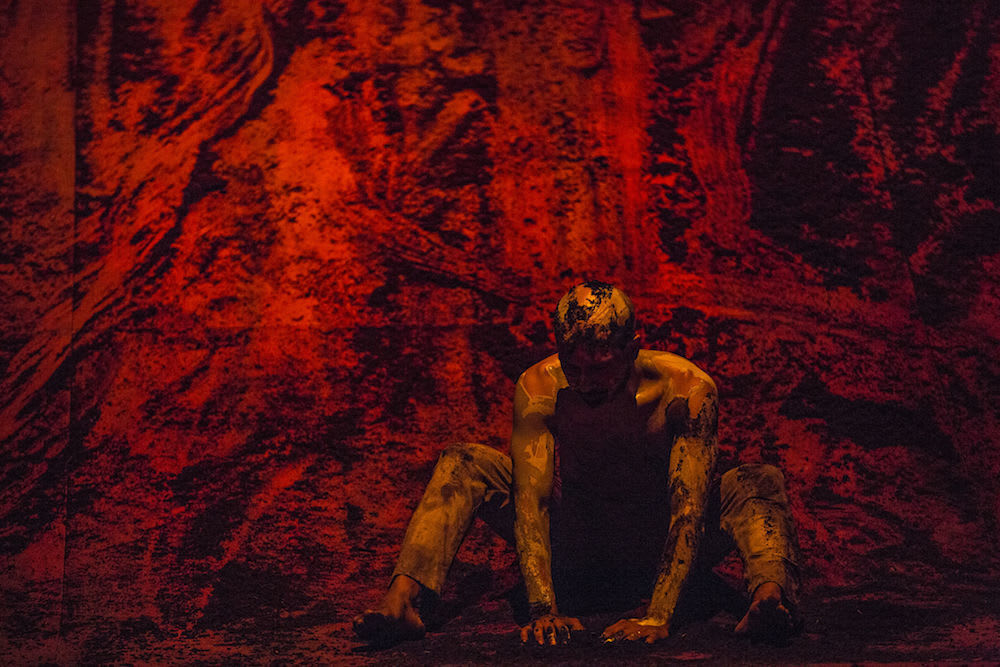 The run is practically sold out with only a few restricted view seats left, but do not worry Akram Khan enthusiasts: this is not his last performance as such, just his last long solo piece. His forty-three-year-old body is telling him enough is enough. He will carry on creating—how could he not?
But what a solo: sixty-five minutes of coruscating drama, the embodiment of many in a single shell-shocked soul. This one is from the heart, which is not to say all Khan's previous works were not, but in commemorating the forgotten colonial dead, especially from the Indian subcontinent, XENOS (foreigner, the root of xenophobia) is a lament, a requiem for mankind past, present and future destined to pointless war, to futile Sisyphean toil.
So, a bit heavy this blending of silken kathak and earthbound contemporary dance, gritty reality and magical realism: ghungroo anklets that turn into shackles, chains and carbine belts, ropes that become telegraph cables, and an old gramophone horn speaker that takes on a life of its own—interlocutor from the past listing names lost in battle, searchlight, and inquisitive face.
But let's start from the beginning. Even before the beginning—houselights are up on a music concert—singer Aditya Prakash and percussionist and konnakol vocalist BC Manjunath entertain us on a set littered with furniture, cushions, dangling lights, a swing seat against a hill appliquéd with curling ropes. Is it a celebration, tribute or a sad tale? If only one understood the words…
Commissioned by 14-18 NOW, the UK's arts programme for the First World War centenary, XENOS, Khan's Orwellian 'graphic novel', can only be all three, and Khan rises to the task (reminds me of both his DUST and DESH).
A crackling electric soundscape, dogs bark in the distance, darkness, Khan staggers on, lost, a bewildered soldier alone in his trench. "Do not think this is war… This is not war, it is the end of the world." He strikes a match. And contorts in fear. Corkscrew turns on his heels become kathak expressiveness.
Music, movement, and sound merge: mercurial moves, intense stillness, a listening, an awareness of space, electrifying dance, fizzing like the bare bulbs above. Five musicians line the top of the hill under a golden light—Olympian gods.
Chains off, the kathak dancer turns into a lonely sepoy, his moves coarsen, his world collapses, the furniture props are pulled away from under his feet. Metaphor, expressionism and earthy realism. Black soil everywhere. He pulls himself atop that hill, lays a cable to that gramophone. A cacophony of sound, a world out of synch.
He rolls back down with the shifting topsoil. Has Khan seen Teshigahara's Woman in the Dunes, I wonder? He speaks softly, but too faint for my ears. Is he talking to himself, to his god? A man alone in a foreign land fighting a war that makes no sense. Voices, voices, dim sounds from the past (not unlike Gavin Bryars's "Jesus Blood Never Failed Me Yet").
Shot after shot cracks; he spirals, twists, reels from their aftershocks, rolls, body juddering. Musicians reappear, vanish, he pulls himself up again and winds that hefty rope around his face—what monster has he become? Is he Prometheus Bound, fated to eternal punishment?
Shakes off the rope, rolls over to the other side. The speaker sputters into life, lights up the empty space. Is this the end? A soft voice speaks again—I catch the everyman drift—"I've been a soldier and the man I've killed". An isolated voice in the dark… "Is it not enough?"
The Lacrimosa from Mozart's Requiem Mass is sung, as this man tormented returns to his pit of despond. A red light glows. Clods of earth roll down, but it's too dark to see. He climbs that hill again. Darkness, the end: it is a relief that his ordeal is over, but not that Khan is gone.
A UK première, a terrific team—lighting designer Michael Hulls, dramaturg Ruth Little, playwright Jordan Tannahill, designer Mirella Weingarten, costumier Kimie Nakano and composer Vincenzo Lamagna—strongly underpin XENOS, but it is Khan's body on the line...
"Out of all the creations I have been blessed to be involved in, XENOS is the one that I find to be the closest in line with my personal journey as an artist. The themes of reflection, death, rebirth, time, alienation, identity, memory, are all part of this creative process, and together with some incredible collaborators, I have embarked on this challenging journey, to give birth to XENOS.
"Essentially, this work is a reflection of how I feel about our world today. It is about our loss of humanity, and how, through past and present wars, we are yet again confronted by the burning question of what it is to be human. How can we as humans, have such ability to create extraordinary and beautiful things from our imagination, and equally, our immense ability to create and commit violence and horrors beyond our imagination. Prometheus saw this in mankind before we as a species, ever recognised it."
Reviewer: Vera Liber