ACE £12M commitment to Chichester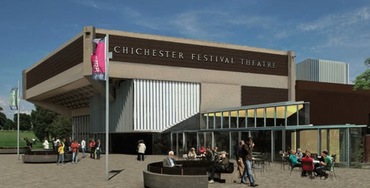 Alan Finch, Executive Director of Chichester Festival Theatre, announced on 31 July that Arts Council England has confirmed a commitment of £12 million towards the theatre's RENEW campaign.
This endorsement of the organisation's ongoing artistic and commercial success, and the RENEW project's aim to restore and upgrade the Festival Theatre, immediately unlocks an additional £8 million in pledged local support from businesses, trusts and individuals and, most notably, from West Sussex County Council and Chichester District Council who have pledged £1.5 million and £500,000 respectively.
This means that the total cost of over £22 million has been successfully raised and that contracts can be put to tender immediately with a view to starting before the end of the year. The planned works, which will take 18 months to complete, incorporate essential repairs to the Grade II listed Festival Theatre, a new extension, increased seating capacity, improved access and public facilities, improved backstage facilities and changes to make the building more energy efficient.
The fundraising campaign, ongoing for two years now, continues in earnest to raise the essential remaining £2 million.
A planning application has been made to Chichester District Council to build a temporary 1400-seat 'Pavilion in the Park' in which to house Festival 2013 productions alongside those that will play in the Minerva Theatre during the extensive building work. The theatre is waiting for the ruling on this application.
Chichester Festival Theatre is one of five national organisations whose capital funding has been confirmed by ACE yesterday, and the only one of these organisations organisation in the south east area.
Executive director, Alan Fiinch, said "This news is the icing on the cake in our 50th anniversary year and the result of two years of hard work by our development team and our dedicated RENEW Campaign Committee.
"The Festival Theatre is now operating on a scale way beyond what was envisaged when it was built and opened in 1962.
"Jonathan Church and I are committed to making this project work and ensuring that the Festival Theatre is here for the next 50 years and beyond".
Meanwhile, Heartbreak House continues in the Festival Theatre until 25 August in Repertory with Kiss Me Kate which finishes on 5 September. Playhouse Creatures by April de Angelis directed by Michael Oakley is at the Theatre on the Fly and running until 11th August, to be followed by the world première of Fred's Diner by Penelope Skinner directed by Tim Hoare from 18 August to 2 September.
At the Minerva Theatre, Alan Ayckbourn's 76th play Surprises runs from 8 August to 8 September in repertory with his Absurd Person Singular from 10 August to 8 September.