Cast unveiled for RSC Romeo and Juliet
Published: 9 January 2018
Reporter: Steve Orme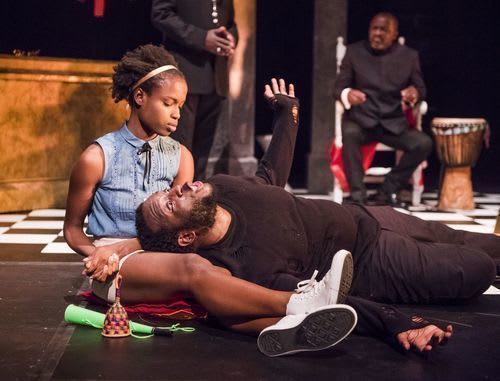 The Royal Shakespeare Company has disclosed the complete cast of deputy artistic director Erica Whyman's production of Romeo and Juliet which opens in Stratford before a nationwide tour.
As previously announced, Bally Gill and Karen Fishwick will play Romeo and Juliet. They will be joined by Charlotte Josephine as Mercutio. Snuff Box Theatre has staged two of her plays at the Edinburgh Fringe, Blush in 2016 and Bitch Boxer in 2013. As an actress, she was part of the Lyric Hammersmith's Secret Theatre Company.
Raphael Sowole plays Tybalt. He took the role of Simeon in Simon Stephens's adaptation of Chekhov's The Seagull at Lyric Hammersmith in 2017. He played Colonel Pickering in the Headlong, West Yorkshire Playhouse and Nuffield Southampton production of Pygmalion in 2017 and the title role in Black Theatre Live's tour of Shakespeare's Hamlet in 2016.
The rest of the cast comprises Afolabi Alli (Paris), Donna Banya (Gregory), Stevie Basaula (Sampson), Ishia Bennison (nurse), Katy Brittain (Friar John / apothecary), Raif Clarke (Peter), Beth Cordingly (Escalus), Paul Dodds (Montague), Josh Finan (Benvolio), Andrew French (Friar Laurence), Mariam Haque (Lady Capulet), Michael Hodgson (Capulet), John Macaulay (cousin Capulet), Tom Padley (Balthasar), Sakuntala Ramanee (Lady Montague) and Nima Taleghani (Abraham).
Design is by Tom Piper with lighting by Charles Balfour. Music is by Sophie Cotton and movement by Ayse Tashkiran.
Romeo and Juliet runs in the Royal Shakespeare Theatre, Stratford from Saturday 21 April until Saturday 21 September. It will be broadcast in cinemas on Wednesday 18 July.
A nationwide tour is planned for 2019. Venues will include Newcastle Theatre Royal, Theatre Royal Norwich, Blackpool Grand, Theatre Royal Nottingham and the Alhambra Theatre, Bradford. Full tour details will be announced later.
UK schools will be given "unprecedented" access to the Romeo and Juliet rehearsal room as part of a new series of 45-minute Live Lessons, giving students an insight into the creative process and interpretive choices that directors and actors make as they prepare to stage a new production.
The RSC Live Lesson for Romeo and Juliet will be broadcast on 25 January from 10:30 to 11:15AM.