A Christmas Carol
In a new version by Jack Thorne, based on the novel by Charles Dickens
Old Vic Theatre
–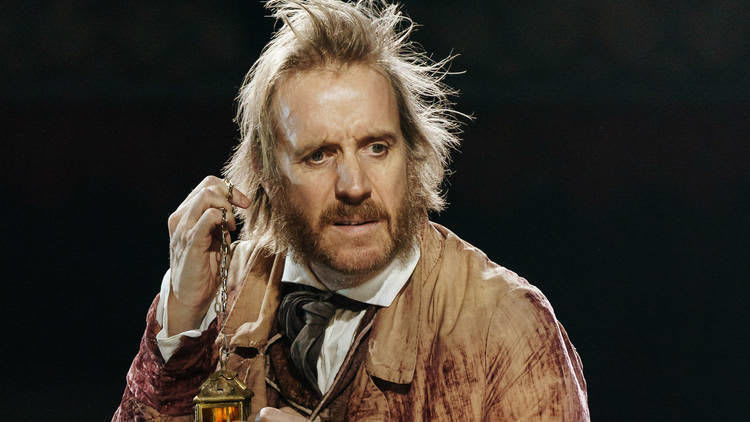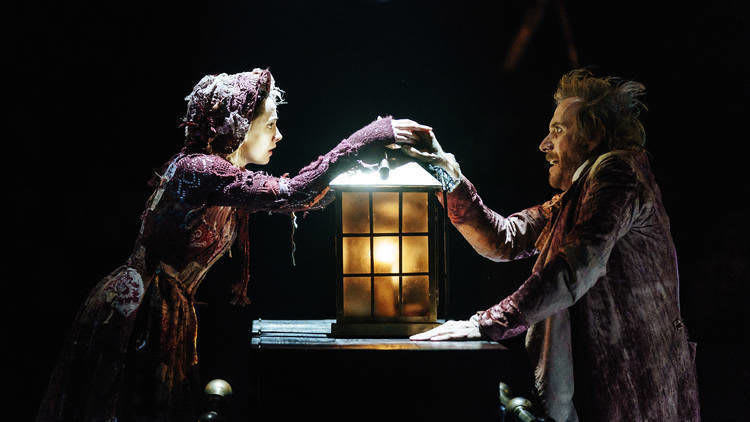 Of late, A Christmas Carol has become a staple at theatres large and small during the season of goodwill. Frankly, far too many of these productions are dull and unimaginative, making viewers wonder why they braved the elements rather than watching yet another re-run of a long-forgotten Morecambe and Wise Christmas Special.
In this context, Matthew Warchus and the Old Vic have shown a degree of bravery in eschewing a pantomime or perhaps a cynical modern response to Christmas and returning to the old warhorse.
However, the Old Vic's Artistic Director clearly had a novel vision, starting with a commission to Jack Thorne, famed for stage and screen work as varied as Harry Potter and the Cursed Child, Let the Right One in and This is England.
On a Rob Howell set, which is designed in-the-round and shaped like a crucifix, the period is evoked before the non-existent curtain rises by the large chorus, uniformly dressed initially in frock coats and top hats, who first hand out mince pies and then ring hand bells immaculately.
Collectively, they present the prologue to the sad tale of Ebenezer Scrooge, played with welcome understatement but great good humour by Rhys Ifans. The events proceed through a number of pertinent ethereal visitations, the first from the ghost of his former business partner Jacob Marley, dragging yards of heavy chain on his way back from some hellish afterlife.
He prepares the miserly loan shark and debt collector for the appearances of three (female) ghosts from Christmases past, present and future.
First up is Myra McFadyen who shows Scrooge at his worst, missing out on what might have been had a happy life as an undertaker married to the boss's gentle daughter. Erin Doherty plays Belle with poignancy, preparing herself for a long stint at the theatre since her starring role in Sir Alan Ayckbourn's The Divide is scheduled to arrive as soon as this production closes.
Golda Rosheuvel is the guide to the present, showing Scrooge the consequences of his meanness via the harsh life of his hard-working clerk, John Dagleish as Bob Cratchit, whose ailing son Tiny Tim was played on press night by Toby Eden.
Nothing seems capable of thawing or even locating the heart of the money man until Melissa Allan in the role of his dead sister Little Fan takes the stage representing the time to come.
Her efforts have a dramatic effect on the mood of Ebenezer Scrooge but also everyone with whom he comes into contact.
The change is represented symbolically by a stream of clever, low-tech coups de théâtre. These include fruit and vegetable chutes potentially imperilling audience members and a heavy snowstorm that briefly covers paying customers in a wonderfully convincing imitation of the real thing.
All of these elements, combined with traditional music, including brief renditions of a series of carols, make for a charming and genuinely magical contribution to the Christmas season, which has enough novelty and wit to win over the hearts of even the 21st-century inheritors of the Scrooge mentality.
Reviewer: Philip Fisher