Akhnaten
Composer Philip Glass, libretto Philip Glass in association with Shalom Goldman, Robert Israel, Richard Riddell and Jerome Robbins
English National Opera
London Coliseum
–

Listing details and ticket info...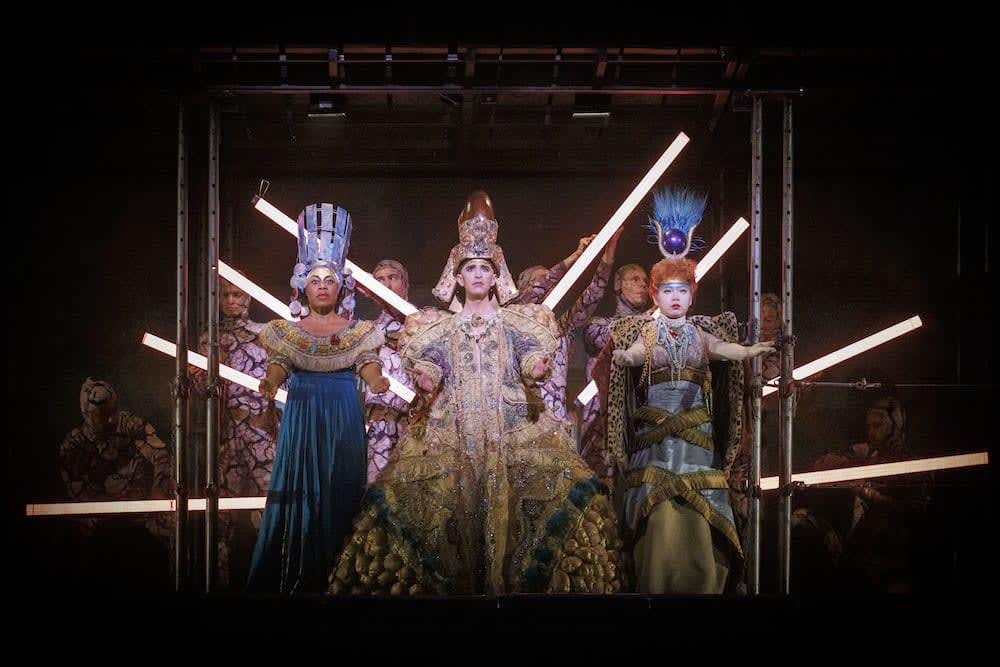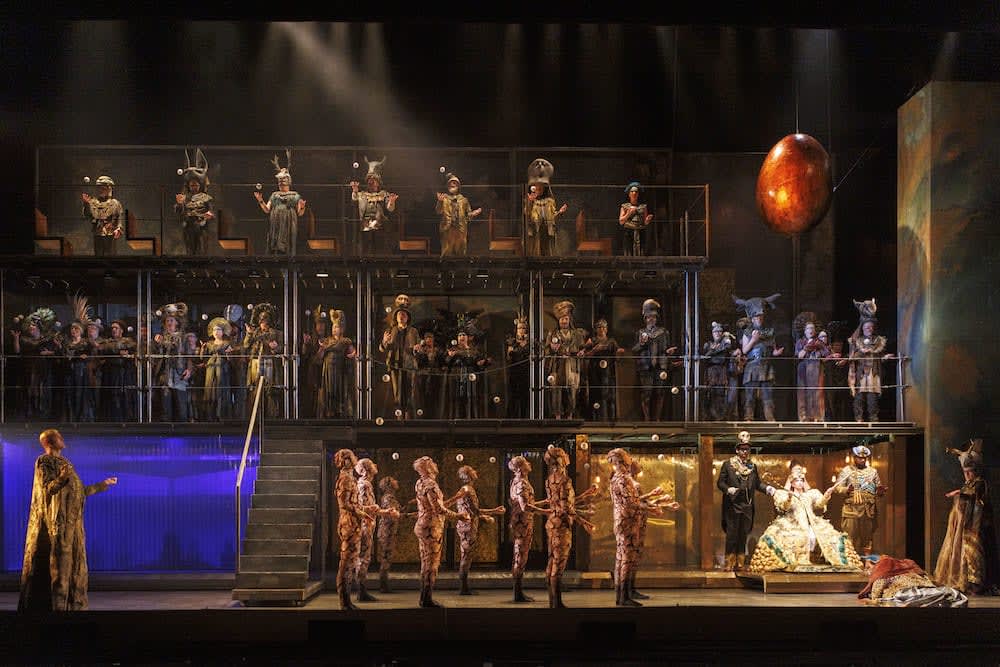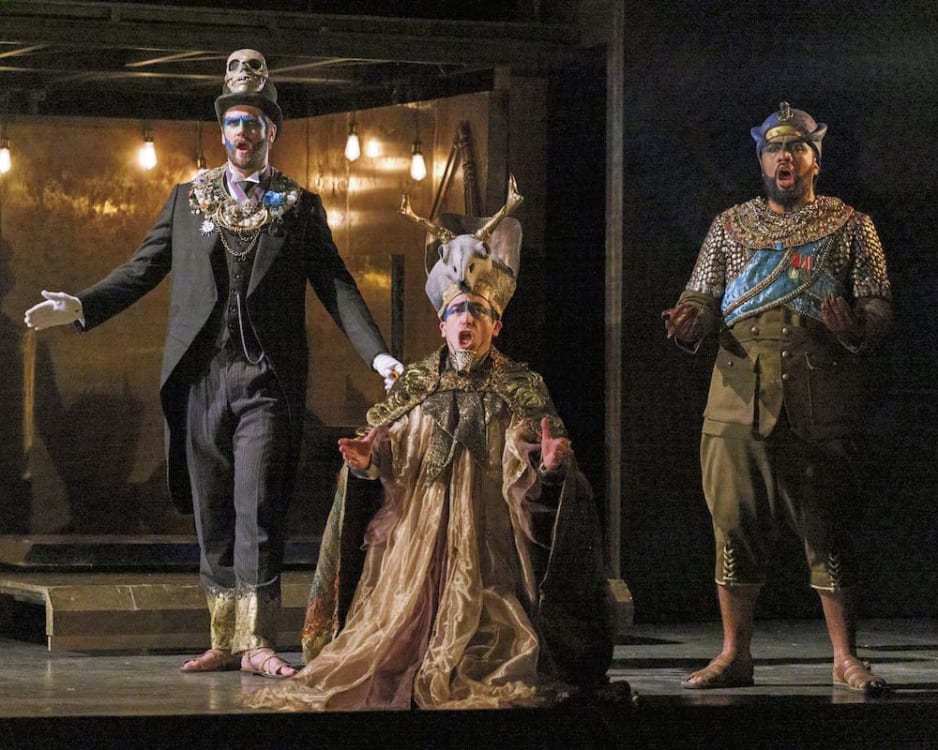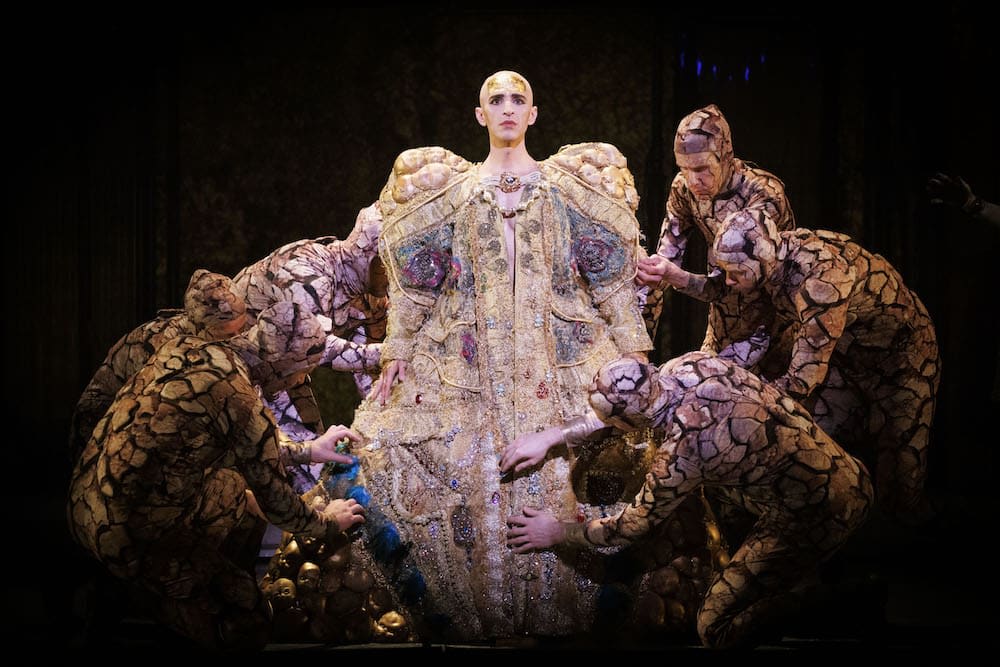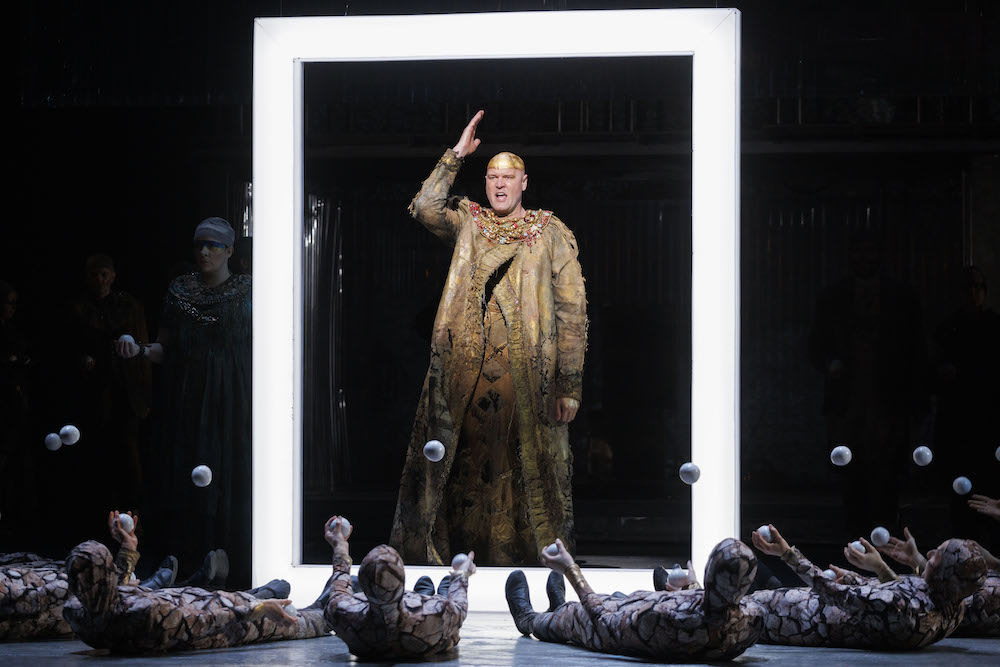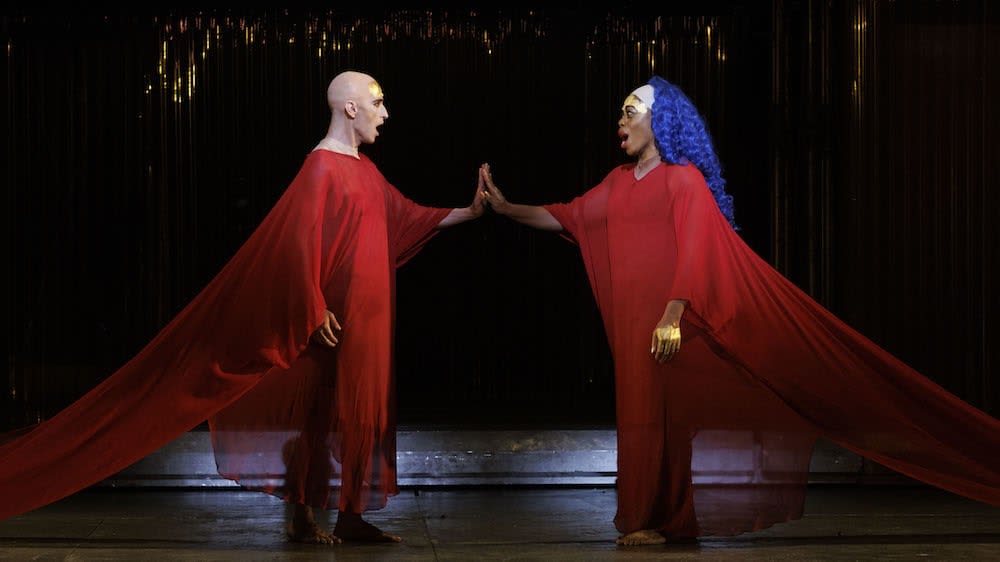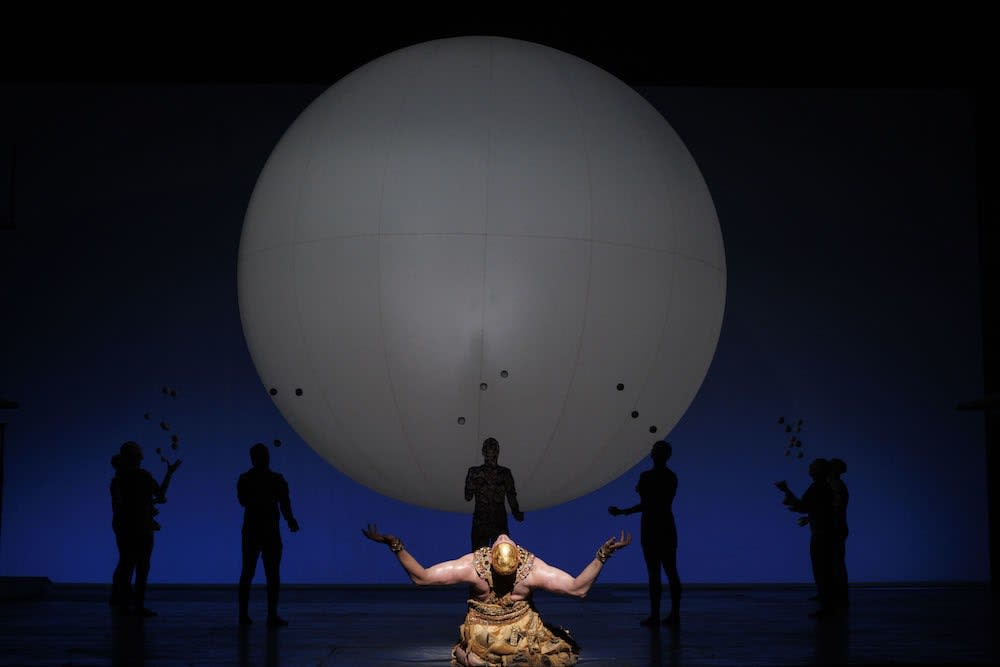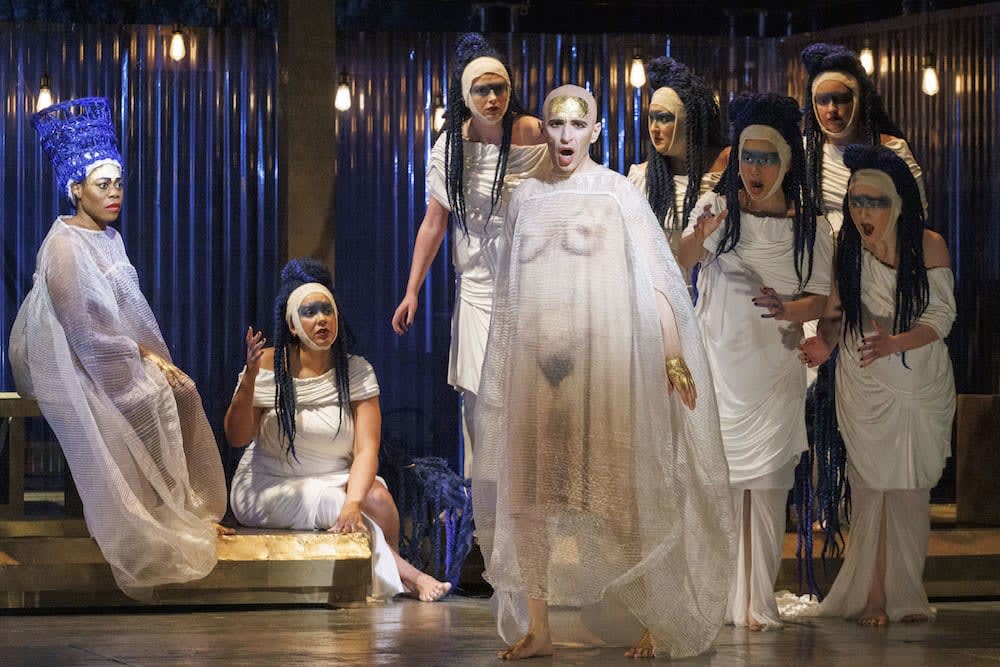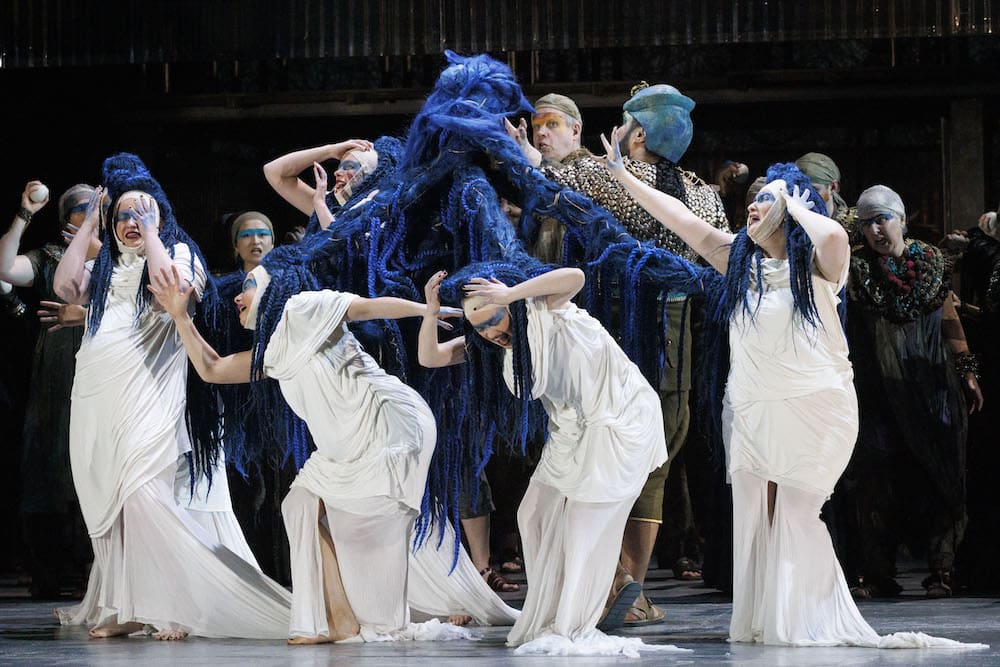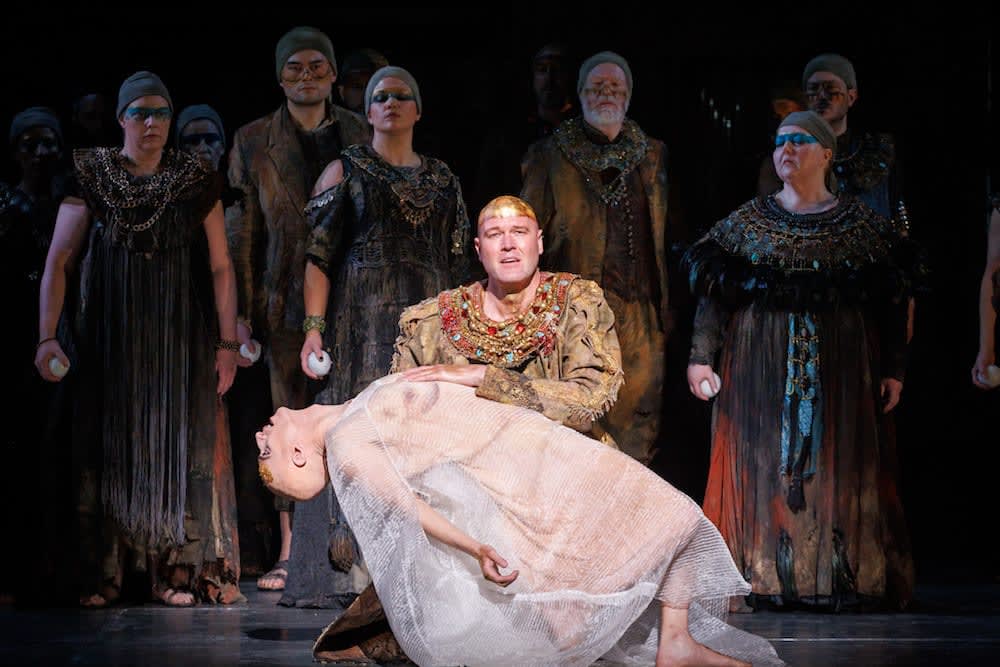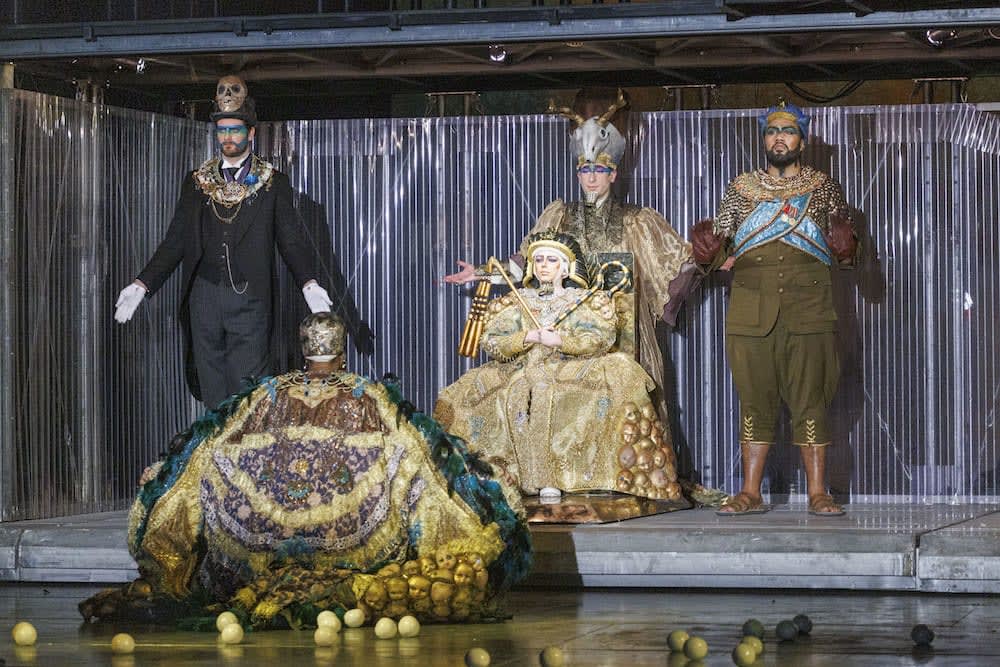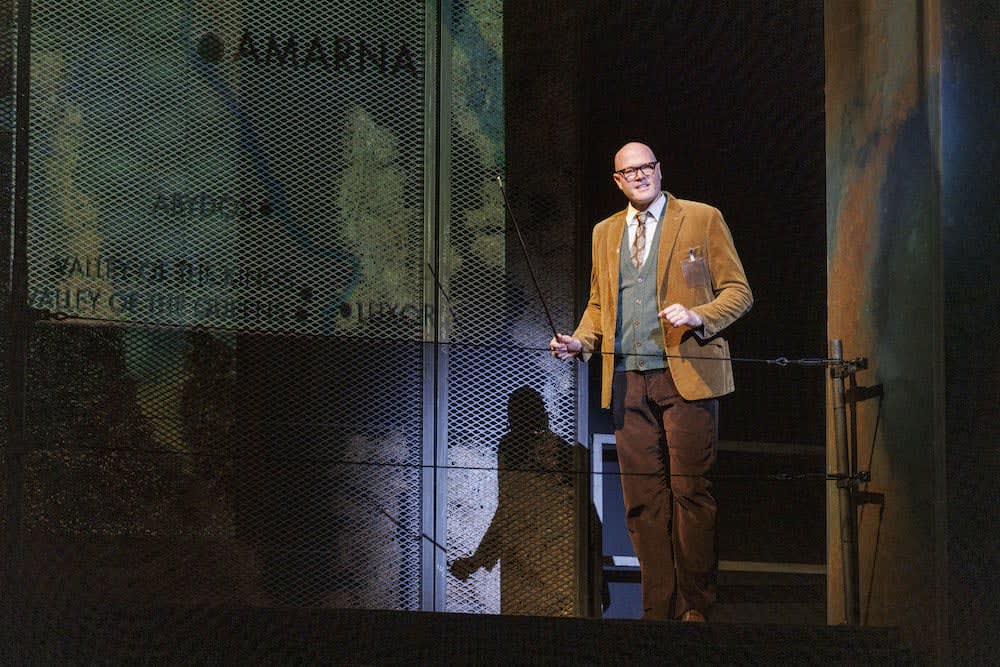 Magical, mystical, magnificent... Philip Glass's Akhnaten (1983/4) returns to the Coliseum for its first ENO revival since 2016. I have seen it three times and the score still spins its mesmerising spell on me. Baroque, lyrical, minimalism moderated, Akhnaten is a spiritual meditation.
Sung in Egyptian, Hebrew and Akkadian with no distracting surtitles, (the libretto is printed in the programme) with English text, derived from original sources, spoken sonorously by stately Scribe Zachary James, Phelim McDermott's production is a sumptuous feast for the eyes.
Think Alexander McQueen / Vivienne Westwood bling crossed with Queen Elizabeth I grandeur. Kevin Pollard's costumes on Tom Pye's three-tier set, lit dramatically by the aptly surnamed Bruno Poet, are fashion show grand kitsch… with lizard-skinned jugglers inserting themselves into the ritual, for ritualistic it is.
With a hint of circus—Glass loves the circus, and images of jugglers have been found in ancient Egyptian wall paintings—and aren't regal ceremonies a bit of a circus? Jugglers as scenic stage furniture, extra graphic dimension and unobtrusive sceneshifters…
Performance art—sun's rays created by the jugglers, stairs to the heavens wheeled in place, and the intertwining of Akhnaten's and Nefertiti's identical red gown trains, stretching the width the stage, bring to mind textile artist Magdalena Abakanowicz.
Gone are Satyagraha's poor theatre Sellotape and acrobat-puppeteers; in is fantasy attire, a ton of jewellery… and Gandini jugglers. It's all about the sphere—balls, globes, big bouncy balloons, sun worship and the cycle of life: Akhnaten's father is prepared for burial, Akhnaten is crowned, Akhnaten is prepared for burial, Tutankhamun is crowned…
Part of a trilogy exploring significant men of ideas: Einstein on the Beach, Ghandi in Satyagraha and pharaoh Akhnaten, the first monotheist. Science, politics and now religion make up Glass's holy trinity.
What has been discovered about Akhnaten is tantalising: he reigned for a mere seventeen years. Pharaohs rule for life. The people and the upper echelons turned against him, they wanted the old gods back. He dies in the Scribe's arms—a Hamlet figure in Horatio's arms…
And Akhnaten's sexuality is ambiguous. Under his sheer garments, Akhnaten has the same physical attributes as his wife Nefertiti. I overhear, "it's brilliantly bonkers." I beg to differ. It is brilliantly, vividly eye catching, but not bonkers.
Stylised movement, slow and stately, and iconography: the preservation of the dead, the weighing of the heart against a feather, ancient tableaux, but sound transcends all. It is emotion, cushion, life itself. For me the ears have it. Castrati were in Glass's mind when he wrote the lead role for a countertenor.
Countertenor Anthony Roth Constanzo, mezzo Chrystal E Williams and soprano Haegee Lee respectively as Nefertiti and Queen Tye join powerful tone and pitch into one glorious sound. As do tenor Paul Curievici's High Priest of Amon (in archbishop costume equal to the Pharaoh), baritone Jolyon Loy as Aye, Nefertiti's father (in frocked-coated suit, umbrella, top hat with skull) and baritone Benson Wilson as General Horemhab.
Two sets of trios… the trinity again... amplifying and merging with the sound in the pit, ENO orchestra under the baton of Karen Kamensek. Exquisite voices all: Akhnaten's solo in act two, his Hymn to the Sun, and his love poem duet with his wife are highlights. Their six daughters (Ellie Neate, Isabelle Peters, Ellla Taylor, Felicity Buckland, Amy Holyland, Lauren Young), joined as one by their dreadlocks, make another wonderful sound.
As does the chorus, juggling balls without a drop. They could have stepped out of a medieval mystery play with their animal heads, gods every one. I think of Shakespeare's Tempest isle "full of noises, sounds, sweet airs, that give delight".
Much research has been done, and the epilogue tries to accommodate that, but it's the mystique that is Akhnaten that is the historical attraction. He steps down from his museum plinth; he lives on with his mother Queen Tye and his wife Nefertiti. It is said his monotheism "became the basis of the Judeo-Christian tradition"…
Three hours of bliss—two intervals in which to read and memorise the libretto—the endless curtain calls are well deserved.
There are only nine performances. Apparently tickets sales are the best yet. 63% are first time bookers. Eight thousand under-21s on free tickets are new to opera—lucky them. ENO is a treasure not to be cast aside or relegated.
Reviewer: Vera Liber