Alina at Sadler's Wells
Choreography Tim Rushton, Juliano Nunes, Johan Kobborg, Frederick Ashton
Alina Cojocaru
Sadler's Wells
–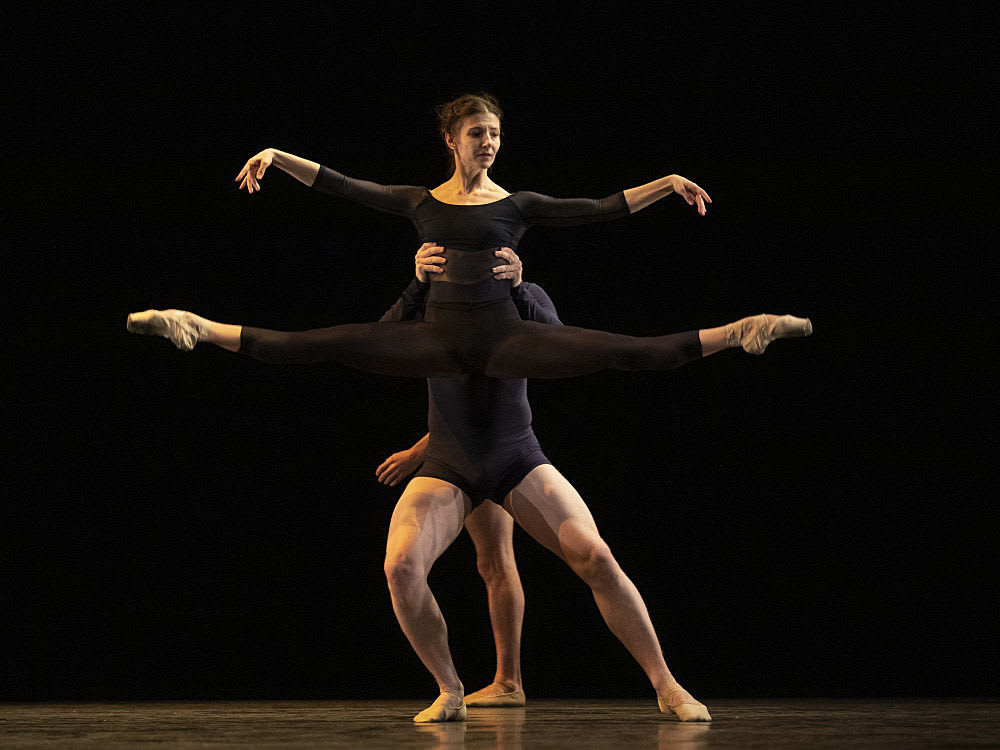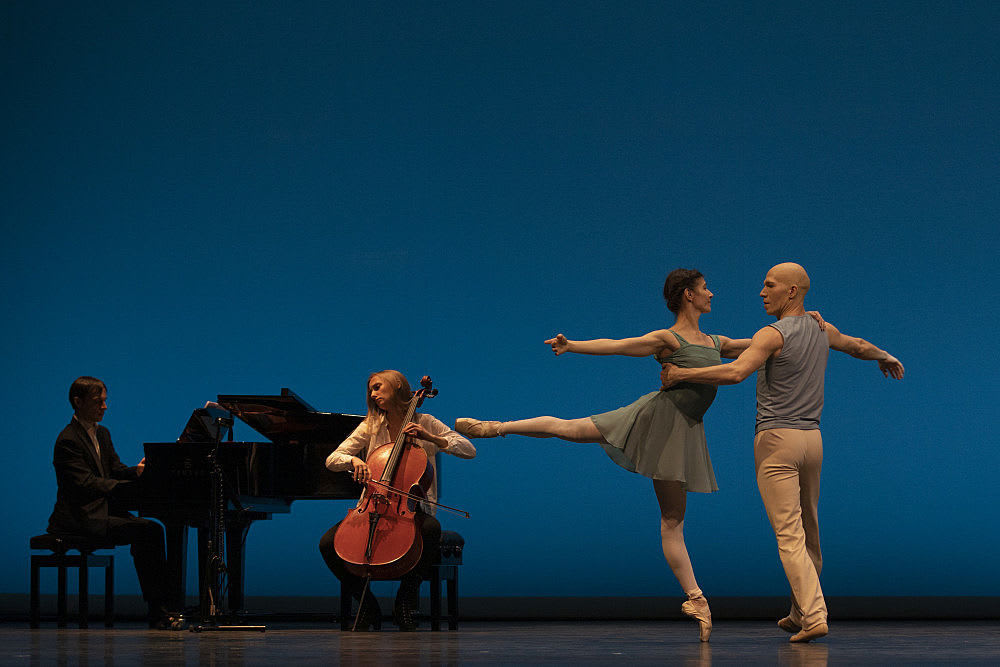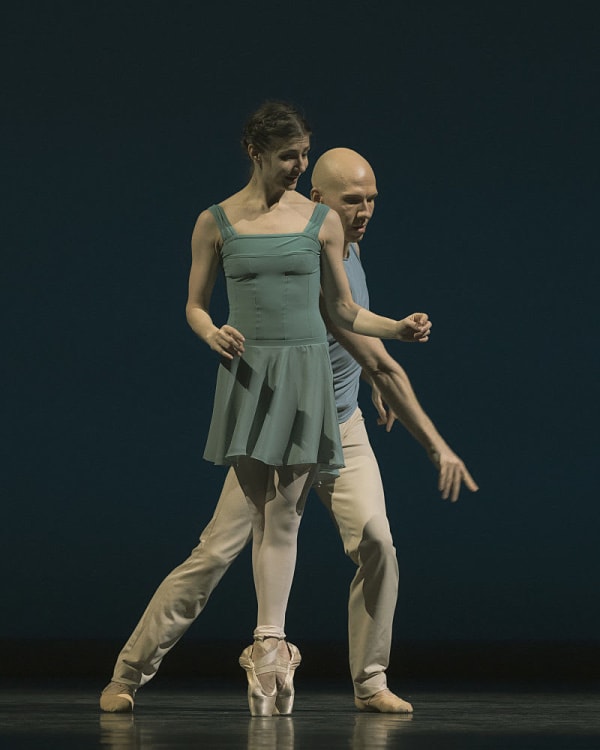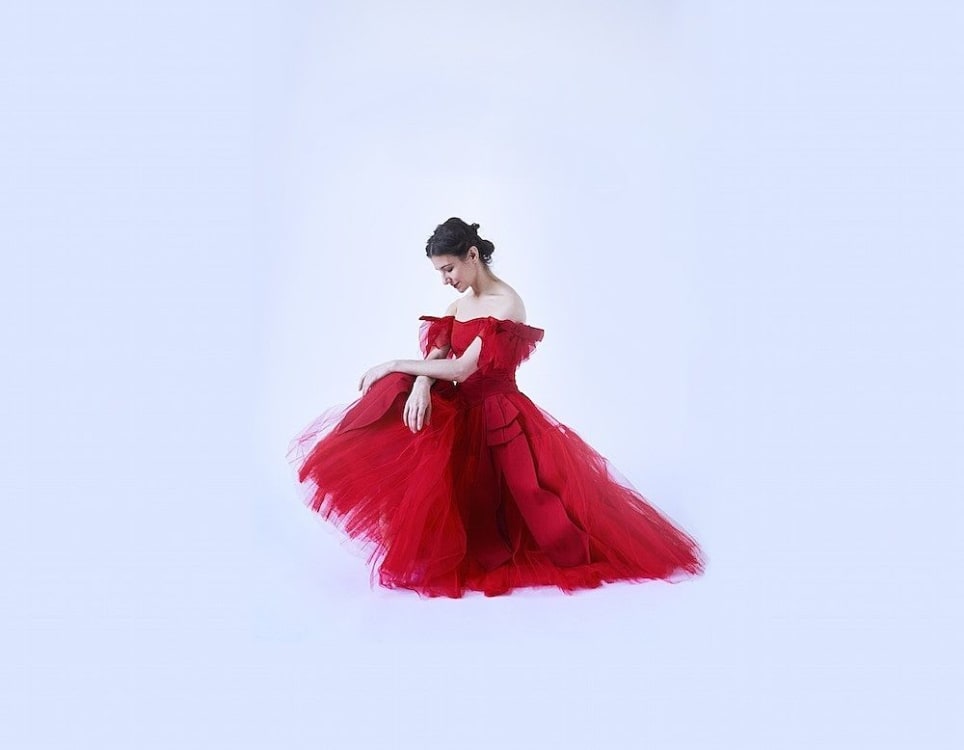 A passacaglia for violin and cello, four dance pieces, two films—a soirée put together by Romanian prima ballerina Alina Cojocaru, showcasing her dancing, her taste, exposing her soul, is an inviting pleasure. The music is lovely.
Formerly principal with the Royal Ballet, lead principal dancer with English National Ballet, resident guest artist with Hamburg Ballet, Alina curates and performs in a new programme of classical and contemporary works. It is that time in her life to take stock and take the reins perhaps.
That she is an outstanding dancer there is no doubt. Petite, she may look fragile but there is a core of steel and determination there. In this her first self-curated evening, she and her many collaborators dig into her very being, Kim Brandstrup especially with his two portrait films.
Not so unusual these days to include film (a permanent representation of the self) amongst live dance pieces (Maliphant did it recently in maliphantworks3) in galas or in showcasing emerging dancers with biographical detail. Brandstrup's are exquisite gems.
The first an extract from Faces (music Couperin), which he created in 2018 for the reopening of the Linbury, close-up studies of Zenaida Yanowsky, Carlos Acosta and Alina in black against an ochre wall, her thoughts passing like clouds across her face. His camera concentrates on the nape of her neck, the upper body, but mostly her eyes, the gateway to the soul.
The second, Kiev (music the aptly named Für Alina by Arvo Pärt), pays homage to her teachers in Ukraine's capital city, where she arrived aged nine with not a word of the language. The camera prowls the empty, but for a dezhurnaya at her desk and a cleaner mopping the floor, corridors of the school—one can almost smell them—under the Ukrainian national flag.
Alina walking the corridors of her memory, alone, remembering the past, touching the barre, the chair... Four handsome erect figures—caught just in time—from a dim and distant past—Vladimir Andreevich Denisenko, Alla Davidovna Rubina, Larisa Nikolaevna Obovskaya, and Alla Vecheslavovna Lagoda look on in pride, and old hands correct her neck alignment. As if to say we are the spine of her technique, we had a hand in this.
It has been quite a journey since. No wonder two of the pieces are called Reminiscences and Journey. After the opening Handel duet (Margarita Balans on cello in dialogue with Charlie Siem on violin, music animating their bodies) comes Tim Rushton's Reminiscences for her and her life's partner Johan Kobborg—to Arvo Pärt's Spiegel im Spiegel played live by the Handel duo.
And it makes me think that ballet is Alina's abiding religion. Her commitment and artistry are all consuming. A personal commitment to it, and to Kobborg, as he proudly shows her off—he the lepidopterist, she his catch. It touches the heart and sends tingles down the spine. Such sweet grace.
At 38, she must be wanting to spread her wings, and spread her wings she does in Juliano Nunes contemporary / neoclassical Journey to Luke Howard's three evocative numbers from his album The Sand that Ate the Sea. Nunes himself and Dominic Harrison take turns to partner her, whilst the other watches. She is the queen bee.
After these introspective pieces, it's a joy to see Les Lutins again (very popular on YouTube), choreographed by Kobborg in 2009 to Henryk Wieniewski's Etudes-caprices for two violins, op. 18 no 4 in A minor and Antonio Bazzini's La ronde des lutins, scherzo fantastique, Op 25—the music sets the pace and says it all.
Fast and furious, two men (Takahiro Tamagawa and Marcelino Sambé on fantastic form) try to outdo each other in astounding virtuosity, the violinist Siem and Sasha Grynyuk on piano are in competitive mood, too. Then Alina joins them in merry cheeky dance. Lovely. It gets a cheer.
After the interval comes Frederick Ashton's half-hour Marguerite and Armand, created in 1963 for Margot Fonteyn and Rudolf Nureyev, for "their special chemistry", and special chemistry is a must.
In 2013, injury prevented Alina and Steve McRae dancing it at ROH (replaced by Alexander Campbell and Yuhui Choe—she is in the audience tonight—who according to me "danced a blinder"), and this is Alina's bit of completism, I guess. For me the romantic chemistry is not there between her and English National Ballet principal Francesco Gabriele Frola as Marguerite's young lover Armand. Both lovely dancers, but it's an organic thing.
Alina is a sensitive dancer at the top of the ballerina pinnacle, a prima in every sense, emotions writ large on her expressive face. Grynyuk on piano bashing out the Liszt, Alina in Cecil Beaton's glamorous gowns as the consumptive, self-sacrificing courtesan Marguerite, her fiancé Kobborg (in grey wig) playing Armand's father, thwarted love, but… maybe I've seen too many... I'm splitting hairs. If you've not seen it, go.
I have reviewed Marguerite and Armand several times at the Royal Opera House: in 2011 when Tamara Rojo and Sergei Polunin replicated the age gap pairing of Fonteyn and Nureyev, and were exceptional. In 2017, I saw Natalia Osipova and guest Vladimir Shklyarov (replacing an unpredictable Polunin), in 2018 Alessandra Ferri partnered by Federico Bonelli ("by Jove do they dance and act the part").
My nit-picking notwithstanding, Alina's evening is thoughtfully assembled, beautifully danced—she is a joy to watch—I'll watch her in anything. Why the house is not sold out I can't imagine. She's worth every penny.
Reviewer: Vera Liber