Asphodel Meadows / The Two Pigeons
Choreography Liam Scarlett and Frederick Ashton, music Francis Poulenc and André Messager
Royal Ballet
Royal Opera House
–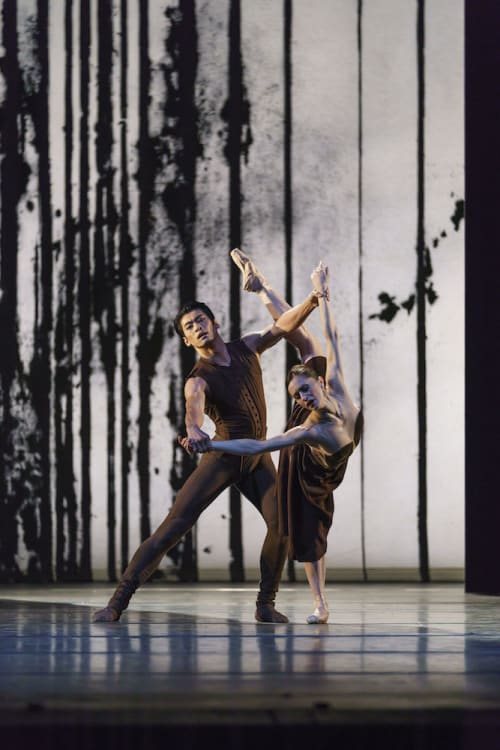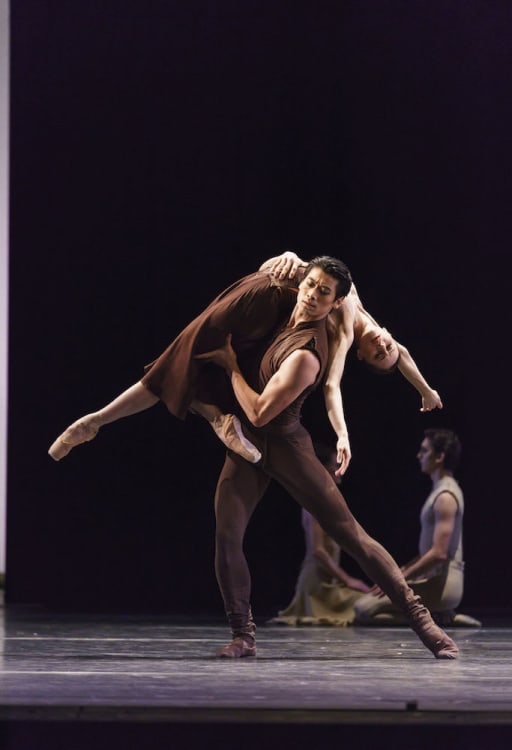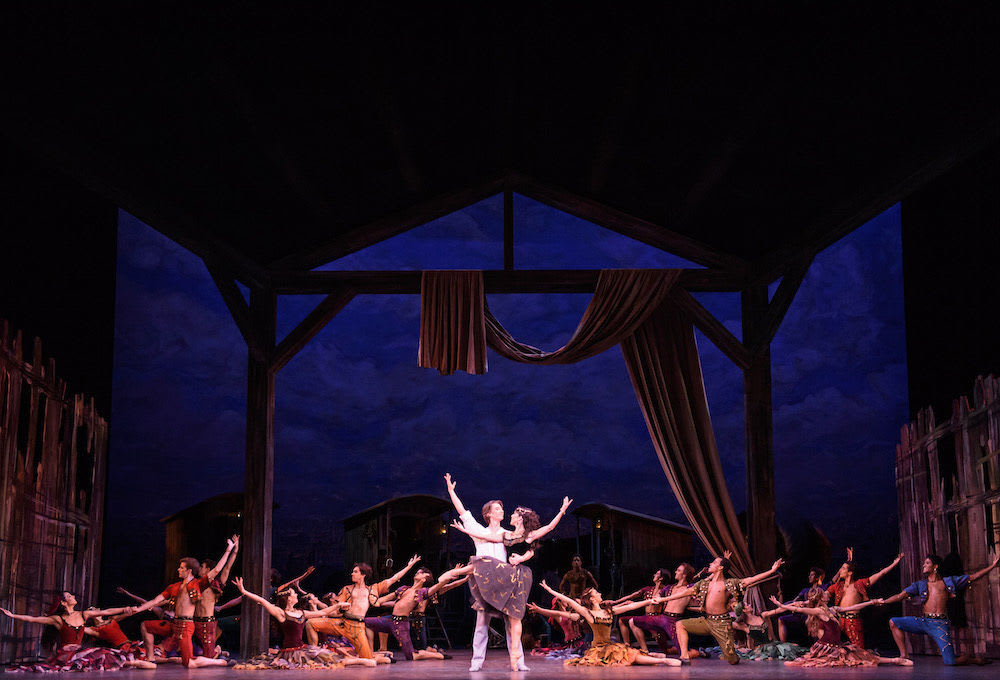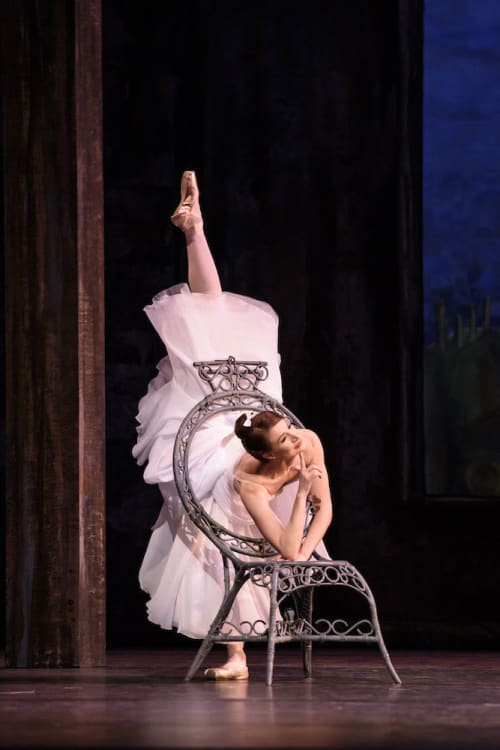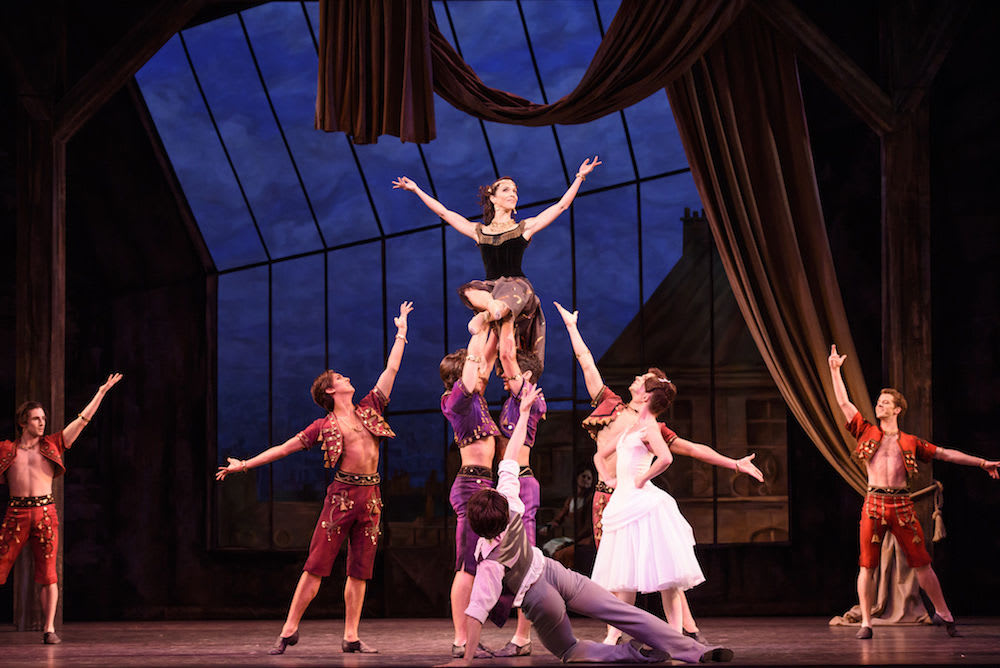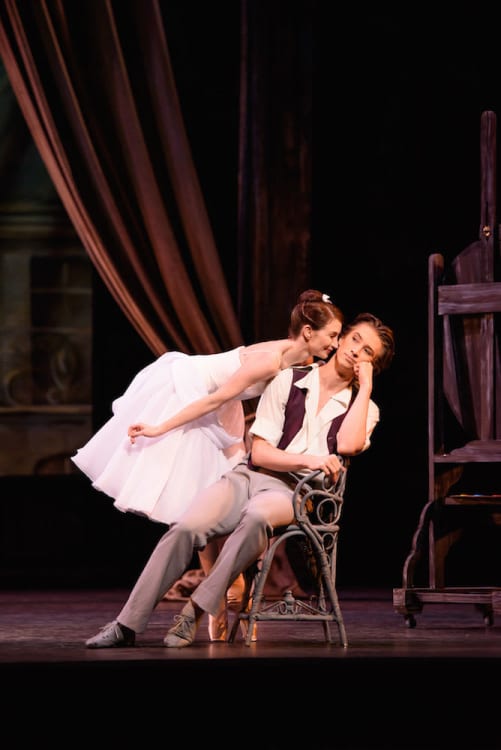 Artist-in Residence Liam Scarlett calls Poulenc's Concerto in D minor for two pianos and orchestra "a kind of schizophrenic musical discourse", which makes me wonder whether the pairing of Scarlett's 2010 twenty-five-minute abstract realm of the dead Asphodel Meadows with Frederick Ashton's 1961 seventy-minute (plus interval) sweet narrative of out-of-sorts young lovers, The Two Pigeons, doesn't fall into that bipolar category, too.
Asphodel Meadows was the young man's—only twenty-four at the time—first commission for the main stage at the Royal Opera House and my goodness was it an impressive debut. It won the National Dance Award for Best Choreography.
Revived a year later, it has not been seen since. I am thrilled to see it again for Scarlett's close interpretation of Poulenc's beautiful wayward music, both sassy jazzy and melancholy contemplative. And for John Macfarlane's oh so dark, stylish, abstract expressionistic, black and white painterly set.
Three couples in dark shades of muted plum and aubergine emerge from a solemn 'shades' ensemble in pale cream to dance emotive pas de deux, lyrical and elegiac, gymnastic and complicated, to Poulenc's three movements.
Balanchine and Broadway come to mind in the third couple's (Luca Acri and Meaghan Grace Hinkis) speedy trajectory as they vie for supremacy over the music. It's as if there is almost too much choreography, Scarlett eager to make each note of the music visible, bringing it sharply into focus.
Marianela Nuñez and Ryoichi Hirano are the lead couple, supremely commanding, and one expects no less; replacing an injured William Bracewell and Laura Morera, Tristan Dyer and Mayara Magri (one to watch) are affective, romantic. Pianists Robert Clark and Kate Shipway deserve their loud applause.
The title refers to the seemingly tranquil territory in Greek mythology where ordinary souls reside after death—what a dreamy, sexy place this is, where graceful women succumb to their male partners in astonishing acrobatic upside down lifts. Is this anguish, despair, or wishful, consoling thinking?
Ashton's witty, charming, playful The Two Pigeons, back apparently by popular demand (last seen here in 2016 and 2015), is a crowd pleaser. Maybe it is the two live pigeons / doves (well behaved tonight) that are the attraction, appealing to a nation of animal lovers… "Ballet for beginners" commented the visitor from Istanbul sitting next to me. Matthew Bourne has touched a similar popular nerve with his entertaining dance theatre pieces.
Or maybe it is the echoes of Swan Lake, The Dying Swan, and a touch of the gypsy exotic that older lovers of ballet appreciate. It is easy watching and listening. André Messager's score, composed in 1886 for a ballet at the Paris Opéra, was reworked by John Lanchbery to suit Ashton's version of the story
I missed first night with Vadim Muntagirov and Lauren Cuthbertson, but what a pleasant surprise Akane Takada is as The Young Girl. I've always thought her a little reserved, but what a fine comic actress she is, fidgety, petulant, and what a fine dancer. Fine-boned James Hay is her Young Man, an artist in an attic, bored with his life. And fed up with his girlfriend who can't sit still for him.
Jacques Dupont's design (fifties Hollywood)—large picture window over the roofs of nineteenth century Paris where pigeons fly, large roomy studio, large enough for the visiting gypsies to prance around in, but it's too small for him, he needs to fly away to greener pastures.
What he finds out is that the grass is not greener on the other side, in the gypsy camp, where upright citizens come to slum it and to get fleeced. And the gypsies dance full out in pastiche Polovtsian, Eastern European inflected style.
Bird imagery abounds in arms and heads. There's something of the comic farmyard cockerel (David Yudes as The Gypsy Boy is very cock-a-hoop) and his hens from Ashton's La Fille mal gardée. And the good girl in white, bad girl in gypsy black are Odette and Odile trying to out dance each other, down to the aggressive shoulder bump shoves.
Mayara Magri (a link between the two ballets) is well cast as The Gypsy Girl if a bit too much for Hay. When the gypsies tease him on the end of a rope like a colt, his solo, arms roped wrist to waist, is also that of a caught bird. Snared by his own foolishness.
The fable storyline may be light, but there's nothing slight or lightweight about Ashton's busy demanding choreography (the restlessness of youth), very difficult to get right, and the Royal Ballet, as always, does him proud.
The Young Man, lesson learnt, returns contrite to his love, two turtle doves in the attic, their two symbolic avian friends on the latticed chair back, a perfect picture frame for their young love. Ah.
Reviewer: Vera Liber