Awakening: Tundra / Afterimage / Revellers' Mass
Choreography Marcos Morau, Fernando Melo, Caroline Finn
National Dance Company Wales
LInbury Studio Royal Opera House
–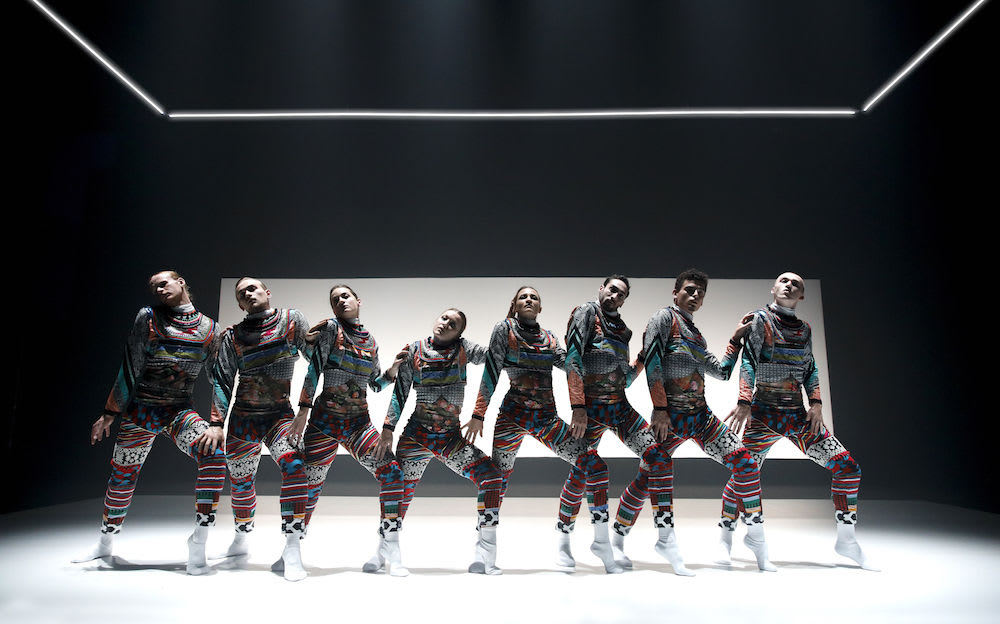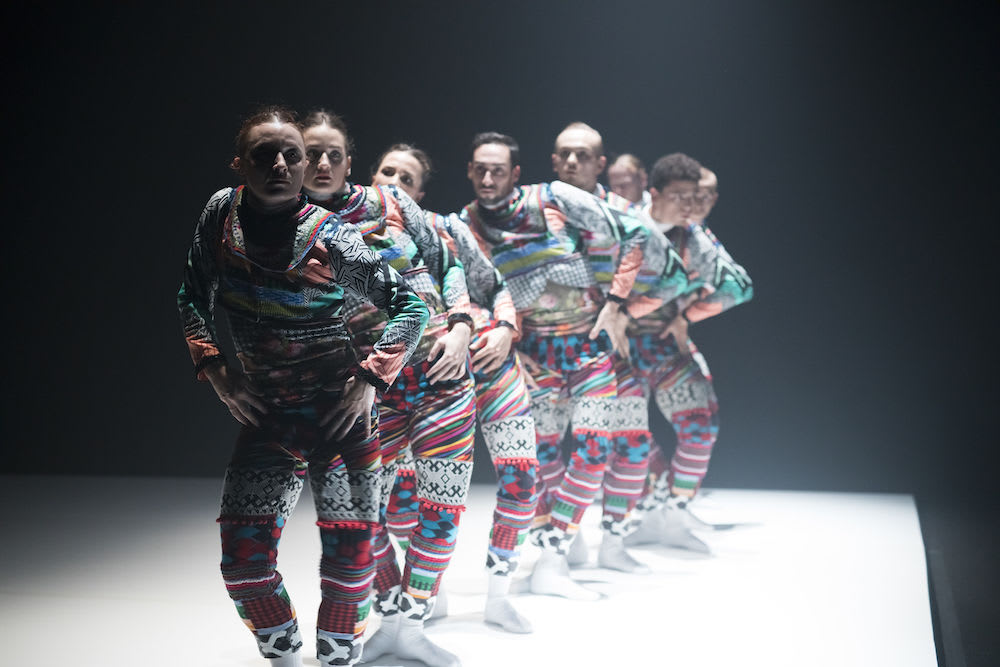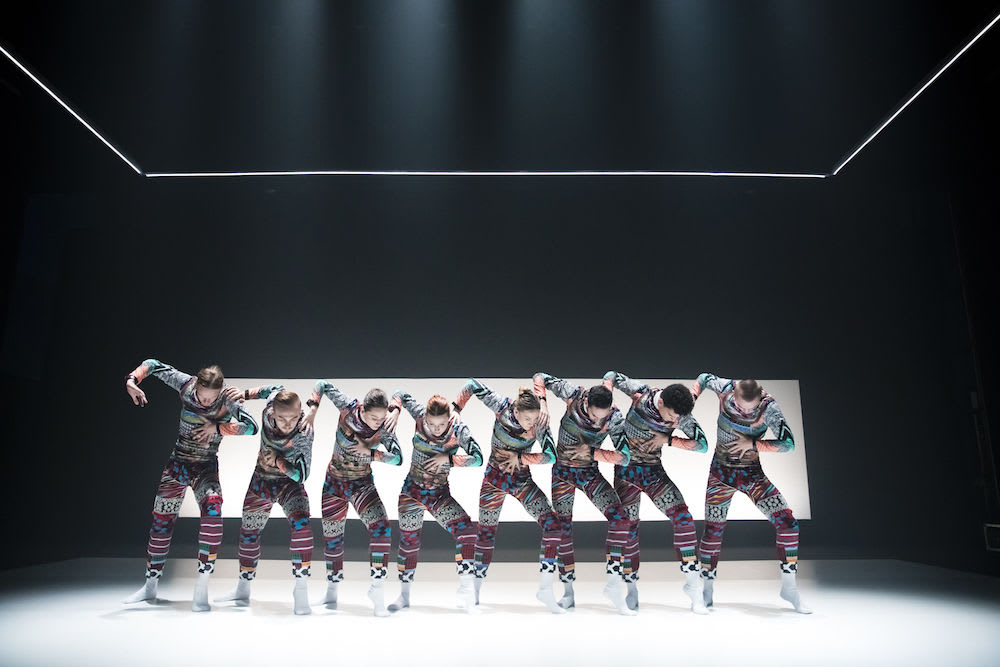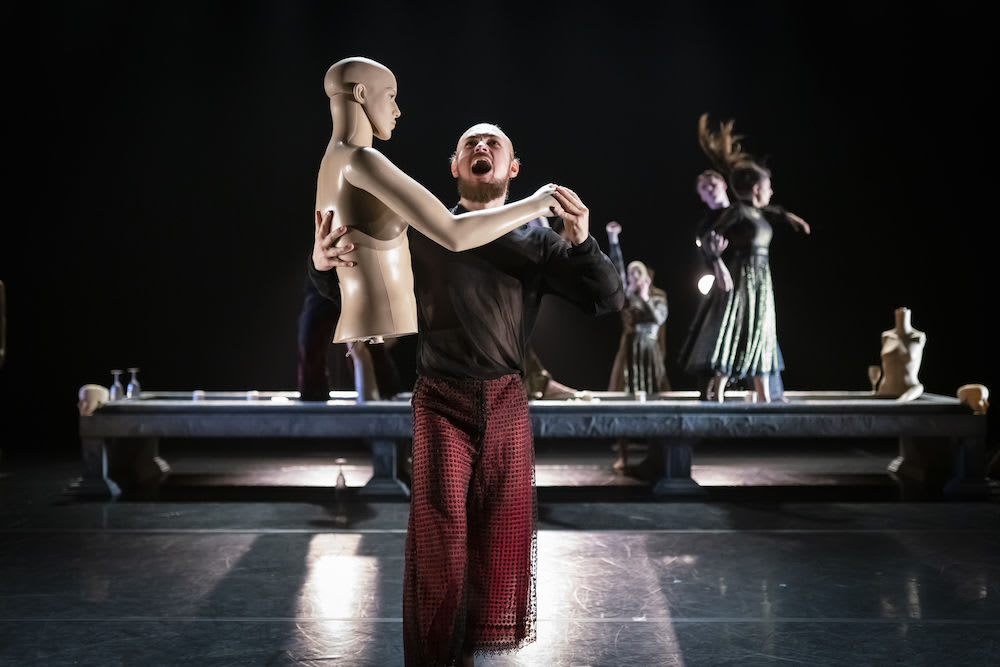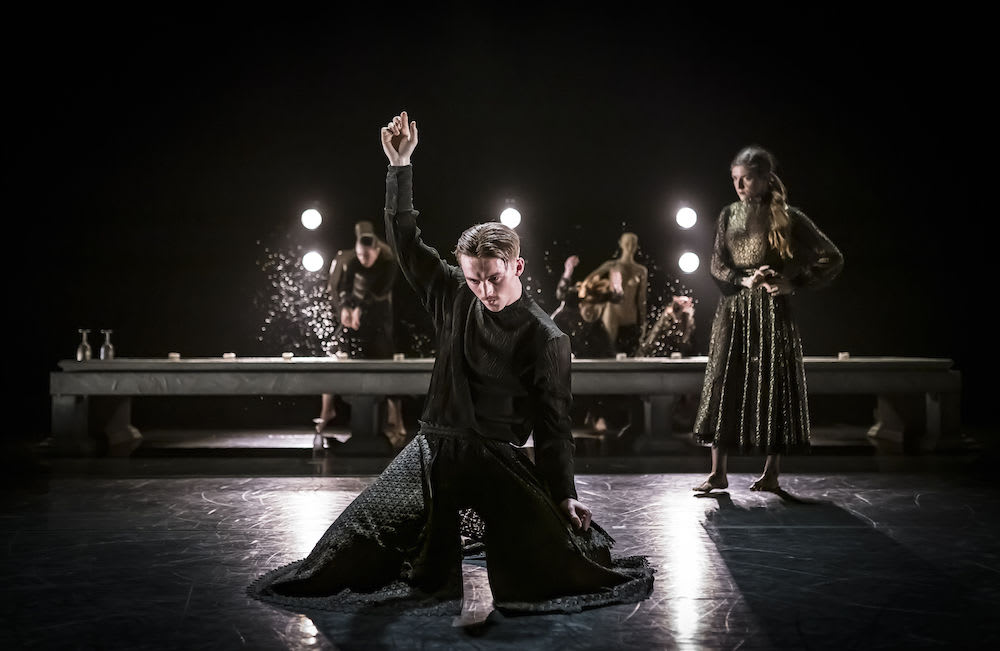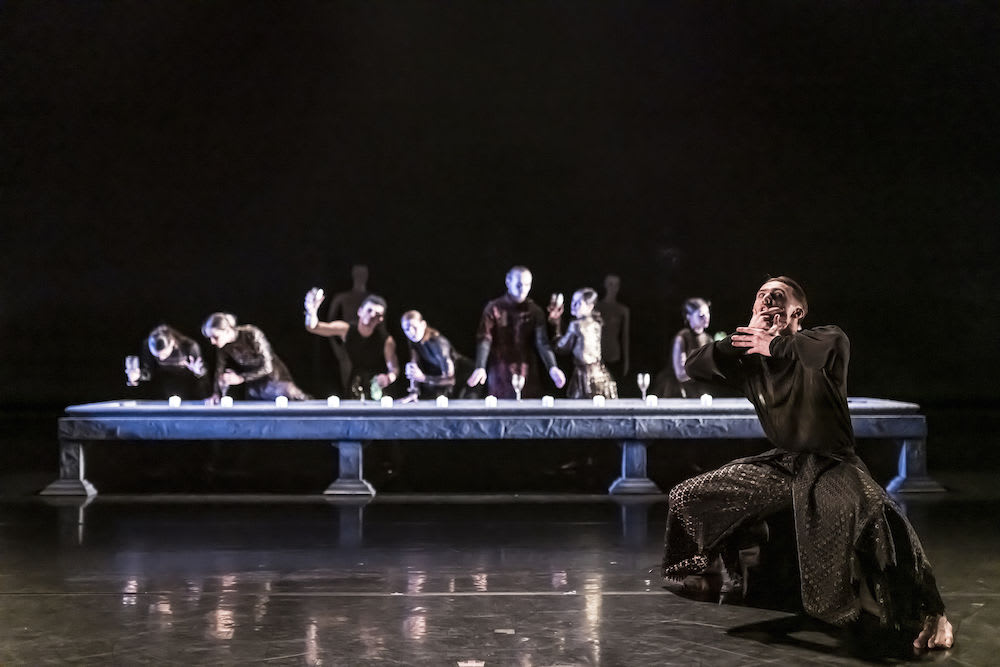 Awakening, an apt overarching title for a fascinating dance theatre triple bill, is the most stimulating thing I've seen this week. It takes me by surprise, prods my synapses, makes me search the dusty archives of my brain—awakens all my senses.
What does the word Tundra evoke? A treeless plain, the cold of Siberia, nomadic tribes? I think Evenk people, but Nenets would be closer or the Yakuts and the Buryats. And shamanistic rituals. The musical compilation includes Russian lullabies and wedding songs of old that I seem to remember from Andrei Tarkovsky's film Nostalghia.
Songs of the mystical past, spiritual and sacred. A woman in kokoshka headdress glides like a wound-up Russian doll, her arms marionette stiff. Eight more join her, weaving in and out on invisible casters, long stiff skirts concealing their feet. The sound of water dripping (another Tarkovsky metaphor), a lit frame descends, encloses them, and then rises. The lights go out.
There's a hum and a thud, and the dancers are back minus the skirts. In uniform multi-coloured bodysuits (design Angharad Matthews)—I think 'Frida Kahlo's colour and the avant-garde Rodchenko costume designs I saw at the V&A in 2015—they form an unbreakable line.
And what they do in that line is mesmerising. The soundscape turns electronic; they robotic. There's something of the past and the future in them. I think Solaris, I think Stalker. I can't get away from Tarkovsky.
Russian village women's voices sing in the rites of spring. Dancers dance the rite of spring. Arms snake, ropes of arms make chains across the bodies, a spiralling DNA structure. Snow falls and I think of Petrushka.
Marcos Morau's precise Tundra is quite unlike the only other work of his I've seen, the riotous Voronia, though Russian influences are strong in both. Strangely, I see Voronia's bacchanalia in Caroline Finn's Revellers' Mass: a tenuous link perhaps, but my brain is getting a workout.
And I see that she has taken something from her time with Ballet Preljocaj. Bare shop mannequins populate the set. A long table laid with thirteen candles, a trough of wine running its length. Lighting by Joseff Fletcher, who also lights Tundra, is dark, sinister, suggestive. Is it going to be a nod to Ken Russell's The Devils? Is it to be a Fellini-esque orgy? Or Buñuel's upper classes and discreet bourgeoisie letting their hair down?
Dressed in glittering blacks with underskirts of red, they seem to be performing Catholic Church ritual—is it a black mass? Is Revellers' Mass exposing the pious hypocrisy of organised religion? Subversive and naughty it certainly is. There's ecstatic writhing, slithering on the floor, a flagellating solo, a tableau of wine goblets and grapes. It feels sacrilegious.
The mannequins (standing in for statuary?) are broken, a stream of gold pours from their innards, their limbs dismembered: iconoclasm and a reverting to primitive urges and ancient rites? Bells tinkle, and the soundscape is great—Pergolesi and a funereal lament. But, having the lead officiant sing Edith Piaf's "Non, je ne regrette rien" when clearing up the morning after is a little bit too obvious, too much icing on the decadent cake.
Separating these two half-hour ritualistic rites is a cool, twenty-minute, 'smoke and mirrors' piece, Fernando Melo's Afterimage. And here the accolade must go not only to choreographer and performers but the whole creative and technical team for their feat of precision.
Pepper's mirror magic ghost illusion makes us look and look again: which is the real body and which the image reflection? Think Orson Welles's hall of mirrors scene in Lady from Shanghai, but more sophisticated and more knife-edge.
Our perspectives confused, our minds bemused, Afterimage is a single concept piece, but what an achievement when dancers, set (Yoyo Seyama's simple table and two chairs), lights (Peter Lundin) and sound (Oren Ambarchi and Machinefabriek) align. A refracted dreamscape, there's something Magritte and Buñuel surreal about it.
Dance theatre and cinema and superb soundscapes, Pina Bausch has a lot to answer for... National Dance Company Wales is touring till 7 May 2019—do not miss them.
Reviewer: Vera Liber