Bull
Mike Bartlett
Supporting Wall
Young Vic Maria Studio
–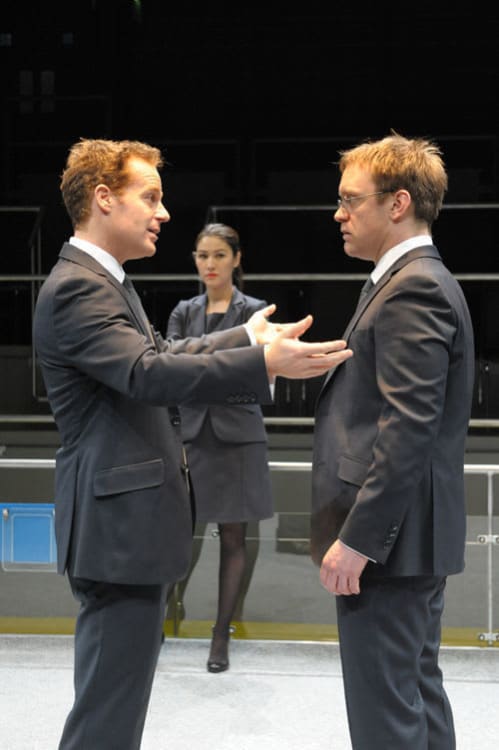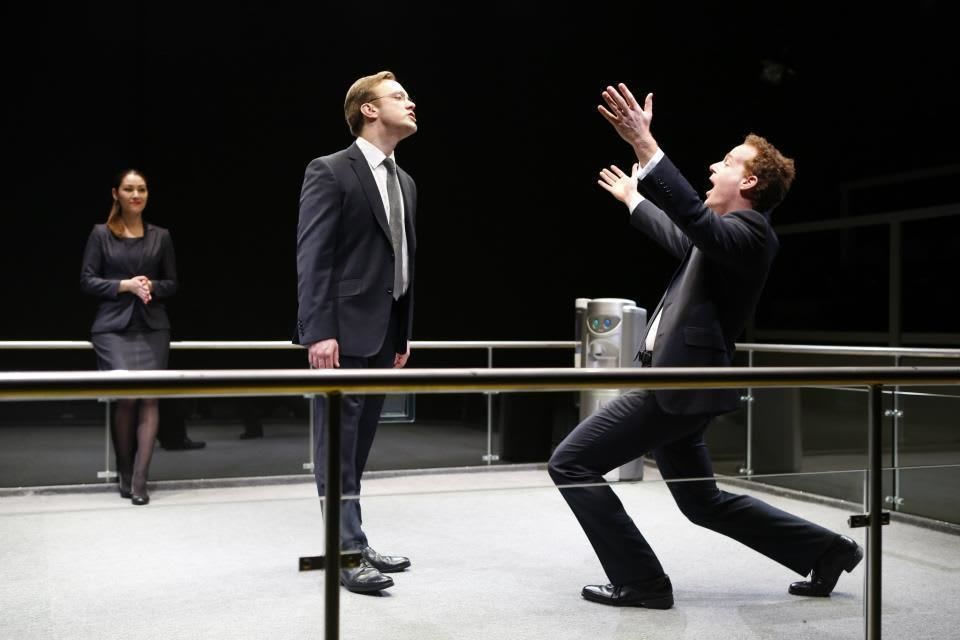 Mike Bartlett has never been afraid to experiment so it comes as no great surprise to see the man behind major works like Earthquakes in London, Chariots of Fire and King Charles III writing on a smaller scale.
In fact, Bull occupies territory similar to that in his early play, Contractions, which cannot compete with this taut, pared-down chiller.
Bull is set in the corporate world and hits the bull's-eye as it depicts the pleasures and pains of today's ruthless rat race. The title could have multiple meanings and almost every one of them could fit, so well has it been scripted.
At the heart of this play, which was first seen in Sheffield before a jaunt across the Atlantic at 59E59, is a stand-out performance from Sam Troughton as desperately insecure misfit Thomas.
He is trapped in a Soutra Gilmour designed space that looks like a Perspex-walled boxing ring. There, along with Eleanor Matsuura's cool Isobel and Adam James as even cooler Tony, he finds himself in a contest to keep their jobs as the recession bites.
They have been told that their three-strong team is to be slimmed to two and an interview with Neil Stuke, playing the supercilious Carter, will decide who is to leave.
Despite protestations to the contrary, the two beautiful people seem to have have teamed up to bully and undermine Thomas. This might be in an attempt to persuade him to behave inappropriately or possibly a decision in the knowledge that he is already on his way.
The subtle attacks build horribly and ring absolutely true with an audience approximately 25% of which stands at ringside observing the action in terrifying close-up.
Thomas struggles to compete with these swift-thinking Masters of the Universe but hopes to beat them off when Carter arrives.
Part of Mike Bartlett's allegorical message about society more widely is that today, when it comes to survival of the fittest, the strong will always succeed, leaving the weak floundering (literally in this case).
Sadly, Carter is like an older version of his ruthless operators so seems as happy as they to have an opportunity to ditch the outsider.
Clare Lizzimore directs an impeccable cast led by Sam Troughton, whose final tantrum is quite remarkable, in a deeply unsettling but all too believable performance that lasts under an hour but contains much to ponder and will almost certainly have sold out the Maria Studio before the first London reviews have been published.
Reviewer: Philip Fisher