Carmen
Choreographer and director Didy Veldman, music Dave Price
Bird & Carrot Productions
Queen Elizabeth Hall, Southbank Centre
–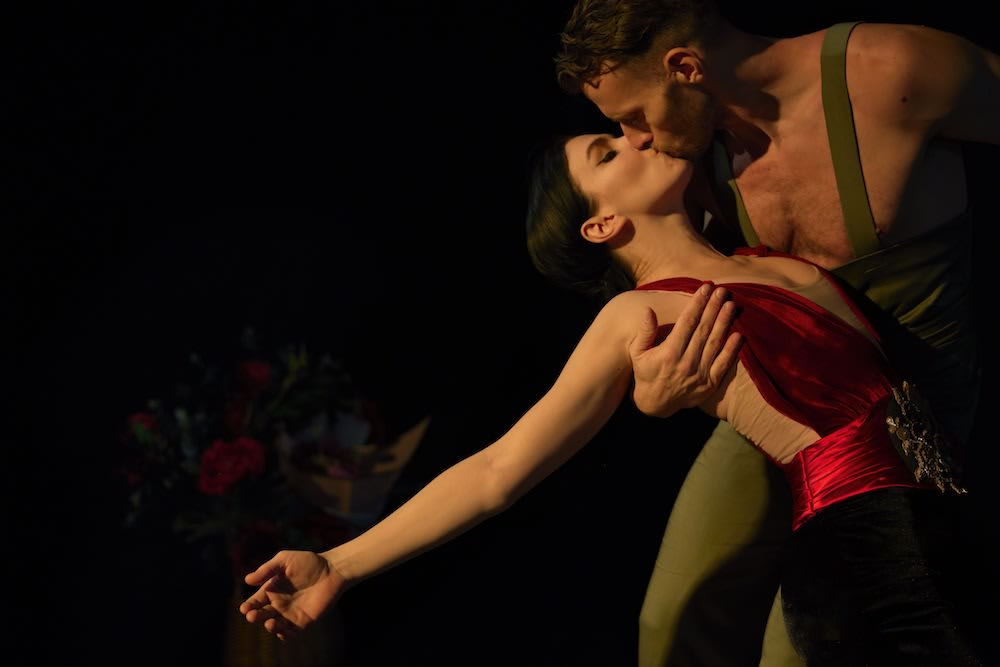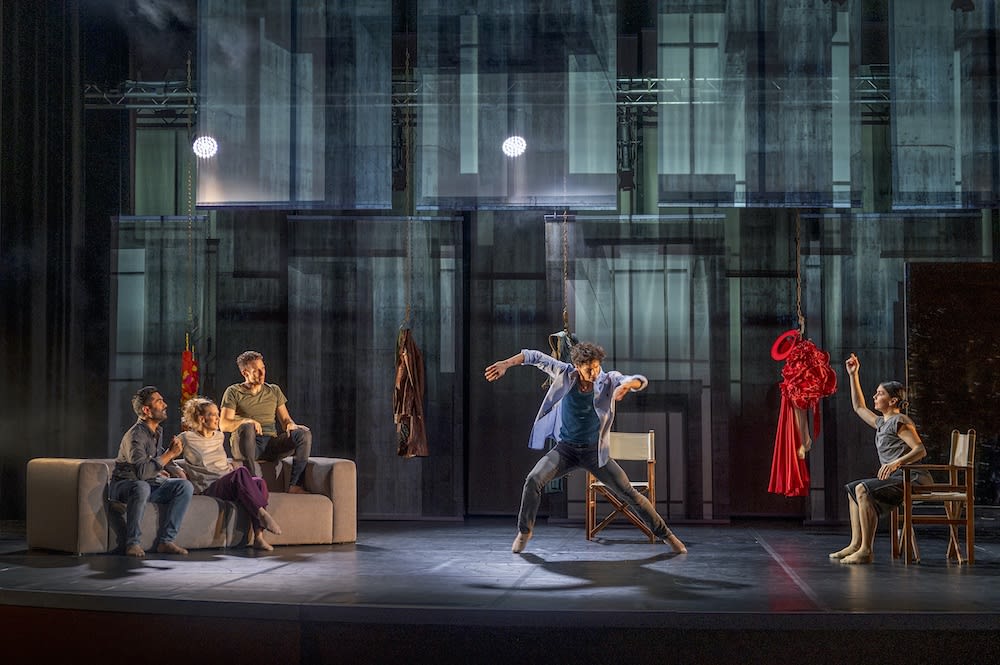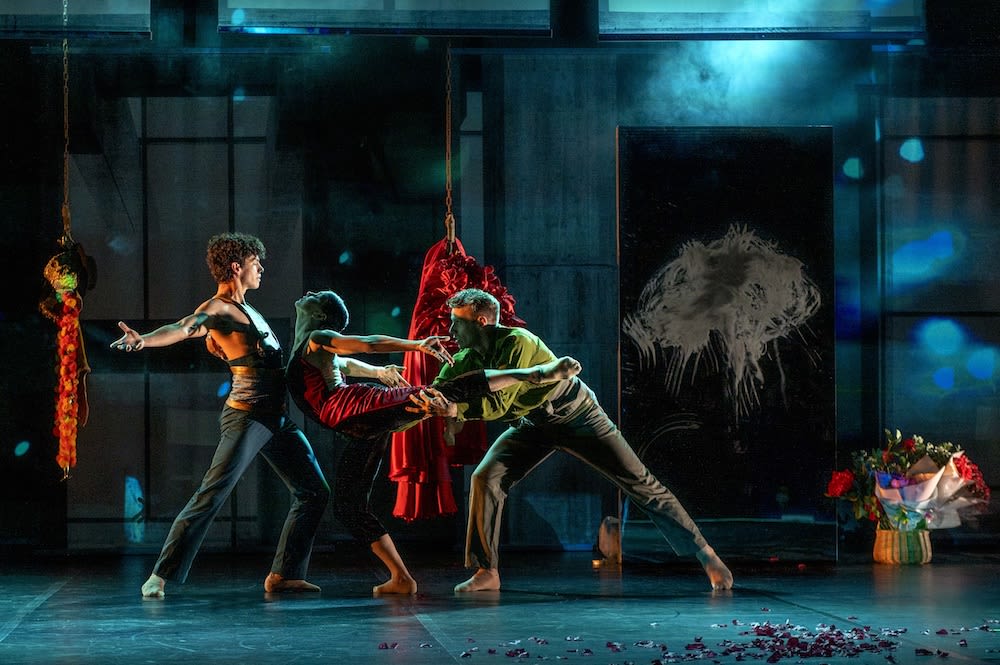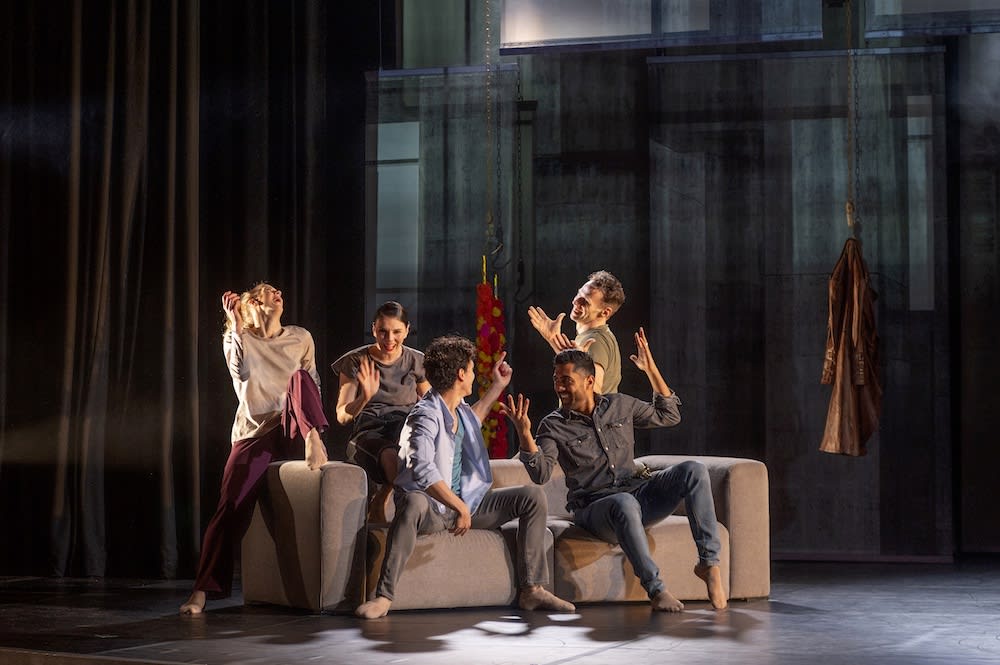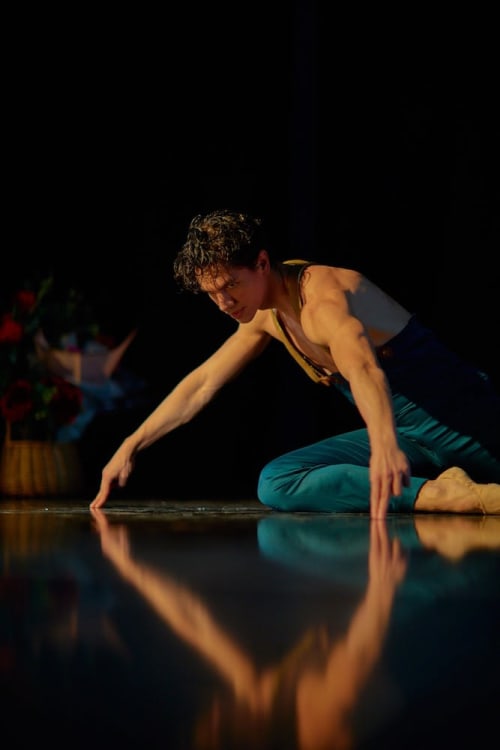 Natalia Osipova is a dancer playing the prima donna lead actress in a film shoot of Carmen—where have I seen something like that before? Ah yes, Carlos Saura's eponymous 1983 film, in which the storyline has its parallel in the dancers' personal lives, lives on and off stage.
Nina Kobiashvili's set is modern, minimalist, with rehearsal room sofa and director's chairs. Gauze panels, onto which shadowy videos are projected, screen glimpses of the actors relaxing in the so-called Green Room backstage. Film clapperboards are much in evidence. There's a trailer for the film, "coming soon".
There are only five performers: Osipova is Carmen, Isaac Hernández doubles as Escamillo and the film director, Jason Kittelberger is José, Hannah Ekholm is Michaela and Eryck Brahmania is a fan / cameraman / cleaner.
A large mirror, reflecting the audience, stands to the side, which I assume to be the star's dressing room, and which Osipova smears with cold cream in a fit of something. Kobiashvili's costumes are dominated by red flowers, red hat, red capes (for Carmen and Escamillo). The others are more or less in casual wear, except when Hernández dons his toreador outfit.
Oleg Mikhailov and Eric Islamov's beautifully fractured video projections confuse the eye, whilst Ben Ormerod's powerful lighting is variable, depending on the demands of film director Hernández, who also stops and starts composer Dave Price's film score—or is this a real technical failure? Hard to know in a meta-textual production with piped applause.
Price's score is the best thing in this creative mélange, cinematic, jazzy, complex percussion, with recognisable Bizet echoes for the relevant scenes. My singer companion comments on how unavoidable they are for the flavour and passion of the drama, how necessary for the audience to follow the characters' arc. It's not always entirely clear what is going on.
But, though the dancing is amazing, especially from Hernández (both toreador and bull in one instance), whose classical training seems to transfer happily to contemporary, and from Kittelberger's equally skilled contemporary pulse and drive, the pace is too slack, the dramatic build-up too slow, there's no punch. Maybe some tightening up and no interval would do the trick.
Characters sit five on a couch, happy friends, till internalised emotions start to spill. Osipova vamps it up but it never feels real. Kittelberger's introspective dance, on the other hand, is intense. The solos, duets and trios are the most involving: Carmen with Escamillo; Carmen with José; Escamillo with Carmen and then bullish head to head with José; José, Escamillo and Carmen.
It is only near the end that things take off in Kittleberger's impassioned duet with Osipova. Director Hernández makes him do that final scene over and over three times—first with his hands around her neck, then with a gun. But the ending is not what one expects. Spoiler alert: she doesn't die, he kills himself... director's licence (Almodovar—All About My Mother—and Fellini—8½—spring to mind).
Choreographer and director Didy Veldman has fantastic material to work with: two Principal classical dancers and three contemporary, though Brahmania (a dancer I've seen in several companies) has little to do, apart from hoist a camera on his shoulders and scatter red petals over the film star. Ekholm, at least, has a love duet with Kittelberger and one of jealousy with Osipova.
A crossover dance piece, classical ballet dancers melding with contemporary performers in contact work: Osipova has done this before on a smaller scale in Arthur Pita's The Mother at this venue. And she has made a move into contemporary dance territory with Sidi Larbi Cherkaoui's Qtub, dancing with Kittelberger, her real life partner.
In 2018, she curated an evening of Pure Dance, again dancing with Kittelberger in Six Years Later, a contemporary number by Roy Assaf. Adventurous, she is reaching for the future, and Carmen would seem another move in the right direction. Osipova is a force to be reckoned with, her gymnastic dancing full-on. I'd love to see her in a pert, cheeky, tetchy role—the darkly comic Run Mary Run suited her well—she can deadpan. Team up with Ben Duke? There's a thought.
Reviewer: Vera Liber