The Mother
Based on a story by Hans Christian Andersen, choreography / director Arthur Pita
Queen Elizabeth Hall, Southbank Centre
–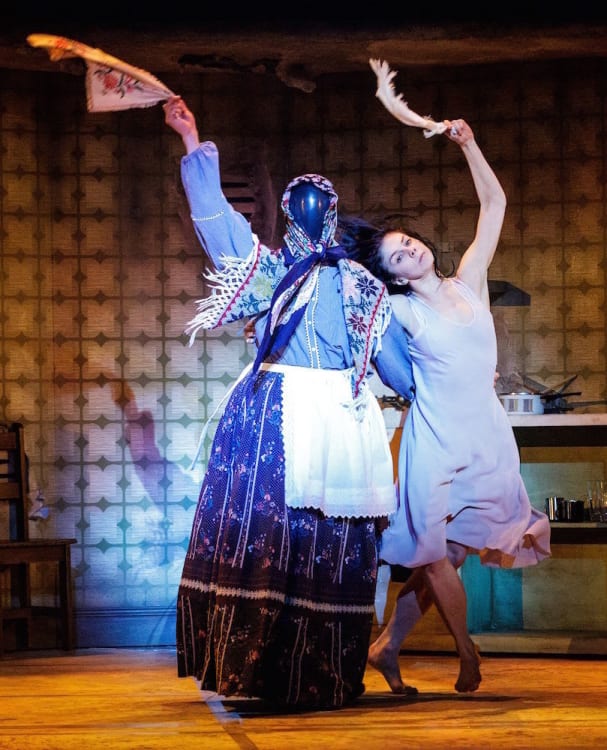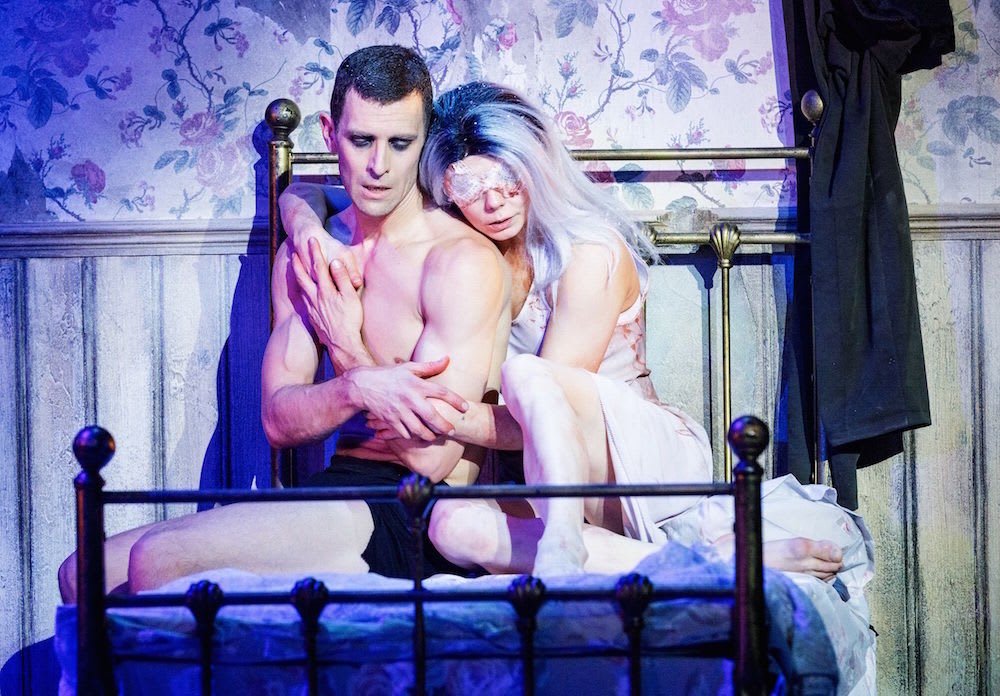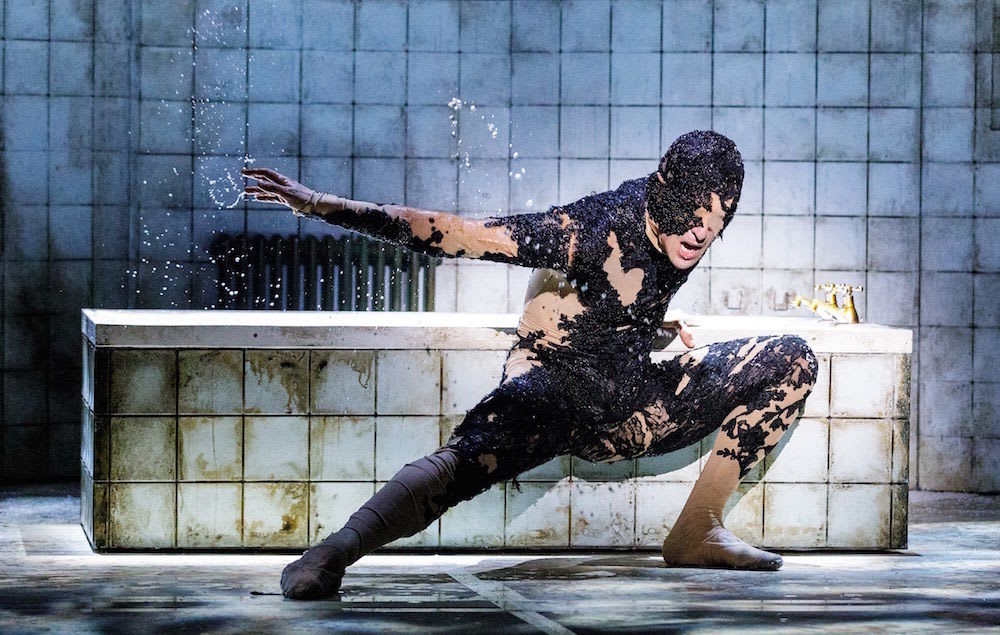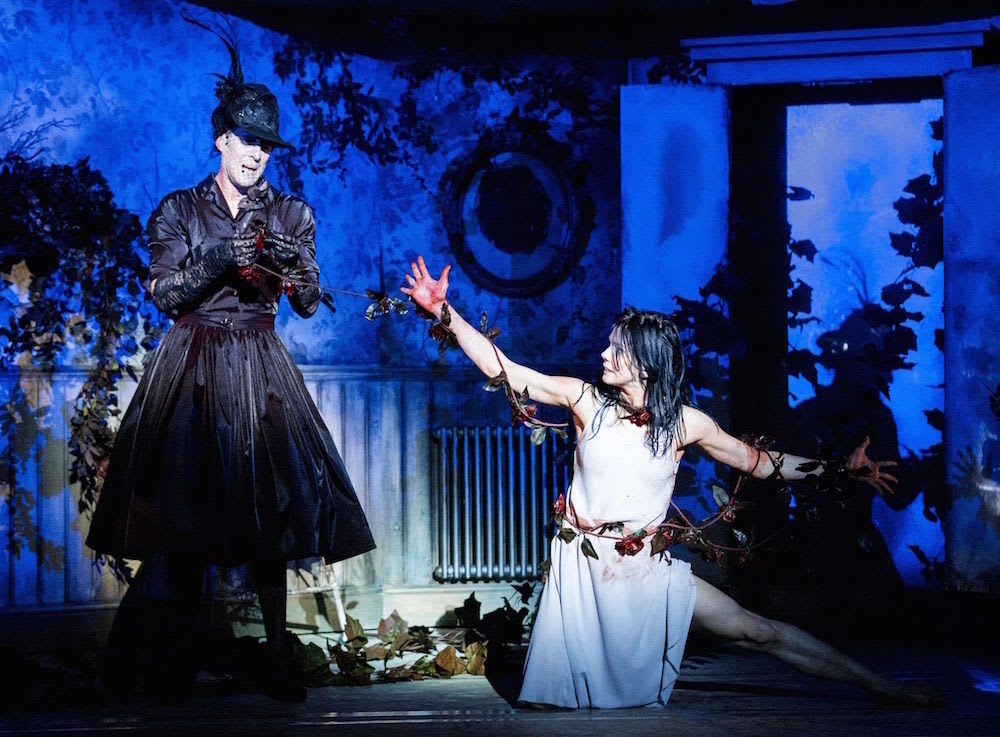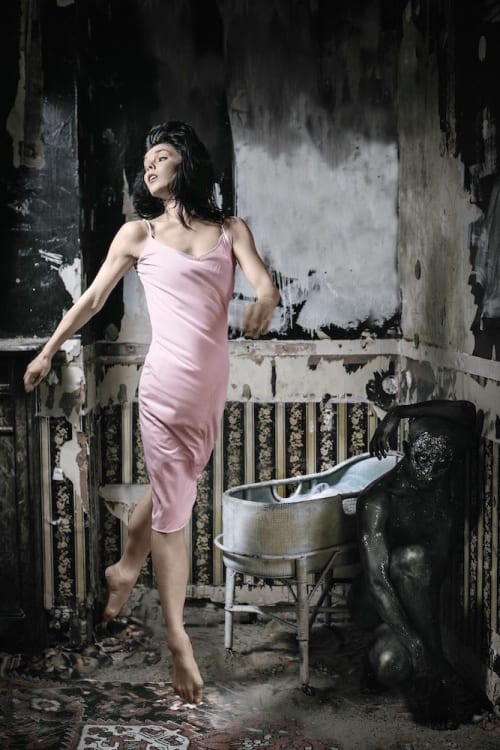 Lots of gothic horror inspiration (designer Yann Seabra) from Arthur Pita, plenty of Russian soul from Natalia Osipova, both expressed in atmospheric percussive music from Frank Moon and Dave Price either side of the stage, and Hans Christian Andersen's The Story of a Mother, a grim Christian allegory, is turned into a 'Stephen King / David Lynch' nightmare, ghoulishly lit by David Plater. What's with the fox on the bed and on the kitchen cabinets? Inexplicable dreamscape?
Pita's juices triggered by the graphic text-free Storia Di Una Madre, illustrated by Italian artist AkaB, and from personal experience, he has Osipova, childless herself, empathise with all the force and energy of her compact being the horrendous trials the Mother must undergo to try and get her sick baby back from Death. The Mother is not an easy watch. Once one has children, fear is never far away, pre- and post-natal fantasies can play tricks on the mind.
On a three-room revolve set, not much room to stretch her high-extension legs, Osipova, twists and turns, crawls and howls, bounces off the walls of a shabby bedroom, a Soviet kommunalka kitchen and grubby bathroom, uses kitchen work surface and bathtub as a barre. She is weary, her baby is crying, she calls the Doctor, who tricks her baby away, he is Death (Jonathan Goddard) come already. Thunder crashes; lightning flashes; her baby is gone.
She chases after them. In the kitchen she finds a faceless Russian Babushka and a baby crying—it's the radio. She hears a familiar Russian lullaby—my young companion remembers his grandmother singing it to him as a child. The Babushka makes her dance to the point of collapse.
Goddard, feet hidden by long skirt, glides in folk dance with her. Remarkably, the shape-shifting Goddard plays all the seven figments of the Mother's imagination, a truly amazing foil and partner for the wild with despair Osipova. Goddard carries the show for me, his dance vocabulary wider-ranging than Osipova's, characterisation creepy and sharp.
The Mother's odyssey leads her to a garden where she is bled by the Rose Gardener—Goddard a black vision in Dior full-skirt frock, high heels and veil... his body language feminine, elegant. Tangled in rose brambles, what wouldn't the Mother give to get her child back? This is her Golgotha—her crown of thorns.
Thin shift covered in blood, she continues on her quest. The Ferryman—the bath converted to a boat—gouges out her eyes as payment. On she goes. The White Haired Witch wants her beautiful black hair (reminds me of Fantine in Victor Hugo's Les Misérables). With those eye-patches and white hair on black, she also reminds me of Björk in one of her incarnations (another one of Pita's ballets).
Finally, she finds Death in black bodysuit and mask, looking very like superhero 'Spiderman', his moves not dissimilar from Edward Watson's (in the audience) as Gregor Samsa in Pita's astonishing Metamorphosis. Death fills the kitchen with babies, obsidian black, shiny, rigid baby dolls (I wonder what Sir Antony Gormley in the audience makes of these little sculptures?).
She can hear all their heartbeats. The walls turn red; she dances convulsively, grief demonstrative, crushing, not quiet. Death leads her out. But, he is still lurking in that bathtub, from which he pulls a lifeless pasty-looking body of a baby. Can it get grimmer than this? I feel sick.
She thrashes and crashes, feels her way along the walls back to her bedroom to find a man in army uniform sitting on her bed—her Lover. They get under a lacy sheet, all is well, she gets her eyes back, her hair turns black, but he leaves. Another test. Lights out, lights on, back she comes, very pregnant, hair in a neat bun, with shopping bag holding baby clothes. It was all a bad dream…
Principal of the Royal Ballet and former Principal of the Bolshoi and American Ballet Theatre, "one of the twelve greatest ballerinas of all time", according to The Telegraph, for classical dancer Natalia Osipova that is not enough, she wants more drama, more dance theatre, to this end seeking contemporary roles that stretch her acting technique.
She gets that from Arthur Pita. They have form together: Facada, Run Mary Run, The Wind. She trusts him; they work well together. This is its London première, but The Mother has already played successfully in Edinburgh and Moscow, and there's much life in it yet, but once is enough for me, the subject matter too close to the bone.
Reviewer: Vera Liber