Jeux / The Judas Tree / Song of the Earth
Choreography Wayne Eagling after Kenneth MacMillan and Vaslav Nijinsky, Kenneth MacMillan / Music Claude Debussy, Brian Elias, Gustav Mahler
The Royal Ballet, English National Ballet
Clore Studio Upstairs and the Royal Opera House
–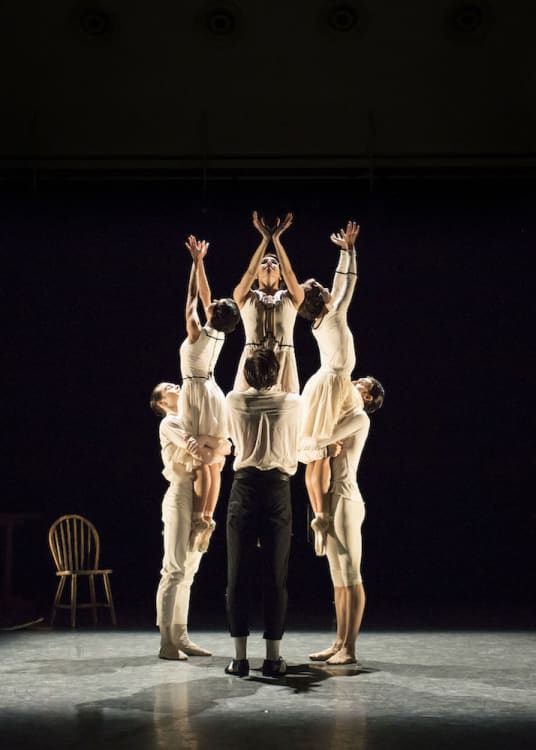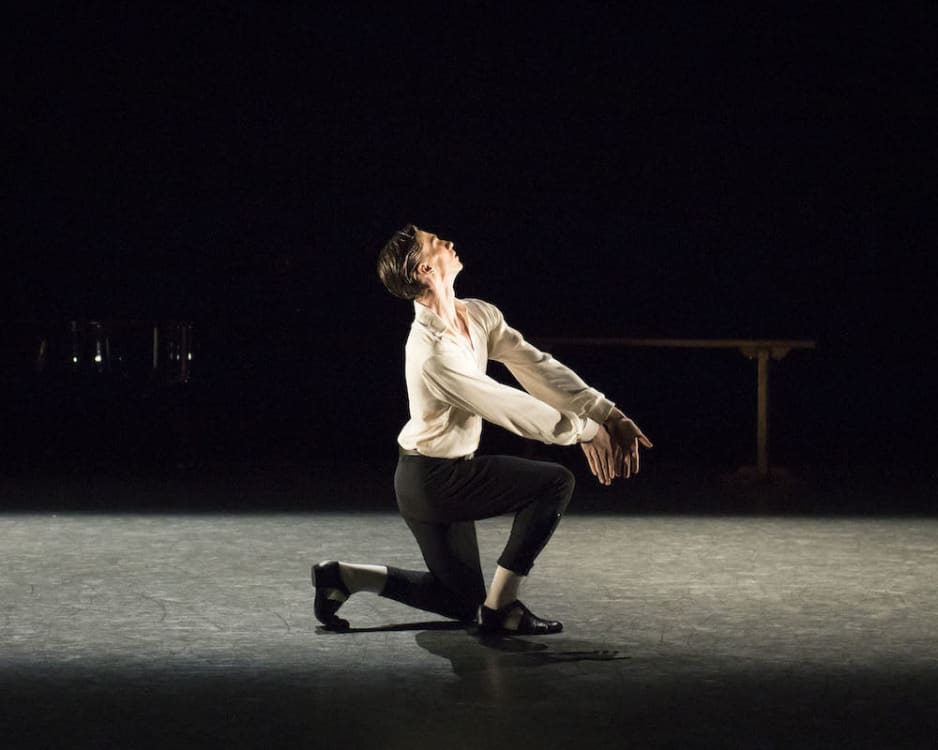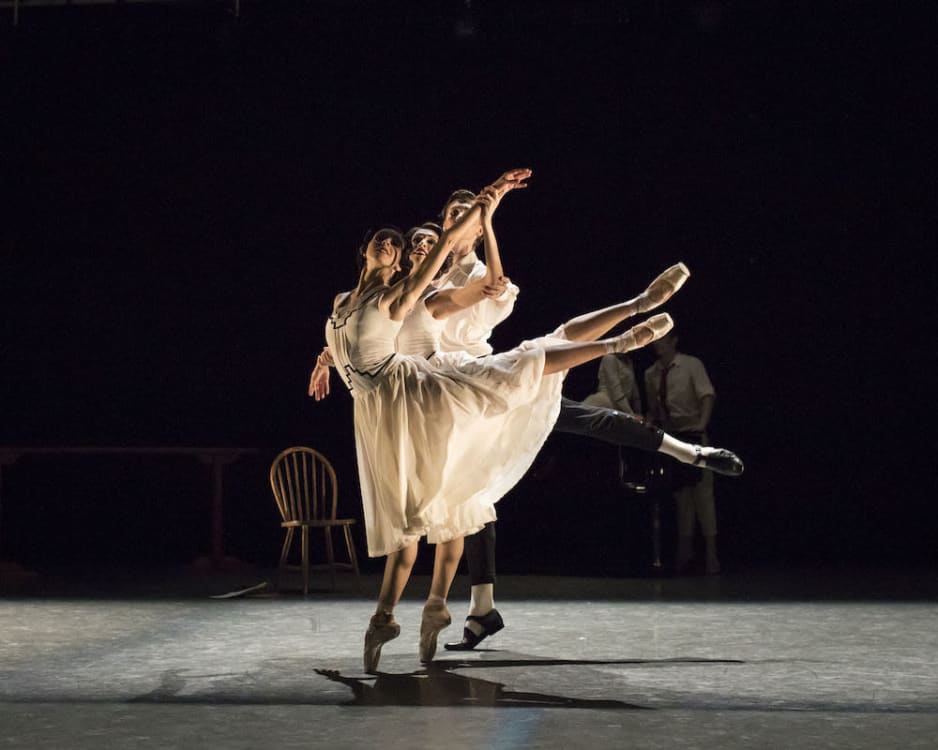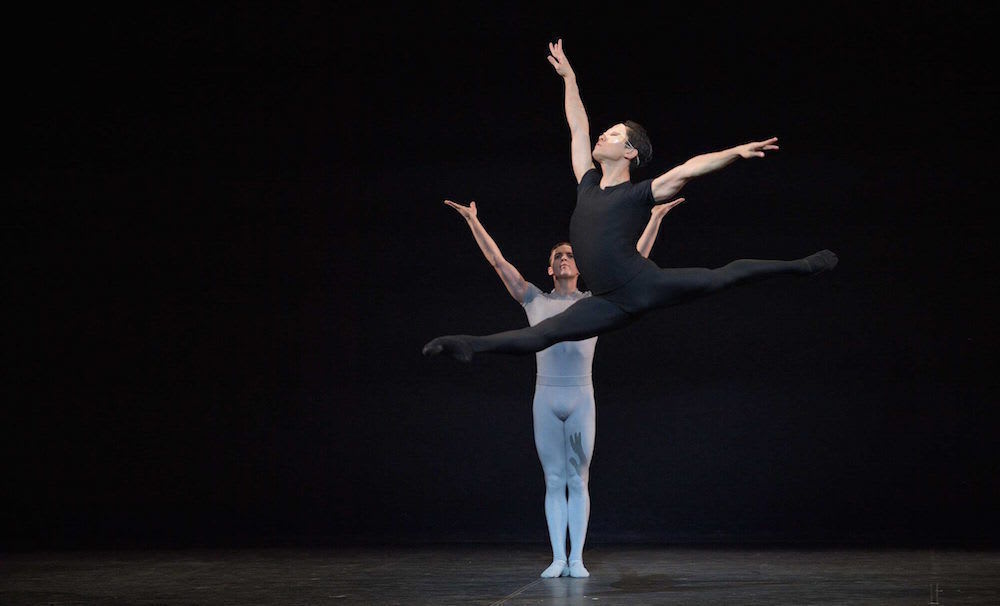 Thank goodness for Jeux, the bright light at the beginning of the tunnel of darkness that prefixes (in the Clore Studio) tonight's double bill, which if you were on the edge of despair could well push you over, beautifully, of course, simultaneously illustrating and underlining ballet's lineage, its immortal creative impulse.
Almost a century after Nijinsky's audacious Rite Of Spring in Paris and his now lost Jeux of the same year, the then Artistic Director of English National Ballet Wayne Eagling created his twenty-minute Jeux for the company as part of its Beyond Ballet Russes programme in 2012 picking up where Kenneth MacMillan had left off in 1980 (for Herbert Ross's film on Nijinsky). Indeed, as former Principal of The Royal Ballet, he had created many roles for MacMillan.
Nijinsky sits in a Riviera rehearsal room—piano, ballet barres, chair, tennis racquets on the floor—reading Debussy's score when a bouncing tennis ball sets his juices flowing. Vadim Muntagirov is radiant, inspired, eyes gleaming, lost in his ballet dream world.
L'après mid d'un faun creeps into his Côte d'Azur tennis and social games. But a nemesis awaits: vision played out, Nijinsky is content, till in the light of a doorway appears a man in top hat, astrakhan coat and cane and throws that tennis ball hard at his head. Vulnerability meets power.
Did anyone say life was easy, does the Bible, do The Gnostic Gospels, does Last Exit to Brooklyn: these were MacMillan's influences for his bleak Judas Tree (he died seven months later in 1992). Is it every macho male's wet dream, this gang bang, madonna and whore scenario, or is it 'locker room' cover-up for his repressed side?
Whatever it is, biblical story mined or undermined, it is a sacrificial Rite of Spring, savage Lord of the Flies, tribal West Side Story, Matthew Bourne's pent-up Car Man sort of world with a Broadway vibe: Jock McFayden's set and Brian Elias's crashing score spell it out.
In a burnt-out car dump waste ground, under a glowering sky with two red suns over Canary Wharf—skyline not as cluttered as the present money-laundering district—stands a scaffolding structure on which hangs a billboard that spells Danger under 'Dog Posse' graffiti.
Into this wrestling, sparring, bulging biceps male milieu a girl is brought wrapped in a white sheet, shroud and veil. Ominously, another body, in shroud for sure this time, is later carried through, used up, discarded. What is Woman doing alone in this alien world: she's the jealous Foreman's girlfriend. Is it a good idea to expose her to so much primordial testosterone, to throw her to the dogs?
What follows he allows, then snaps her neck effortlessly, shockingly. Not as shocking as seeing Lauren Cuthbertson's splayed rag doll sex doll body passed from hand to hand or seeing her legs struggling out of a morass of thrusting thighs. Edward Watson's Jesus figure, who miraculously resuscitates her once, also has to be dispatched, is he soft, is he gay... Reece Clarke as the other Friend of Thiago Soares's Foreman melts into the group. The whore is resurrected as the Madonna, and so it goes.
Legend has it that the so-called Judas tree once had white flowers but they turned red after Judas hanged himself from it. We have one in our garden: the blossom grows directly through the bark, as if the tree is seeping red tears.
English National Ballet's dancers' bodies turn into falling teardrops (that final trail of bourrées) in Mahler's poignant Song Of the Earth, six meditations on life's finite chapters, his own grief on his daughter's death and awareness of his own mortality, having been diagnosed with a heart defect (as had MacMillan). Inspired by Hans Bethge's melancholy Chinese Flute poems, Mahler poured his heart out, moving from darkness to light, and restored himself.
Moving through the seasons, youthful hope and beauty, demure girls and show-off boys, to the final farewell, the most piercingly beautiful of Macmillan's 1965 choreography, created for Stuttgart Ballet after being turned down by the Royal Opera board: death is always there at one's shoulder, his horn calls all. MacMillan's succinct scenario simply states: "a man and a woman; death takes the man; they both return to her and at the end of the ballet, we find that in death there is the promise of renewal."
For a whole hour, death shadows the couple, here danced by Isaac Hernández and Erina Takahashi, but instead of Carlos Acosta's enigmatic noble Messenger of Death (or the Eternal One) Jeffrey Cirio's (guesting from ABT) is more of an impish scuttling Koschei the Deathless, as he swoops on and encircles the couple. And I see the dance macabre from The Seventh Seal.
The wondrous music, of course, invites the mind to ponder, whilst the dancers help to concentrate one's thoughts. Nicholas Georgiadis's grisaille palette sooths and gently lulls into an acceptance of the inevitable… The singers are Rhonda Browne and Samuel Sakker.
Reviewer: Vera Liber