Madagascar the Musical
Book by Kevin Del Aguila; music and lyrics by George Noriega and Joel Someillan
Selladoor Family and Hartshorn-Hook Productions
New Victoria Theatre, Woking
–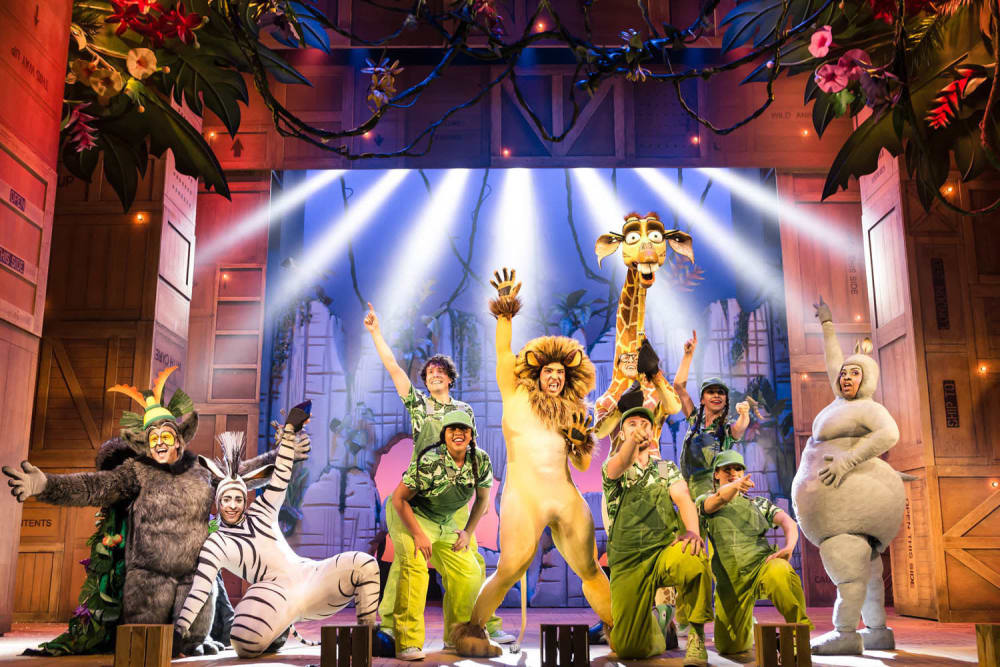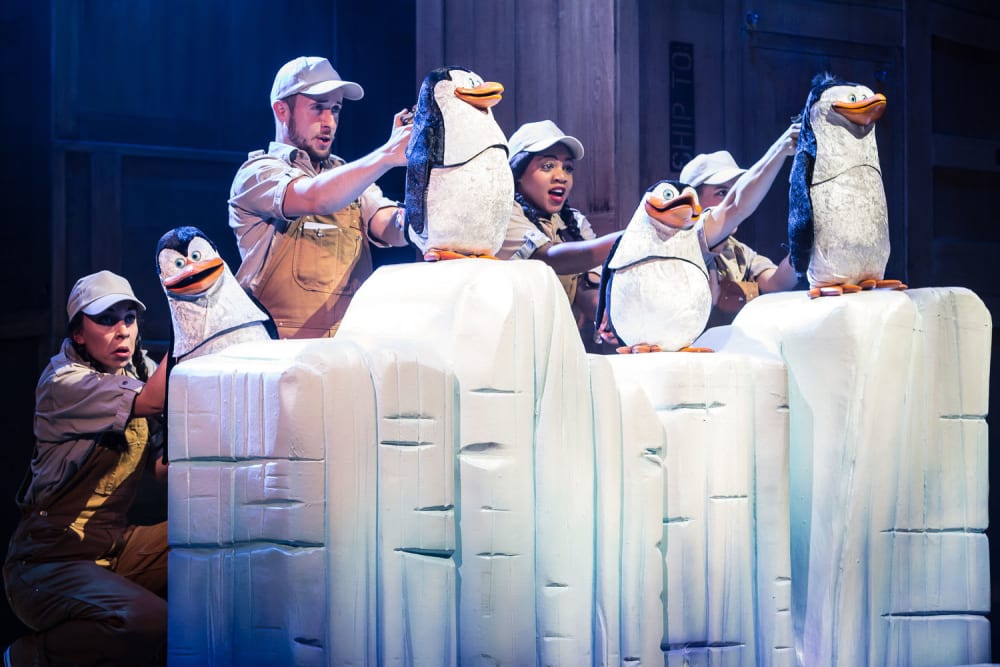 From movie to musical is a popular endeavour; in the UK we've seen Aladdin, Calendar Girls and Bend it Like Beckham in recent years. Now Dreamworks wants a slice of the action with Madagascar the Musical.
Madagascar was a big hit for Dreamworks, sparking 2 sequels and another still rumoured in the making. We already know the characters are popular and the story great fun, but transferring a fully animated animal cast to a stage show?
Well it didn't stop Disney with The Lion King and, though director Kirk Jameson handles his characters differently, these animal personalities make a successful transition.
Jameson gives us a mix of puppeteering and full-body animal suits, depending on the character's size. The compromise is poor King Julien who has to perform the role of King of the Lemurs on his knees. It does amaze the children behind me who keep asking their father how he got so small…
Madagascar has the feel of a family panto: high energy, lots of jokes for all ages, and a good dollop of cheesiness. The children littering the auditorium love it.
First up is Marty, the monochromatic, acrobatic, hip hop dancing zebra played by Antoine Murray-Straughan. At ten years old, he is desperate to leave the zoo and experience 'the wild'. His best friend Alex (Brandon Gale) is less keen: professed King of New York, he is used to his pampered lifestyle, adulation and regular deliveries of steak. Murray-Straughan is a great mover and his rapping pops but his singing voice doesn't quite have the same power. Brandon Gale is the understudy and, though he gets every move right and hits all the notes, he doesn't yet seem fully confident in the role and lacks the swagger to really bring the king of the jungle to life.
Next up are Gloria the hippo—Timmika Ramsay, showing off some serious vocal talent—and hypochondriac giraffe Melman played by Jamie Lee Morgan in full skin and an extended puppet neck and head. Morgan manages to animate Melman in such a way that his expressions always seem spot on.
The remaining penguins and lemurs are animated by four talented puppeteers with wonderful accents. Then, saving the best till last, we have Jo Parsons as King Julien—a true show stealer. In the films, this role was played by Sacha Baron Cohen, so he has some serious shoes to fill, but fill them he does! Extended retching gags and baby shark jokes keep the material up to date and I saw a lot of the younger audience joining in.
Overall, this is a high quality show and an entertaining evening of theatre. If you've never taken your family to a musical, this would be a great way to introduce them.
Reviewer: Louise Lewis