Mr Gillie
James Bridie
Mercurius
Finborough Theatre, Earl's Court
–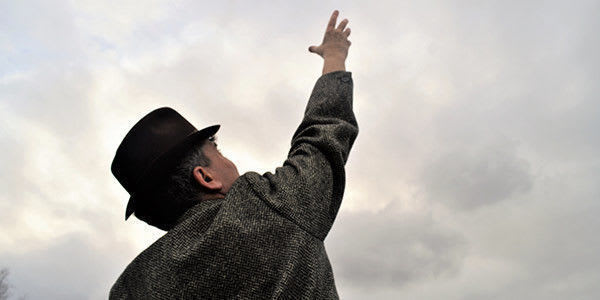 In the years either side of the Second World War, Scotsman Dr James Bridie was one of Britain's most popular playwrights.
His last play, Mr Gillie, opened in Glasgow in 1950 and received an instant West End transfer. Like its predecessor, Dr Angelus, it starred Alastair Sim and George Cole, top stars at different stages of their careers who would share a lot of stage and screen time, most memorably at St Trinian's.
This 2½-hour drama is bookended by a pair of divine legal types, called into action following the passing of the eponymous headmaster under the wheels of his own pantechnicon (lorry) in a mining village outside Glasgow.
The intervening time paints a rather uneven portrait of the man, his hopes and disappointments. At his most winning, the character played by Andy Secombe shows an unflappable belief in the overarching beauty of the arts, mirroring that of Hector in The History Boys.
The main business of the evening opens as he instils learning into a protégé, Andrew Cazenave Pin's Tom, who toils daily down a coal mine, vicariously trying to give him a writing or acting career that supersedes his own one failed novel. In the background, Emmett D'Inverno as passionate Mrs Gillie flutters and flaps happily enough, though her concerns are rarely hidden.
Next up is Malcolm Rennie as the local doctor, an opinionated, octogenarian dipsomaniac. On learning that his headstrong daughter and helpmeet (slave) Nelly, played by Caitlin Fielding, is sweet on young Tom, he rants and raves protesting far too much, as the drunk are wont to do.
To complete the picture, the local vicar, who doubles as chairman of the education committee, unsympathetically threatens Gillie with the school's closure and his own unemployment.
Tom and Nelly secretly marry and elope to London where they enjoy an unlikely six months during the interval, allowing James Bridie to moralise about art and mammon on their return.
Mr Gillie was a reasonable success in an era when theatre was in the doldrums waiting for an Angry Young Man to Look Back in Anger. Director Jenny Eastop does not seem to have any great faith in a piece not seen in London since that first production, asking all of her actors to play very large in the tiny space, at times appearing hysterical and shouting to emphasise even their finer feelings.
One would love to be able to find some positives beyond an impressive set design by Anna Yates and some capable acting in the more passive moments but they are pretty few and far between.
Reviewer: Philip Fisher