NDT2: The Big Crying / Simple Things / IMPASSE
Choreography Marco Goecke, Hans van Manen, Johan Inger
Nederlands Dans Theater (NDT) 2
Sadler's Wells
–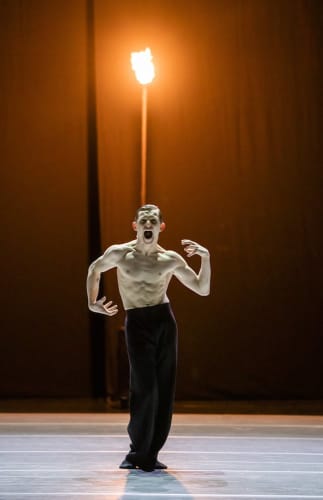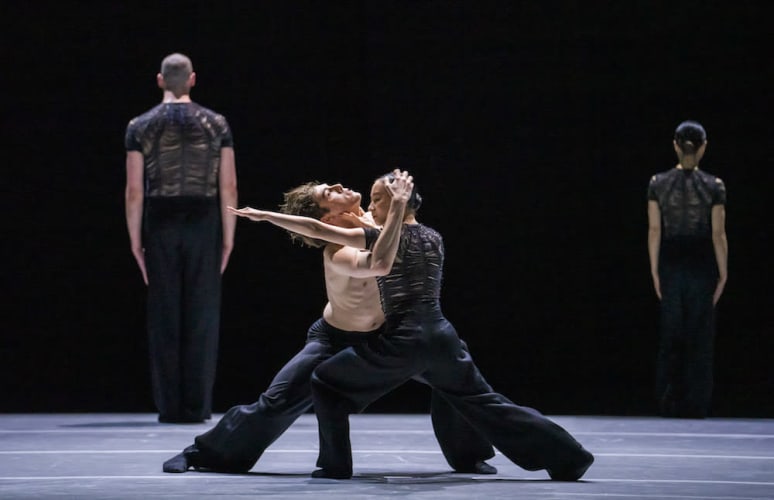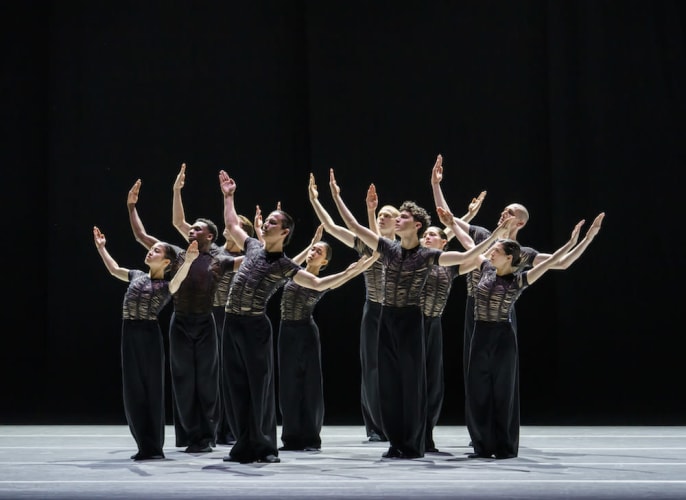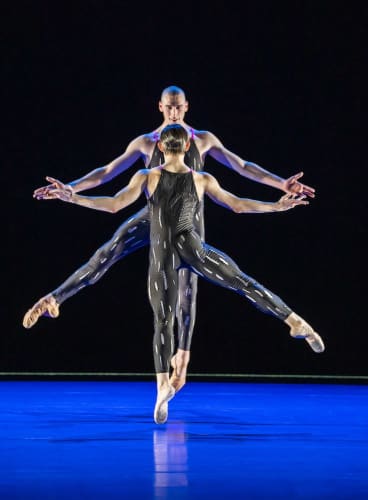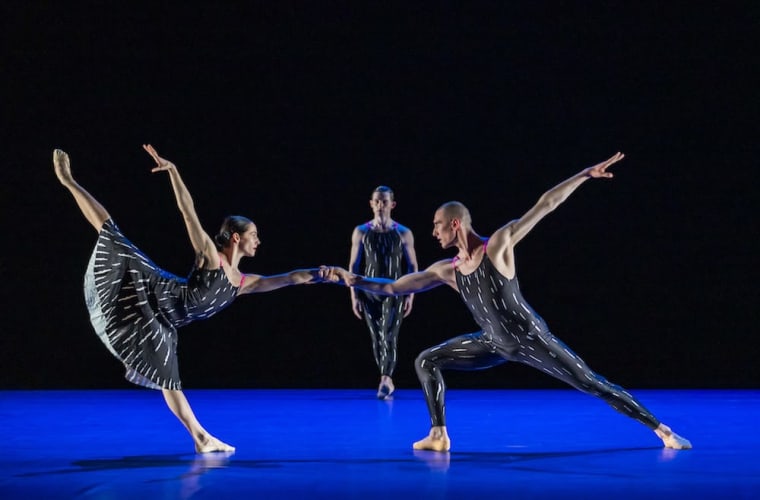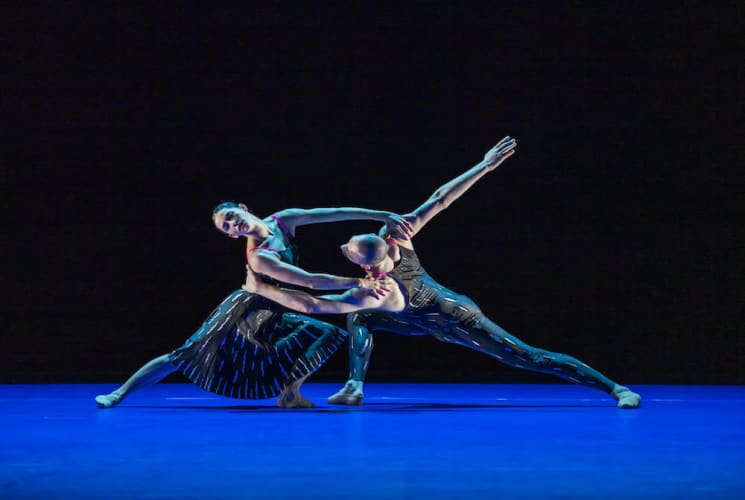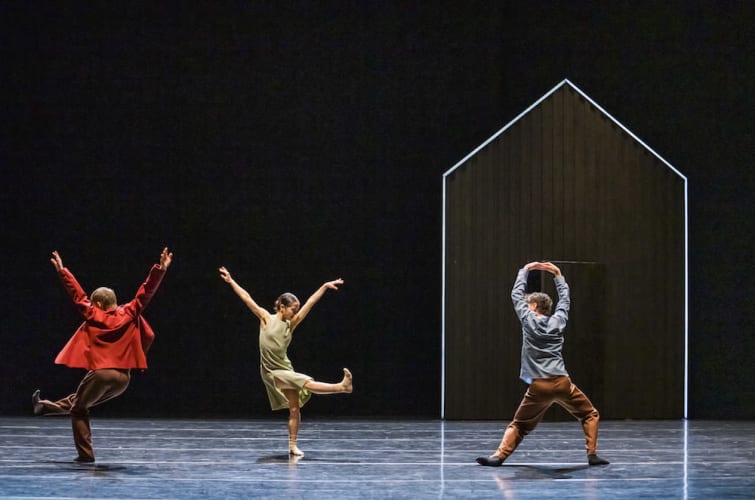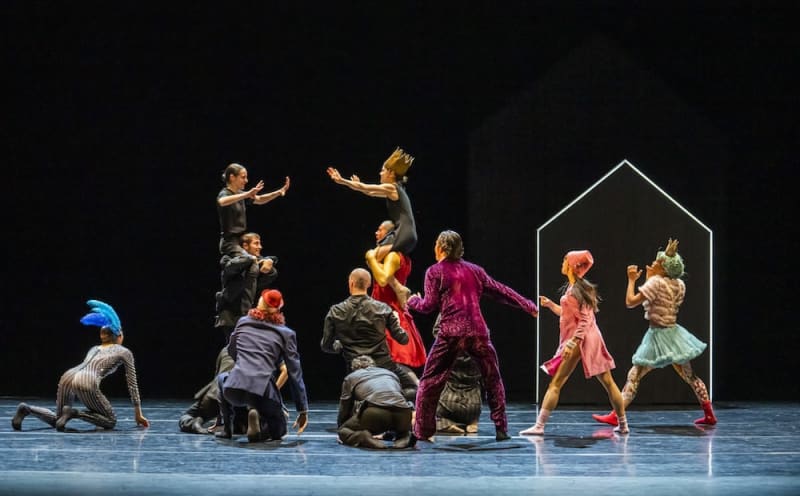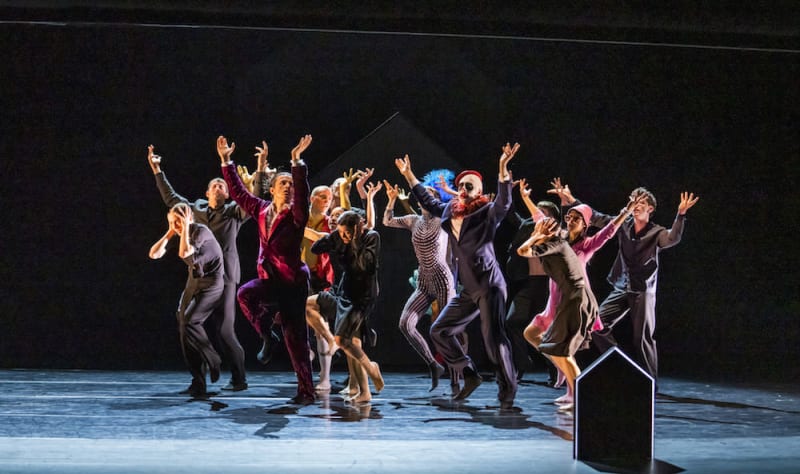 So good to see the dynamic young dancers of NDT2 back live at Sadler's Wells after six years, the artistic director baton passed from Paul Lightfoot and Sol Léon (who did a marvellous job during the first lockdown in 2020 with the live-streaming of Standby / She Remembers with dancers from NDT 1 and 2) to Emily Molnar. NDT1 were here in 2018.
As I said many years ago, one tries not to miss NDT1 or 2, so assured is their technique and so interesting the choreography. Tonight we have a triple bill, of pieces more or less a half hour each, that is a bit on the dark side (lighting too), though, granted, with droll tongue-in-cheek humour, lifted by the energy, precision, power, and intense commitment of the young 18-strong troupe.
"Associate choreographer at Nederlands Dans Theater since 2013", Marco Goecke's The Big Crying (2021) speaks of his grief over his father's death, joining the canon of many art works that have done so over the ages—you pick your own references, personal and public. Dressed in black with the odd male naked torso, grief is laid bare in all its lacerating, splintering brain confusion. Angular moves, hands, arms, legs, flexible bodies seeming to move in opposing directions—the coordination is amazing—all at an impossible speed.
Duets, solos, trios, ensemble (the whole company), the logistics are astonishing. A column of dancers line up, individuals show sympathy to a lone man by touch, groups scuttle here and there in syncopated moves, a man goes into yoga lion pose, hands claw, faces scream, you get the picture. I see the influence of William Forsythe, and especially Crystal Pite, Flight Pattern and maybe Betroffenheit, her preference for working with large numbers. And to some degree, Azsure Barton's Fantastic Beings… Jerkier and snappier, perhaps, martial at times, they dance a storm of emotions.
Dark it is but not gloomy, and it seems shorter that 33 minutes, so absorbing are the taut dancers in their formation precision. There is much repetition, life is circular, and Tori Amos's songs complete the concept. Jazzy dissonance and orgasmic moves—death can seem so. They yelp and howl like dogs, shrill and deeply resonating, exorcising grief in stages, yet it seems ludic, a playground, as well as introspective and reflective.
"Involved with NDT since it was founded in 1959", Hans van Manen's 20-minute Simple Things comes as a palate cleanser. Created in 2001 for two couples, it is simply beautiful. Classical ballet in contemporary form, the lines and arched (and flexed) feet lovely. Music is "Scarlatti Fever" by Alan Bern, and "piano trio Nr 28 in E-major, Hoboken 15, Allegretto" by Joseph Haydn, and "Weisse Landschaft for piano" by Peteris Vasks. Music (recorded) is made visible by dance in a sequence of simple, clear, beautiful moves and poses. There's a male duet, and a sense of a village party in its da capo form. Breathtakingly brilliant.
"Former dancer with the Swedish Royal Ballet", Johan Inger's IMPASSE (2020) also reminds me of Crystal Pite—that clown face figure and the group of colourful travelling players (if that's what they are) take me to Betroffenheit again. Apparently about peer pressure and how easily we give in to it, but the narrative is free to interpretation, depending on our fertile imaginations.
A clapboard barn or house outlined in neon, a door, a girl's face pressed to the wall, a hand reaches out and strokes her hair: enigmatic, cinematic, comic. I'm already thinking film noir, and David Hare's The Red Barn, but it's not that. The music is jazzy cool. Two young men join her—all three in normal street clothes. The mood is playful, the music appealing—how easily it seduces.
Then a bossy woman in black appears. More in black appear, is the barn a church, are they a sect? The young trio change to black, have they conformed? Body language is aggressive. But the dance music is Cuban rumba—or so it seems to me. Happy music. Am I getting it wrong?
A smaller house is brought in front of the larger one. Is this being offered as an enticement to the trio? The music turns sombre. Read the music. Then, suddenly, out of that little house come a crazy group of individualists in crowns and clown face. Six of them, are they meant to represent sinful temptations? The dance is ecstatic, devilish. It's a madhouse. Abusive, too… and another exorcism… Am I making this up?
A tiny 2D house is given to the trio—be yourselves? The scrim starts coming down—what's that chalked on it? The three manage to get out the other side, the others try to drag them back to the maelstrom, but they escape just in time with their titchy house. They look quizzical—what do we do now?
French-Lebanese jazz trumpeter and composer Ibrahim Maalouf's jazzy score is fabulous dance music, infectious, inviting. And there's a composition by former NDT dancer Amos Ben-Tal—I think of Ohad Naharin and Sharon Eyal. Simply wonderful, a treat of an evening.
This triple bill tours to Norwich, Nottingham, Plymouth, Canterbury, Inverness, Newcastle, Dublin, and Edinburgh. Try not to miss it.
Reviewer: Vera Liber