Orpheus in the Underworld
Composer Jacques Offenbach, libretto Hector Crémieux (with collaboration of Ludovic Halévy) freely adapted by Emma Rice (book) and Tom Morris (English lyrics)
English National Opera
London Coliseum
–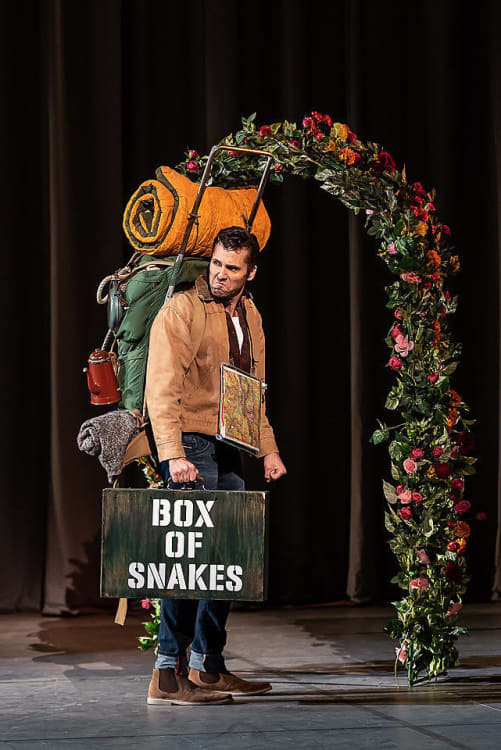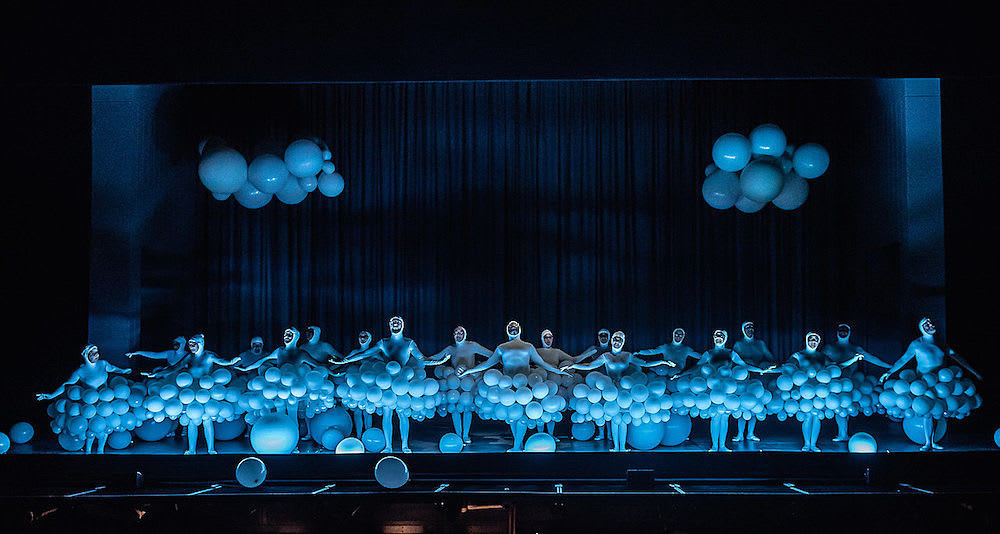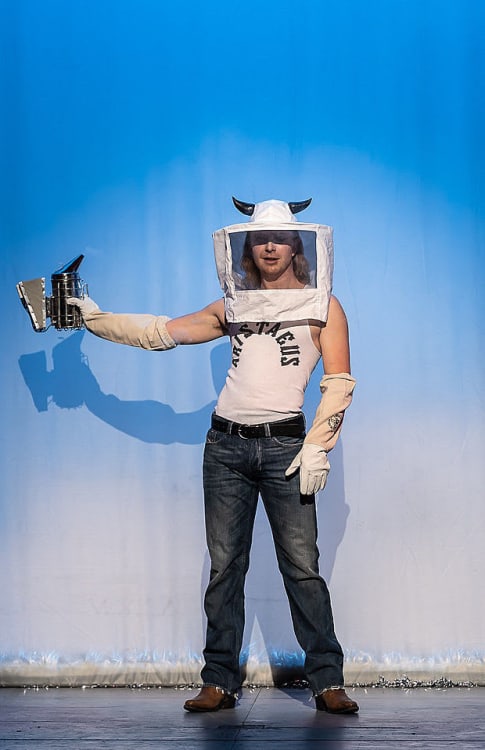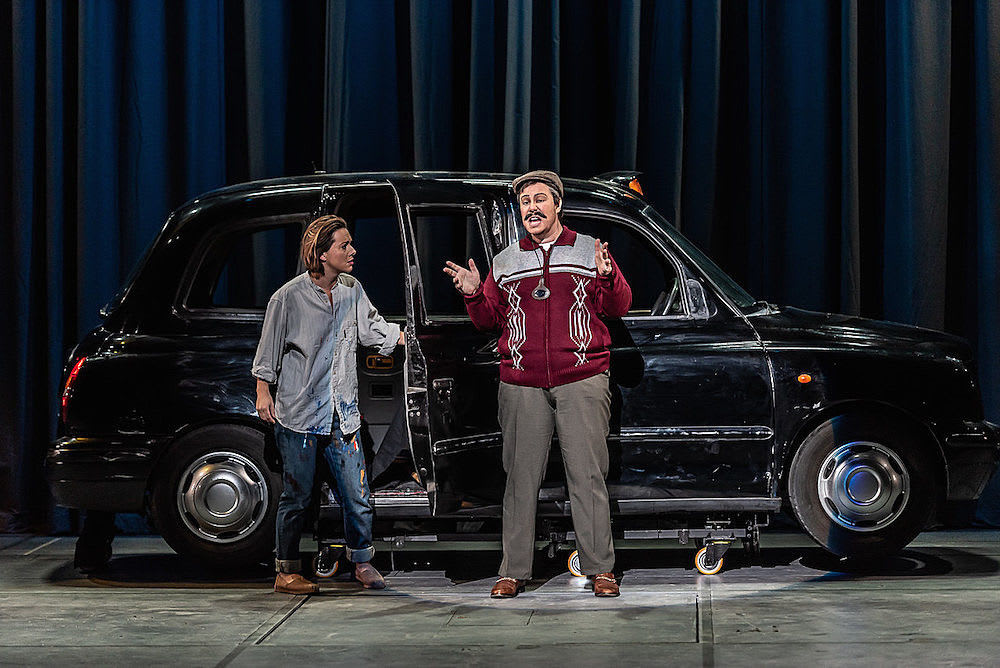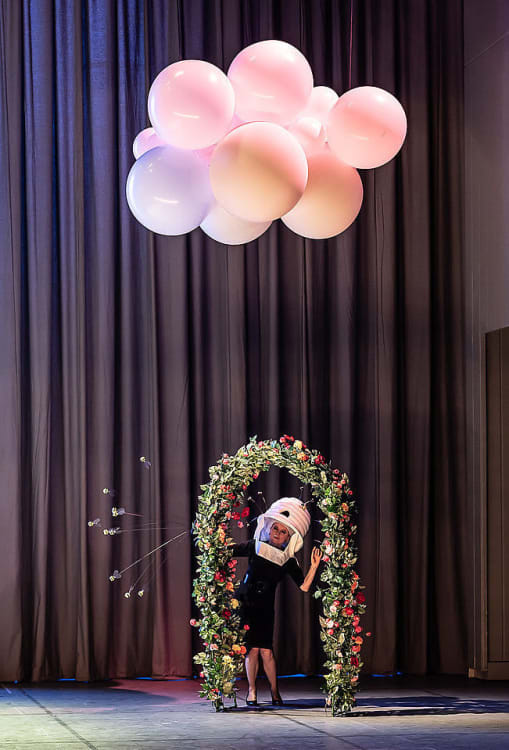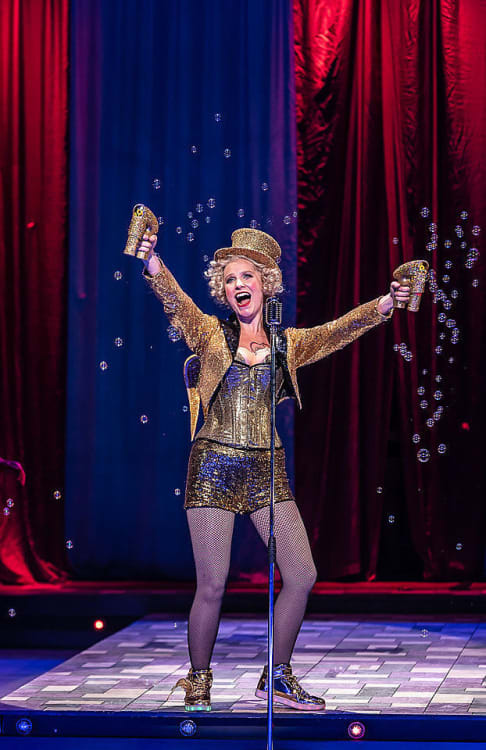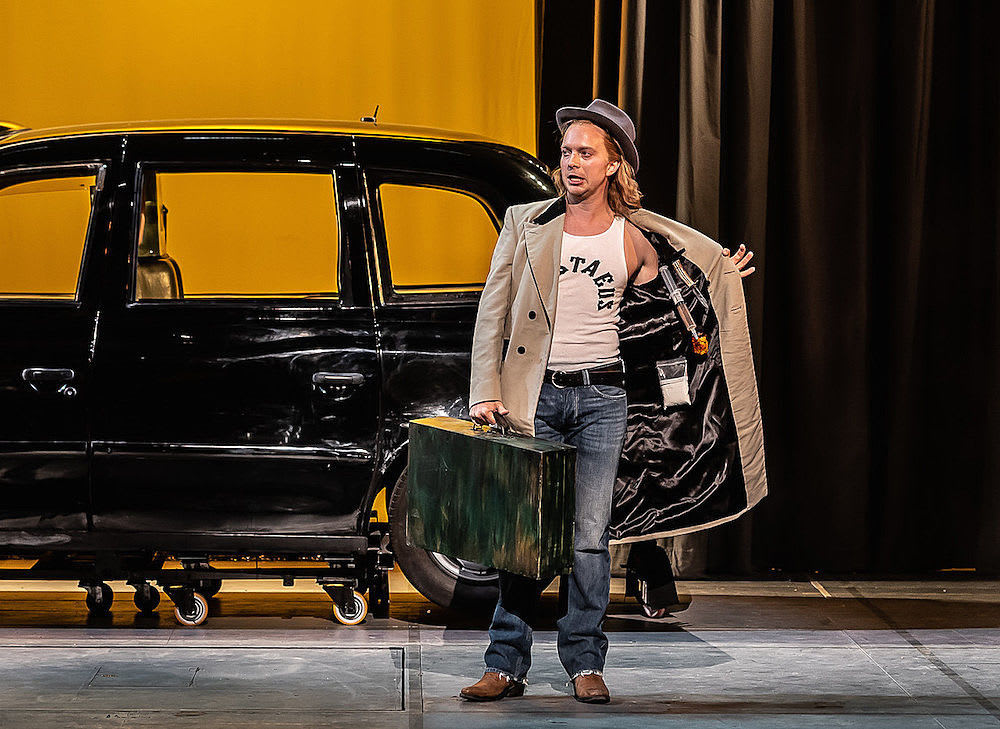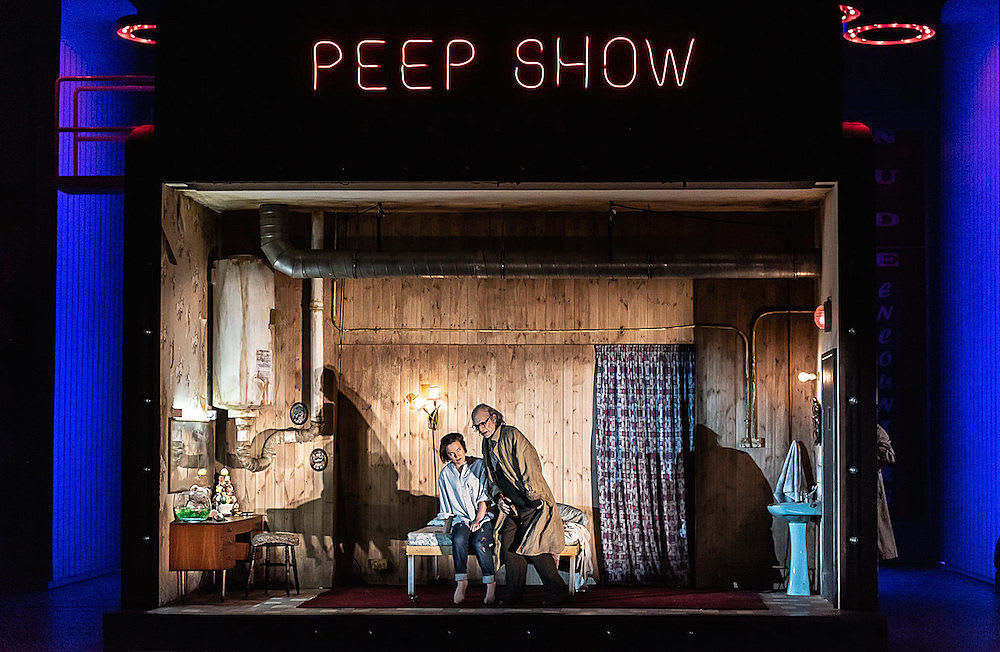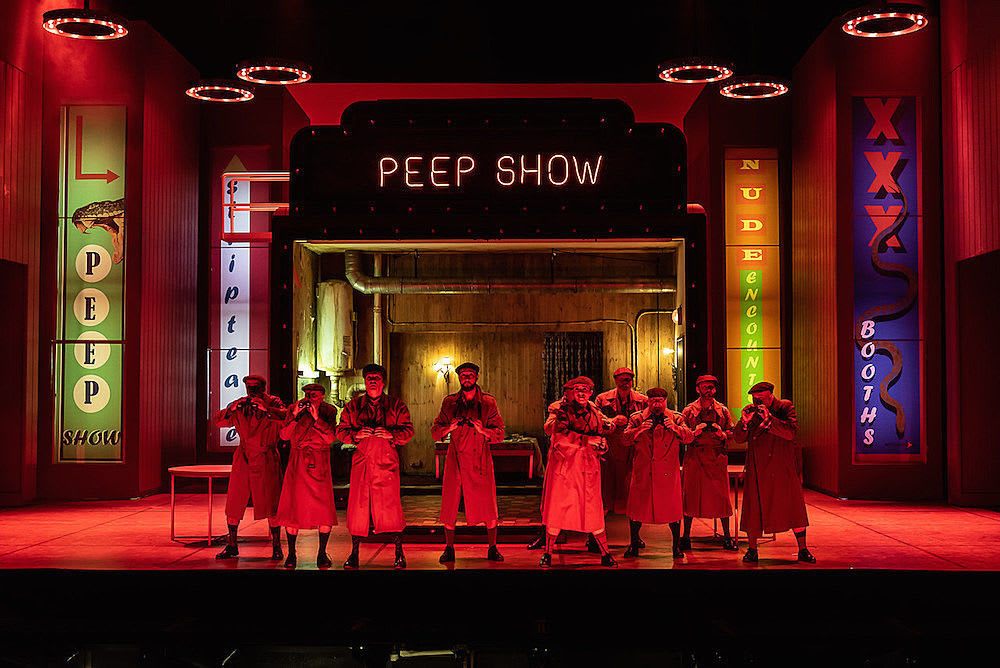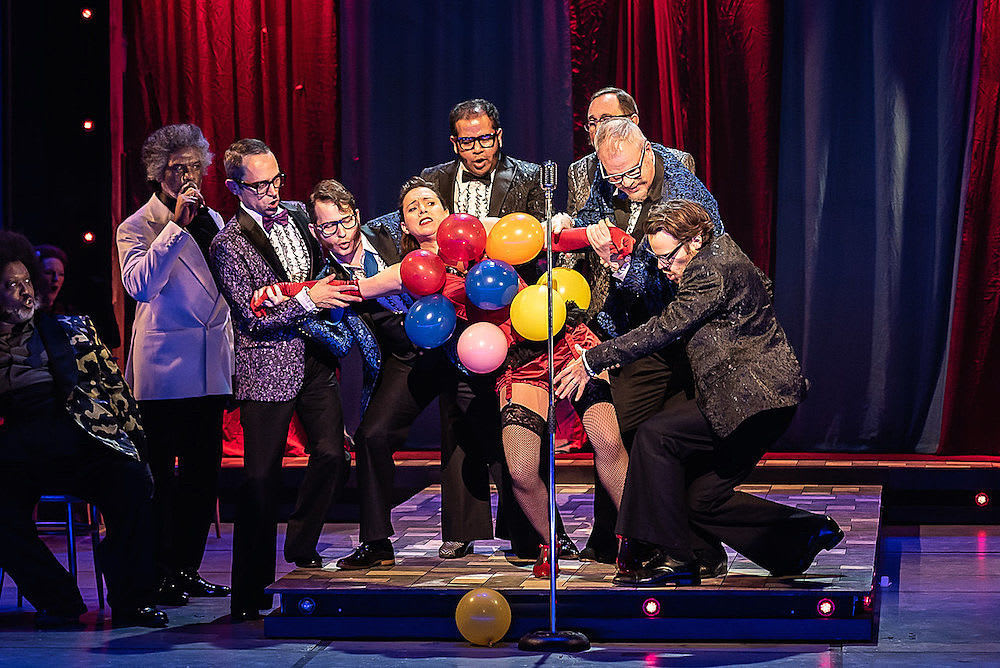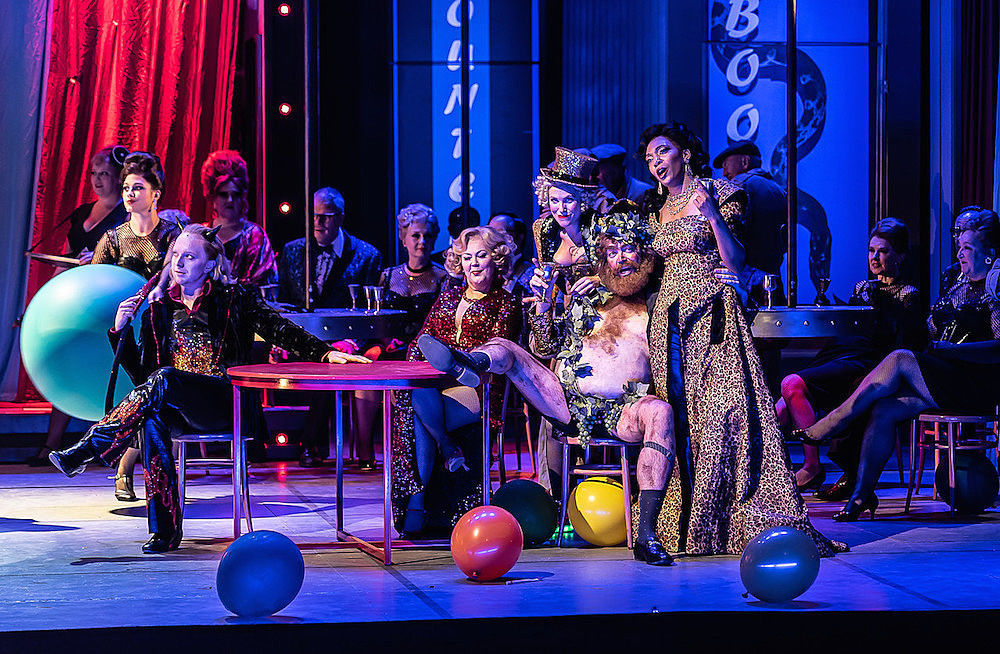 Emma Rice, formerly of Kneehigh, former artistic director of The Globe, now with her own company Wise Children, is tackling her first opera, invited to do so by Daniel Kramer (formerly artistic director of ENO and director of Harrison Birtwistle's The Mask of Orpheus)—kindred spirits perhaps. With her pedigree (Brief Encounter, The Flying Lovers of Vitebsk, Tristan & Yseult and so many more), who better to do a comical pastiche of a Gluck pastiche?
A West End musical theatre satire on present day issues—male gods, patriarchal men doing dirty deals, trading in female bodies on Olympus and in Soho clubs. Eurydice is caught in that trap, betrayed by Jupiter, who shakes on a deal with Pluto, and she ends up sold to the highest bidder—Bacchus. Bacchus!? Not a pretty sight. Men and gods—or is that the same thing, she is saying—don't come out of Rice's perspective very well at all.
Spilling with comic ideas, not all successful, some a little laboured, she turns Offenbach's Orphée aux enfers 1874 four-act opéra féerie version (he did a two-act opéra bouffon in 1858) into a 'fifties—1957 to be precise—lampooning satire. With artistic director of the Bristol Old Vic Tom Morris providing a vulgarised "rumpety pump" Gilbert and Sullivan-ish text: "we're off to hell, it will be brill", "when I wiggle my bum, my little wings will hum". Hmm…
If Offenbach can take the piss, why not them… Offenbach was slyly satirising Napoleon III and his court. All very lighthearted, no offence in the least… Rice's is perhaps a bit too panto, too stand-up working-men-club innuendo corny—"I'm handsome as hell". Cupid fires bubbles from her pistols—she's in gold lamé cowgirl outfit with holsters and guns. It's advertised as not suitable for children.
With costume designer Lez Brotherston and choreographer Etta Murfitt, long time associates of Matthew Bourne's New Adventures company, on board, one could say Rice has done a Bourne on the opera. There's much talking—the cast is miked—much fooling around, some dancing. Camp, "from nave to nipple", devil Pluto is the best mover of them all, as he should be, that devious shape-shifter.
The singing is fine. Again Pluto, ENO Harewood Artist, baritone Alex Otterburn, holds his own against a wonderfully sonorous Willard White—who else—as Jupiter, soprano Mary Bevan as Eurydice, tenor Alan Oke wonderfully seedy (I love his "when I was the King of Poland" song—the name of a pub of course) as John Styx, sweet tenor Ed Lyon as the backpacking, wandering violinist Orpheus and Lucia Lucas's transgender baritone taxi-driver Public Opinion (a mezzo-soprano in Offenbach's operetta).
The ENO chorus holds the fort in many guises and humours—white balloon sheep and clouds, sleazy red light ("the world had gone to hell") district peep-show voyeurs in dirty macs and binoculars, beekeepers, sex shop tarts and general clientele. And bellboys and girls, waiters and waitresses at the white-tiled Trumpian swimming resort that passes for Mount Olympus... Hollywood opulence—Brotherston's costumes for the gods straight out of 'fifties glamour movies—Bourne's favourite period, too, I think.
Balloons—clouds, sheep, and party balloons—ready-mades, a very economical seaside pier entertainment Kneehigh trope, dominate. And a black London cab adds to the mirth—Public Opinion takes his rest amongst the sheep—he carries his own deckchair and picnic set.
The Mount Olympus gods are reduced in number to Juno, Cupid, Diana, Venus, Mars, and a walk-on role for Bacchus—Offenbach had a few more—but what fickle and perverse gods they are, past their sell-by date perhaps ("we must keep up appearances").
Jupiter, a bit of a lazy has-been, a cross between Mugabe and a Caribbean macho male, interfering with Diana's (mezzo-soprano Idunnu Münch, another ENO Harewood Artist, in great voice) love life, and spreading it around himself (we know, we know) as a fly to get into Eurydice's cell; machine-gun-toting Mars (Keel Watson) is quite comical; and down and out John Styx (servant to Pluto) has long sold his soul for a bottle of wine. Wife Juno is wise to Jupiter's amoral behaviour, he's not to be trusted, but Eurydice does, silly girl.
Master of disguise Pluto is the baddest ass of them all, tricking Eurydice into falling for him as yokel shepherd and beekeeper Aristaeus (Otterburn switching accents and professions—salesman too—with ease). Not that she needs much persuading, as she and Orpheus are not getting on, having just lost a baby (not really funny that). Pluto gives Orpheus a bag of poisonous snakes to do her in—such treachery from her husband…
Eurydice falls for Pluto and welcomes her death. Ed Lyon's Orpheus, looking more like James Dean than Marlon Brando in Sidney Lumet's 1959 version of Tennessee Williams's Orpheus Descending, is relieved to have her gone, this could be the start of a new beginning. Public Opinion sorts him out, takes him in his taxi to the god's summit. Public Opinion gives Eurydice a shoulder to cry on, too. What else are taxi drivers for if not for unloading one's woes?
Prompted by Public Opinion Orpheus sings of his love for Eurydice—borrowing Gluck's "what is life without Eurydice" aria—to the gods to get their help. Is this for real?
Meanwhile Eurydice is locked up and touched up by alkie John Styx, in a cell for trafficked women under a sex club, where Jupiter visits her as a fly, making his usual promises, but she still ends up performing in the club, doing a fan dance with balloons.
All the gods come down for that party and the galop infernal, which was not a can-can in the original, but taken up later by the Moulin Rouge and Folies Bergère, and not strictly one here, more of a suspender belts and black stockings showgirl shimmy.
Eurydice is upset when she discovers Jupiter and Pluto are in it together. Orpheus's music heals their love, but Jupiter imposes his don't look back condition, why, because he can, then tricks them again with a thunderbolt. These lying gods, you can't trust them.
Former ENO Music Director (1993-95) Sian Edwards returns to conduct a fun two and a half hours for some, but for me this cheeky fake orgasmic romp doesn't quite hit the spot.
Reviewer: Vera Liber