Pests
Vivienne Franzmann
Royal Court, Clean Break and Royal Exchange Manchester
Royal Court Theatre Upstairs
–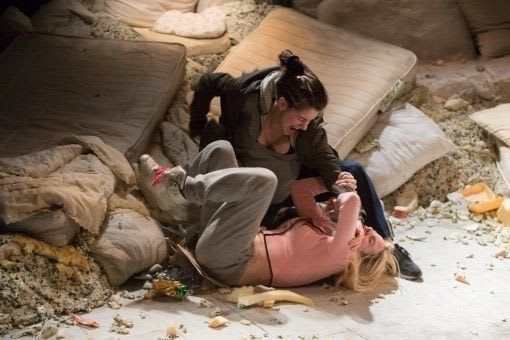 Following Vivienne Franzmann's first two plays, Mogadishu and The Witness, both of which showed exceptional assurance from a newcomer, Pests represents a prodigious feat of writing but doesn't hang together as well.
The drama is set in a Joanna Scotcher-designed squalid bed-squat filled with mattresses overflowing with both stuffing and symbolic meaning.
This is home to Pink, played by Sinéad Matthews, and, following her release from prison, Ellie Kendrick's heavily pregnant Rolly.
The pair are drawn from what would generally be regarded as the dregs of society and have nothing going for them. Neither nature nor nurture has enabled these children of a disintegrated home to escape from cycles of prison and hopeless freedom.
Four years older, Pink offers a maternal veneer to her illiterate sister and demonstrates eclectic knowledge, particularly of popular culture, objectified by a sad obsession with The Wizard of Oz.
Rolly has little idea of social interaction but with a single friend, is still streets ahead of Pink in this league.
The patois that they speak is a coherent kind of sub-Jamaican Yardie that can almost attain the status of poetry, so beautifully has Miss Franzmann developed it.
Through 100 gruelling minutes, remarkably little happens but a tricky relationship, supported by an equally unpalatable backstory, is painfully developed.
All of the expected ingredients make appearances including sex, drugs, violence and the Spice Girls' aspirational "Wannabe".
What is mildly less predictable is the way in which the sisters' relationship is exposed, as revelations show how they are potentially as dependent on each other as their regular drug fix. That is an over-simplification but is necessary to avoid giving away too much of the plot.
For the typical trendy, middle-class visitor to Sloane Square, Pests might well feel a little voyeuristic. The women portrayed will also be so far outside their social sphere that many may be unsure as to the veracity of the storytelling and characterisation.
Since this project was initiated by Clean Break, a company that specialises in bringing the experiences of former prisoners to the stage, it is probably reasonable to take the events at face value, although one does worry about a society that seems to accept and expect social failure at quite such a heightened level.
By the end, viewers will have learned rather more than they might have wished about London's criminal subculture. They will also have been able to revel in highly convincing performances from actresses who each excel under the direction of Lucy Morrison, showing great commitment to their art and making their characters seem all too real.

Following its run at the Royal Court, the production will tour to Traverse Theatre Edinburgh 22-24 May, Liverpool Everyman, 28-31 May, The Drum Plymouth 3-7 June, Birmingham Rep 11-14 June
Reviewer: Philip Fisher