Richard Bean Plays Five
Richard Bean
Oberon Books
Released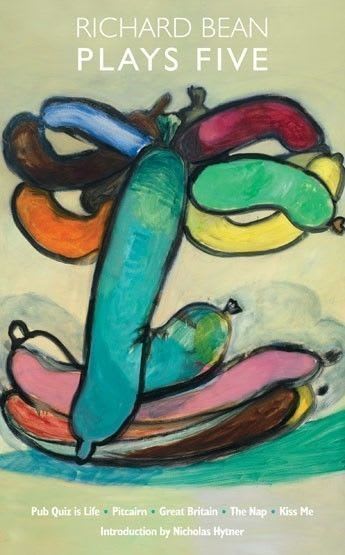 Richard Bean is a popular writer who has maintained his intellectual integrity while entertaining theatregoers, as demonstrated by this latest collection of his plays.
Where many of his peers have happily sold out to film and TV or, at the very least, sought the clamour and lucre offered by West End stages, only two of these five plays has so far been seen at a major London venue, if you include Pitcairn's brief stint at Shakespeare's Globe. Even the other, Great Britain, opened with literally no publicity as the introduction from Sir Nicholas Hytner explains.
Pub Quiz
In Pub Quiz, the playwright returns to his roots in Hull, where the piece was exposed to a public who would easily have recognised the attitudes and people.
As the title suggests, it is centred on the competitive arena of alcohol-fuelled general knowledge contests at the local, in this case run by mouthy Mabel. Like so many who enjoy setting and running pub quizzes, this fearsome landlady loves the sound of her own voice but unusually her jokes are actually funny.
Quickly though the central attraction becomes little more than a backdrop for dramas involving ex-squaddie Lee, his disabled father Bunny and their team.
Lee is desperate to get work while trying to maintain his dignity, especially in the face of repeated job offers from Woody, the local hippie drug dealer.
Things get even more difficult when a representative of regeneration, Melissa, appears on the scene. She is a dream woman, sexy, wealthy and with a kind of general knowledge that can even defeat the local schoolteachers.
This mix is inevitably very funny but Richard Bean takes it a couple of stages further, shedding light on society today, both in Hull and far beyond, and drawing some amusing but recognisable characters.
This historical drama can be pretty gruesome, as it flashes back in time to highlight relations between Fletcher Christian and his renegades from the Bounty as they interact with islanders imported to Pitcairn from Tahiti.
Almost inevitably, the upstanding British seamen show themselves to be unprincipled and close to bestial in their treatment of the island people whom they attempt to enslave. On the other hand, the innocent victims of their tyranny are also capable of barbaric acts, although their underlying natures appear to be gentler.
Ultimately, the play shines a light on the flaws in so much of humanity and should make viewers / readers think deeply about the ways in which they treat their fellow man.
Great Britain
Great Britain was an instant hit when the National Theatre was finally able to release it to the world, following the ending of the News of the World phone hacking court case.
It is a hilarious, large-scale satire that centres on the activities of a series of journalists led by the unscrupulous Paige Britain, a woman who will sleep and lie her way into any situation to advance her career. Her ambition knows no bounds as demonstrated by a passionate night with the Prime Minister.
Reading the script is a wonderful opportunity to relish Richard Bean's superb jokes and clever situation comedy, so much of which hits the nail squarely on the head, although readers will unfortunately miss the marvellous central performance from Billie Piper.
The Nap
Written specifically as a site-specific piece to be played at the Crucible in Sheffield, The Nap looks into the shady world of professional snooker.
The comedy's main focus is on a young star in the making called Dylan Spokes. He has all that it takes to become a champion, talent, a good temperament and self-confidence.
However, he has a serious genetic weakness—his parents. Father Bobby is a loser of the highest order, while mother Stella and her latest squeeze look as if they have stepped straight out of a low-budget gangster comedy.
The play builds to a satisfying conclusion as young Dylan, doing his best to overcome obstacles imposed by a gambling ring, plays a world championship match for the highest stakes.
Kiss Me
Richard Bean has hit the heights thanks in large part to his promotion of the Monsterist principles, which believe in taking large topics and devoting big tasks to their exploration.
As such, Kiss Me is quite a surprise. This quiet, subtle two-hander might have the trademark Bean sense of humour underpinning it but addresses serious philosophical issues with tenderness.
Set in 1929, it features Stephanie and Peter who are brought together in the most unlikely circumstances.
She is a war widow, desperate to embrace motherhood before it is too late, while Peter might normally be regarded as a part-time sex worker but is in fact part of an ambitious scientific project to repopulate England at a time when so much of the male population has been taken away by the Great War.
Without wishing to give the game away, it is necessary to suggest that what should have been a cold and dispassionate one-off meeting gives rise to further encounters and an unexpected ending.
Reviewer: Philip Fisher