San Francisco Ballet Programme B: The Infinite Ocean / Snowblind / Björk Ballet
Choreography Edwaard Liang, Cathy Marston, Arthur Pita
San Francisco Ballet
Sadler's Wells
–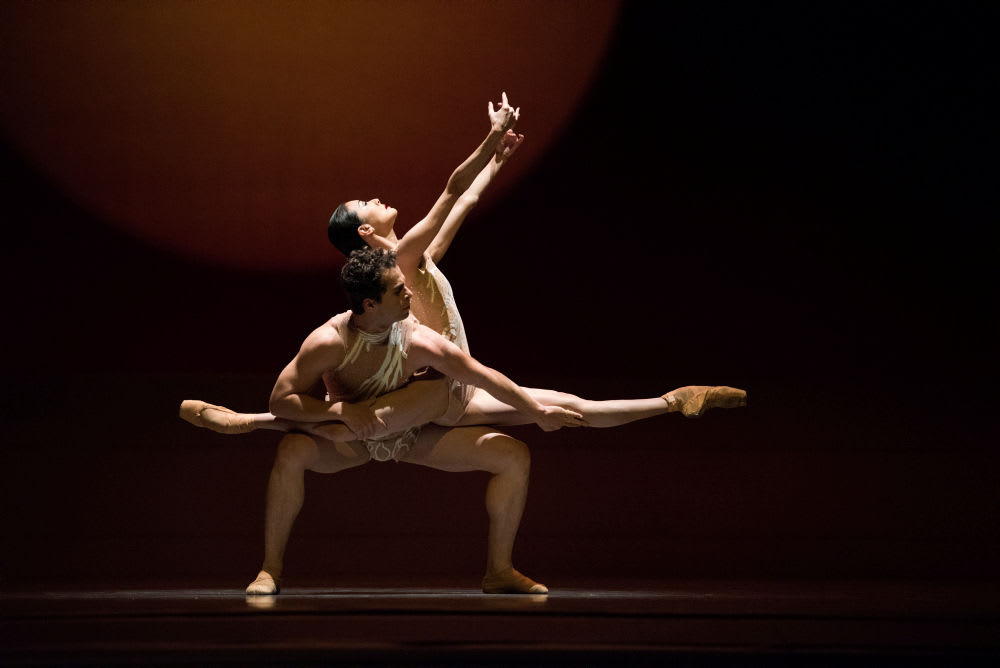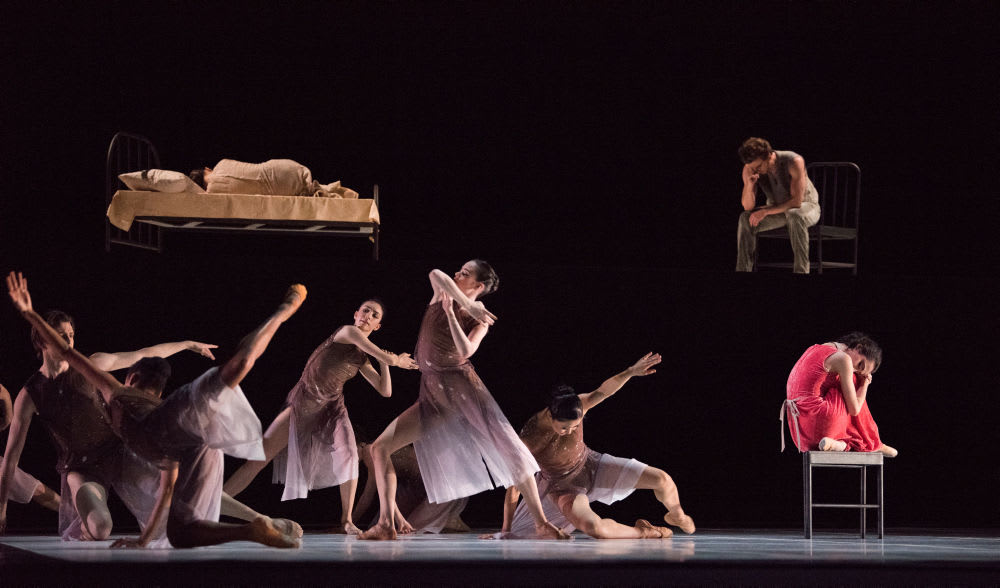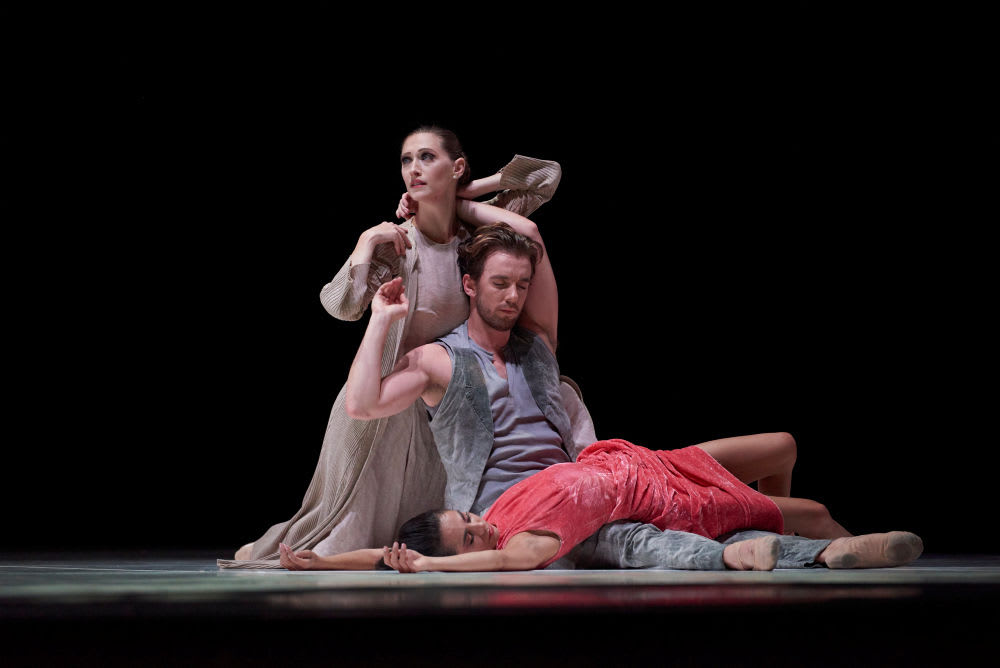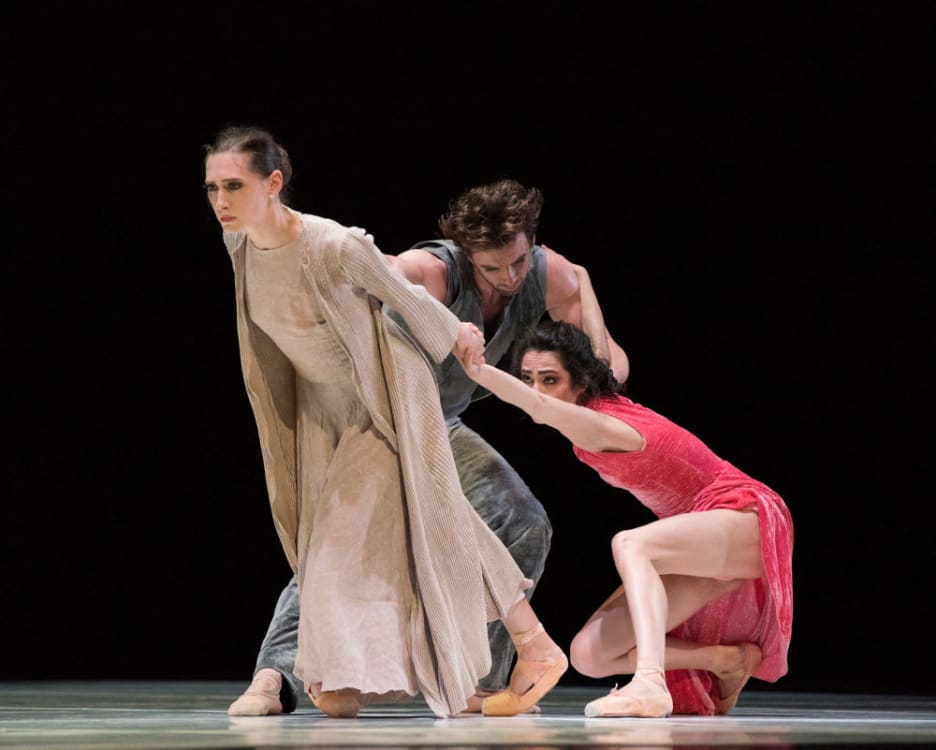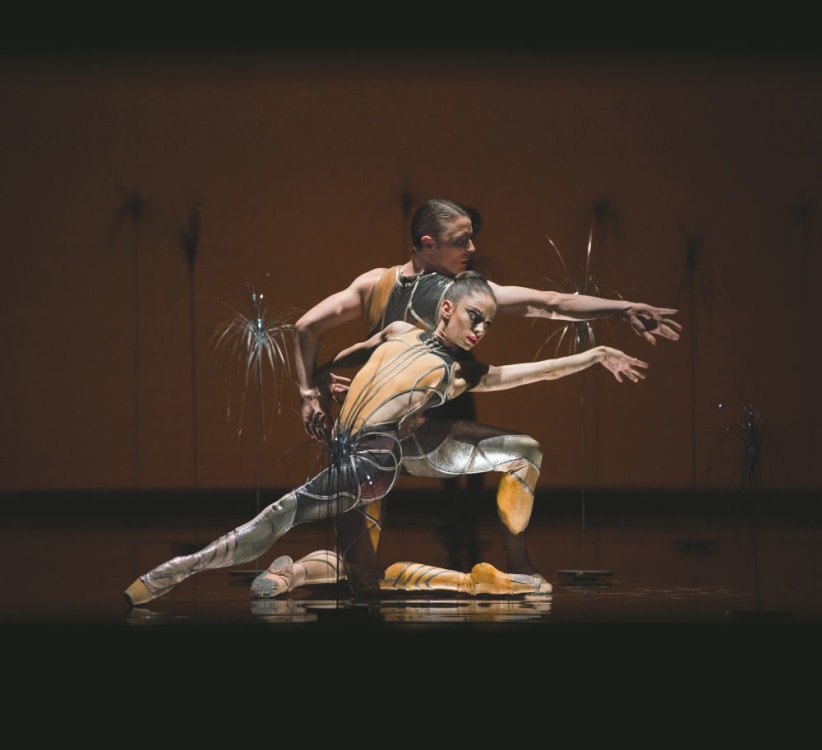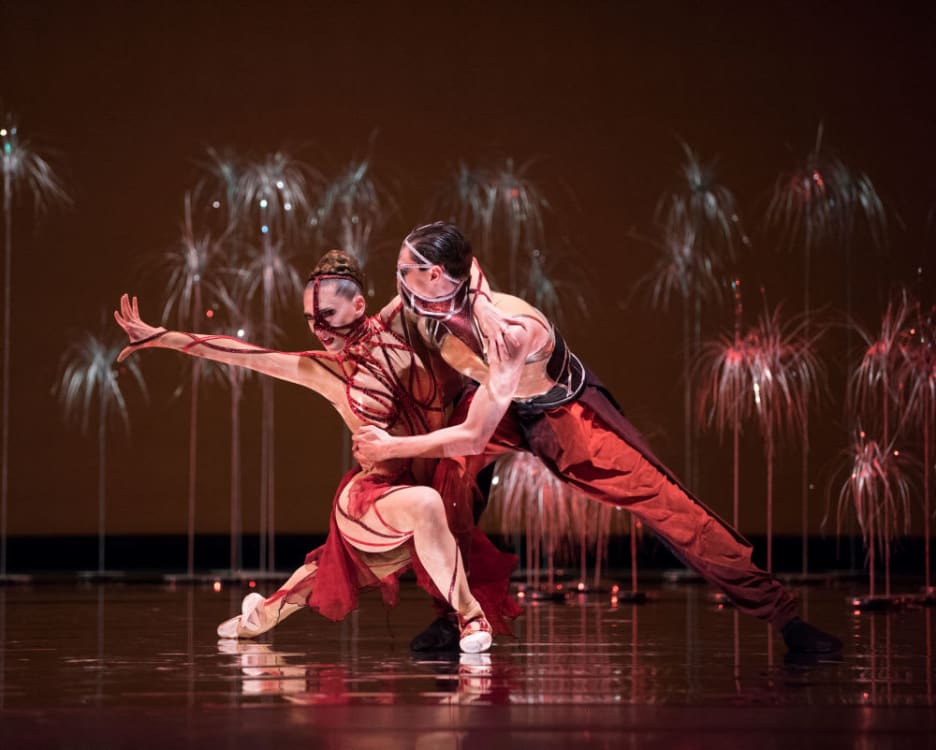 After Alexei's Ratmansky's all of a piece Shostakovich Trilogy, Programme B comes as a surprise, a mixed bag of three thirty-five-minute pieces: easeful death, a tale of adultery, and the eclectic Björk Guðmundsdóttir.
Taiwanese-born American choreographer Edwaard Liang's springboard for The Infinite Ocean is Ólafur Elíasson's 2003 The weather project light installation at Tate Modern that had visitors lying on the floor in contemplation, in mock sunbathing, a place to chill. Designer Alexander V Nichols replicates a part of the Turbine Hall with its sloping floor up to the orange disk on the back wall, the ridge that the dancers gleefully go over.
Inspired by a message from a dying friend about seeing him "on the other side of the infinite ocean", this is a wistful spiritual piece to Oliver Davis's composition, in which I detect influences from Philip Glass, Michael Nyman, and even some syncopated jazzy rhythms. I am reminded of Christopher Wheeldon, Akram Khan, Wayne McGregor, Liam Scarlett, Kenneth MacMillan.
Costume designer Mark Zappone dresses the ensemble of six couples in glittering skimpy leotards as befits souls stripped of cumbersome worldly bodies (Yuan Yuan Tan's arms liquefy in the light) crossing over the river Styx to serene asphodel meadows. Cordula Merks's violin leads the way. If only it were as easy and simple and beautiful as it is in Liang's 'loss and letting go' ballet.
In a final reckoning, in pantheistic communion with the life-giving and life-taking sun, fireflies, supernova, starbursts, spirited spirits, they writhe in its light. Swallow dives, deep pliés en pointe, gymnastic complexity (a splits across a partner's knees), yet there is elegance, but I fail to see the point of the knee slapping. Konstantin Yuon's New Planet painting (1921) comes to mind.
Cathy Marston, renowned for her narrative ballets, takes on (with the assistance of Patrick Kinmonth) Edith Wharton's 1911 Ethan Frome in Snowblind. In 1993 it was adapted into a film. All I remember is the disastrous sleigh ride which locks all three protagonists into an unhappy ménage a trois.
A demanding hypochondriac wife, a young attractive cousin who comes to care for the wife, and a frustrated husband who succumbs to temptation. Fate is not kind. Ethan looks longingly at the young having a good time, his wife is a weight round his neck, Frome wants a way out and it proves if not fatal at least 'Thomas Hardy' grim.
Told in flashback in the original, here Marston pads out the simple tale with taciturn village onlookers and a swarm of beings in muddy colours. Animated books in Victoria, D-men in Jane Eyre, but what are these moth-like creatures? Warning signs? Emotions? Mood? There's a solo piano (Mungunchimeg Buriad) for that. They are snow, sludgy snow by the look of them, and "a metaphor for Ethan and Mattie's passion and torment".
A raised platform for bed and chair, and a chair in the kitchen below, all are in shades of pewter except for Mattie, the young cousin in red, the scarlet woman. It's a slight piece that doesn't really get off the ground for me in spite of music (a mix of Amy Beach, Philip Feeney, Arthur Foote and Arvo Pärt) that is a Hollywood weepie score and committed dramatic performances from Ulrik Birkkjaer, Jennifer Stahl (kicking out fiercely at her rival) and Mathilde Froustey.
After the drab, circumspect life comes Arthur Pita's glitzy camp homage to the versatile Björk, And it's a rave made in gay club Heaven. This is not press night. It's Saturday night, the place is not full, but the roar that greets the end of this is amazing. They (including the young dancers I spot from ENB) are still cheering as I leave the theatre.
A sad clown (Wei Wang) drifts through the constantly rearranged forest of tiny tinsel trees; the clients and dancers wear lots of face furniture; there's dancing on a red platform carried by four toned men; and the sad clown fishes from the front of the stage. He hooks a mask, a happy mask, and burst into jolly frolics. Not as hard core as those around him, but hey he's happy now. Or is he? Apparently, the masks reflect Björk's duality.
This is some gig, twenty and more bodies fill the stage, there's girl on girl action, the electricity shorts, but the show goes on. Bodies in Maori tattoo suits, in sleek zebra look that reminds me of David Bintley's 'Still Life' at the Penguin Café, in Hannibal Lecter muzzles, butterflies are chased by faceless chrysalises / mermen—Michael Clarke and Leigh Bowery eat your hearts out. Marco Morante must be going for the Alexander McQueen crown.
But all that glistens isn't gold—well not for me. Eight of Björk's songs provide the patchy structure; the dancers show their versatility—they are amazing gymnasts; but I like the clown best. Is Pita angling to stage the next Björk arena show?
Reviewer: Vera Liber