Serse
Music by George Frideric Handel, libretto by Silvio Stampiglia
Figure
Opera Holland Park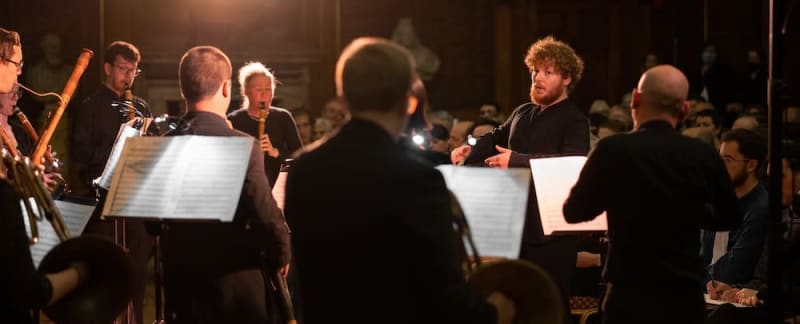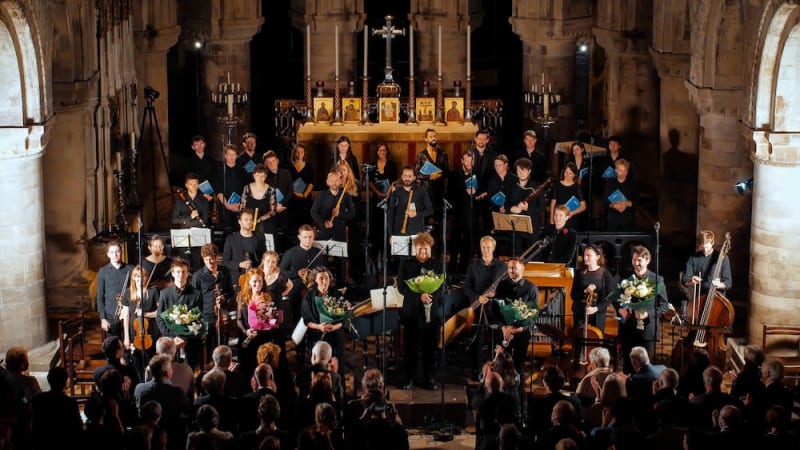 There's a new historical performance ensemble, Figure, on the scene—founded last year—and I for one am grateful. I'm a glutton for the baroque, and those theorbos… Conducted from the harpsichord by Frederick Waxman, the ensemble makes a heavenly sound.
Skilfully directed, the orchestra centre stage, the action all around it on a steep rake, reaching out into the auditorium—Waxman turns round occasionally to see if we're still with him—and gets his tousled hair ruffled by Arsamene (James Laing), and eyes made at him by Atalanta (Anna Cavaliero). That's charming ensemble work for you, marvellous natural rapport with each other, and us.
I'd like to close my eyes and listen, but director Sam Rayner has other creative ideas, taking "what a farce" (sung by servant Elviro) literally: a six-strong physical theatre troupe of circus tumblers assume the roles of scenery, set, servants, horse, bridge, stage managers fishing things out of props box on the stage, and more in miniature Versailles style with a nice touch (blink and you miss it) of Fragonard. Holland House, what's left of a Jacobean mansion built in 1605, is the perfect backdrop, and I wonder, maybe clowning scenery is de trop… delightful though they are.
Handel's rarely done Serse is made very accessible. First performed in London in 1738, it was not terribly well received at the time. Too much comedy it was thought in an opera seria. You can see where Mozart might have got his Figaro idea (never mind Beaumarchais). And it's that comedy that Rayner brings to the fore. I'm much more of a tragic type, but Le nozze di (and Così) it is.
Silvio Stampiglia's libretto has been edited and a character lost, which makes the denouement a bit tricky. Two brothers and two sisters, their father and servant (both played by baritone Timothy Nelson), but where is the jilted princess Amastre, who should lurk in disguise and be the consolation prize for Serse (the historical Xerxes king of Persia)? Serse falls in love with the voice of Romilda (as well he might—it's soprano Sarah Tynan, memorable in the Orpheus season at the Coliseum). There's a clever scene where Serse makes love to her gown.
But Romilda is in love with his brother Arsamene and he with her (only true lovers quarrel…). Her sister Atalanta loves Arsamene, too, and causes much mischief with her deceitful machinations. Letters are misdirected and misattributed, the usual commedia stuff. Serse has power over his subjects be they siblings or princesses, but he doesn't make himself entirely clear to the girls' father, Ariodate, who thinks Serse has given him permission to marry Romilda to Arsamene.
Deed done, can't be undone, Serse is livid, takes it out on his servants (more physical pratfalls), but ultimately settles for Atalanta and she for him. Reconciliation. Joy and love triumph.
After signing autographs and kissing babies, as monarchs do, mezzo-soprano Cecilia Hall gets into her masculine royal stride with the opening tender ombra mai fu, a serenade to a plane tree (quite a few in Holland Park). The acrobats assemble themselves into that tree. Initially I find them distracting, but eventually I settle down to their antics. Though I must say when arias are sung without the accoutrement of their buffoonery, the emotion is the stronger for it.
Soprano Cavaliero stands her ground opposite Tynan—they are sisters after all – and countertenor Laing (not helped by his slightly comical doublet and hose outfit) is in excellent voice. I remember him recently in Bajazet at the Linbury, and in L'Ormindo at the Globe's Sam Wanamaker Playhouse, and do wonder how this production would sound in the intimate Jacobean replica that is the Wanamaker.
Nelson, as energetic servant Elviro, and Laing make a comical team, though I feel some of Arsamene's heartbreak is undermined by this dopy characterisation. And Nelson's Ariodate, body language solid and grounded, is a good foil, but I still keep thinking this is Elviro in one of his disguises. I love his flower seller dashing round the venue. Some entrances are made down aisles from the back, which turns heads. My head is quite turned by voices and music in fabulous harmony, plangent and ardent.
Quibbles aside, it is a wonderful evening, with singing and playing of high calibre—one night only. Truly, a lovely few hours in the blustery park—the weather does not behave... we need le roi soleil to bring it under his command.
Reviewer: Vera Liber