Spring
Director Sean Gandini, choreographer Alexander Whitley, music Gabriel Prokofiev
Gandini Juggling (London International Mime Festival 2019)
Sadler's Wells
–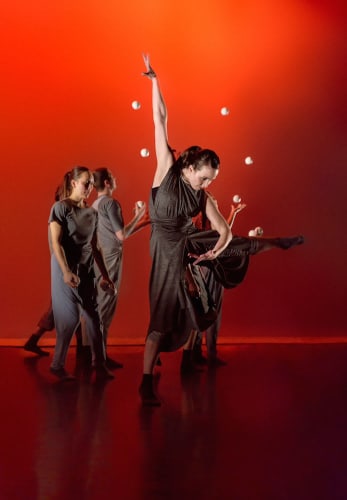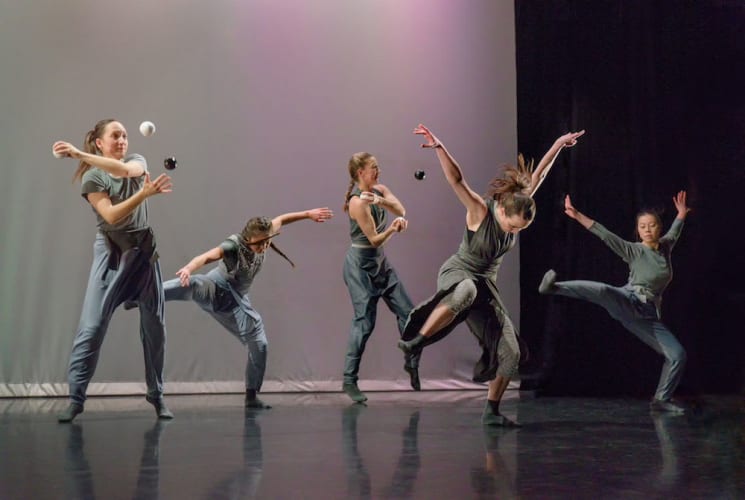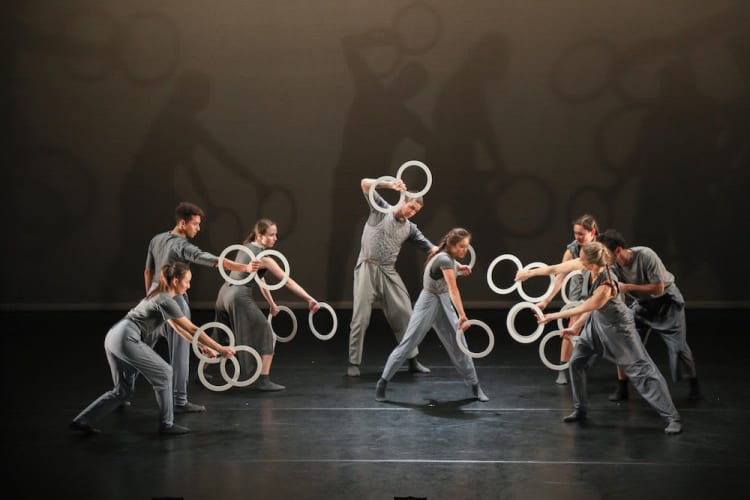 Hard to see where juggling begins and dancing ends in Spring, Gandini Juggling's new show focusing on colours, patterns, geometry, rhythm, timing and flow. Dancers juggle, jugglers dance. Beats syncopated; bodies Calder mobiles and stabiles, hands jive; arms semaphore and sign; legs flick parabolas. An abstract work of art, Spring decorates the stage with kinetic images: it is hard to know where to look.
And the listening is great, too: an uninterrupted hour of original music from Gabriel Prokofiev, vying with synaesthetic colour washes of light from Guy Hoare, provoking the clever sleight of juggling hands. The performers count the beat—not only for their own concentration but for our benefit, too.
White hoops turn to blue, red, yellow, green and back again with eye-dazzling speed. How the hoops and clubs roll and fly, how time flies—it is more than a quarter century since Gandini Juggling, founded by magic and maths obsessed Sean Gandini and rhythmic gymnast Kati Ylä-Hokkala, came into being and cross-pollinated with contemporary dance, working initially, in the nineties, with the lovely late Gill Clarke.
Who haven't they worked with since? (With bharatanatyam dancer Seeta Patel in Sigma for one.) This latest collaboration is with choreographer Alexander Whitley, but it is Prokofiev's original music that is the prime mover for me. A slowly rising black backcloth reveals the Camerata Alma Viva, five musicians on violins, viola, cello and double bass, augmented by electronica and bookended by two dynamic drummers.
Framed and silhouetted in action and repose, they are all the setting one needs: a son et lumière with darting figures in grey in front of them in various permutations trying to grab our attention with their dextrous feats coupled with disquisitions on the colour spectrum. The talking interludes I could do without.
Flat on their backs, the jugglers / dancers can still keep those balls in the air. Simply walking, they create intricate patterns on the stage—like a child's game. Shadows arc and grow, images multiply, refracted in the light. There are friezes and freeze frames.
Gandini is about bodies, performance art, not just circus juggling, though that is in the mix, and the joys of interaction, throwing, catching, co-operation, teamwork. If an object is dropped, the butterfingers is forgiven. Whitley integrates that into his choreography—the fumbler steps forward and a hand is placed in absolution on their head. Charming, warm, human, a sophisticated multi-layered show yet with a pure simplicity at its heart.
And the audience is with it all the way. When Gandini steps forward at curtain call and asks us to pretend we are juggling, very few do not comply: that is togetherness. Hard to believe it is their Sadler's Wells debut.
The list of Gandini's works is long and yet he is still finding fresh fields to explore. I admired his 4x4: Ephemeral Architectures in 2015 and the Pina Bausch inspired Smashed two years ago. But I don't know them all, so I am grateful for Thomas J M Wilson's doorstop of a book on Gandini Juggling 1991-2015 entitled Juggling Trajectories. More than an aide-memoire, it is four hundred plus pages of history, analysis and passion, and a visual treat.
Bring your inner child, bring your children (age guidance 7+), come and enjoy an hour of meditation and mindfulness. Numbers and shapes, addition and subtraction... And the real juggling—clubs roll across the shoulder, get caught between the knees—gets a big cheer, but I think Gandini is after something more than that, constantly shifting the boundaries of his particular art form.
Reviewer: Vera Liber