Swan Lake
Choreography by Derek Deane, music by Pyotr Ilyich Tchaikovsky
English National Ballet
London Coliseum
–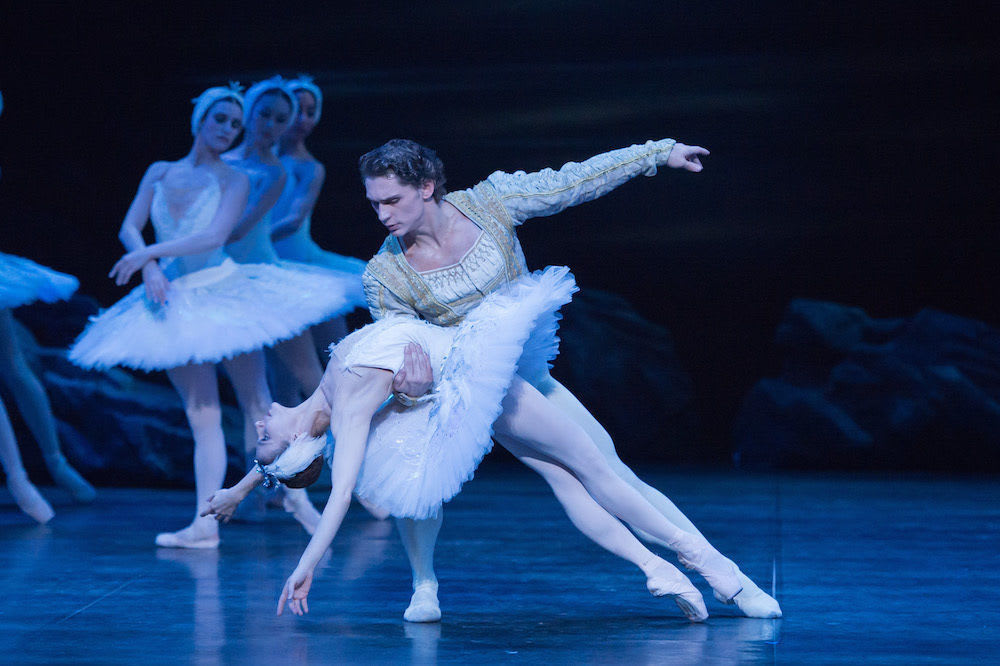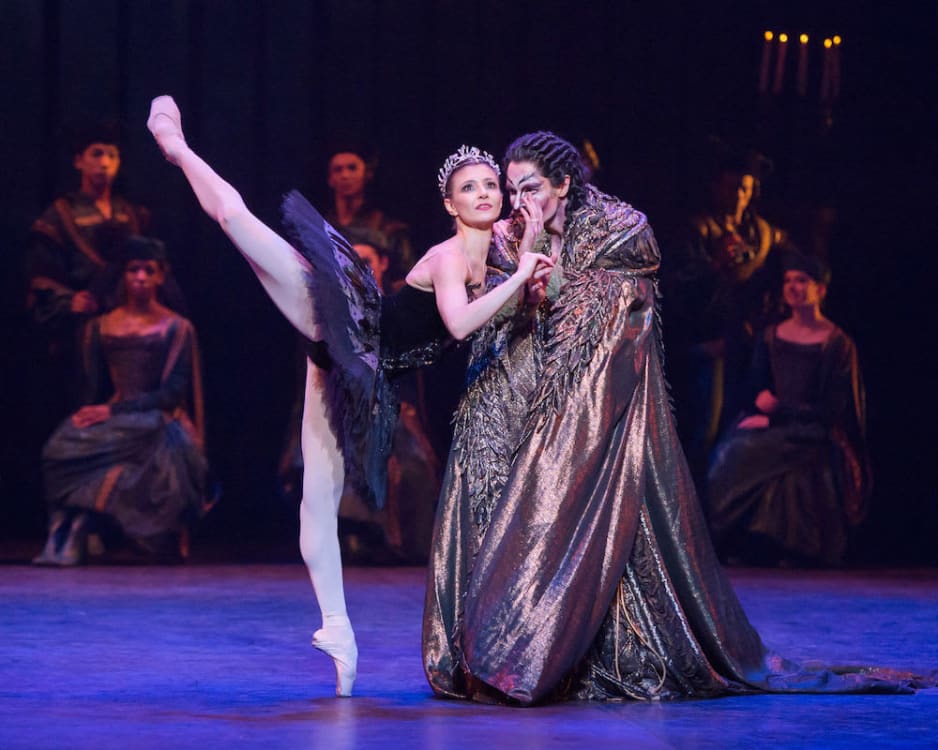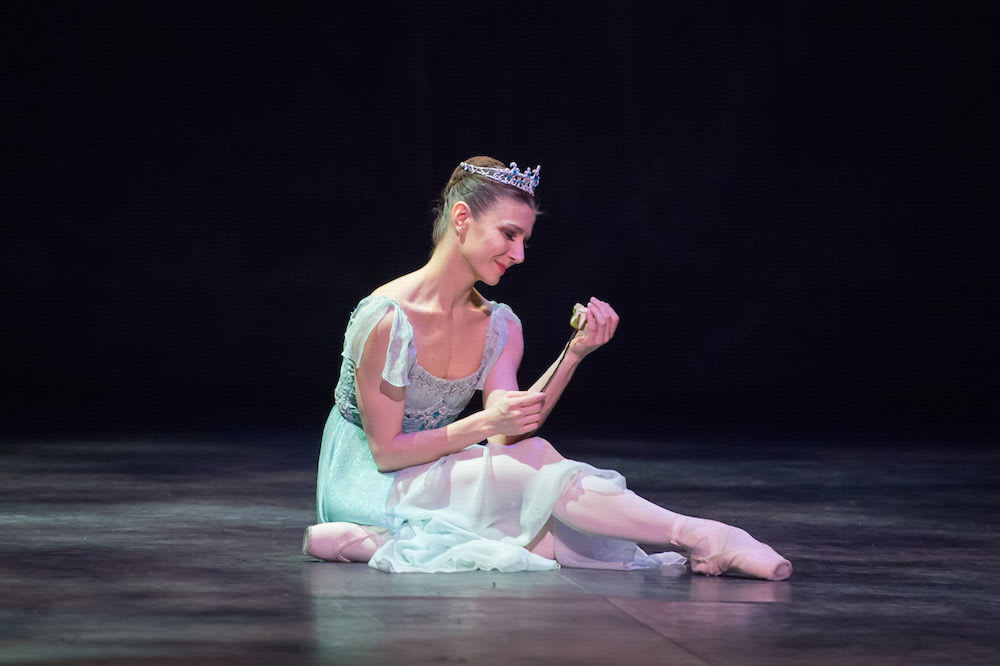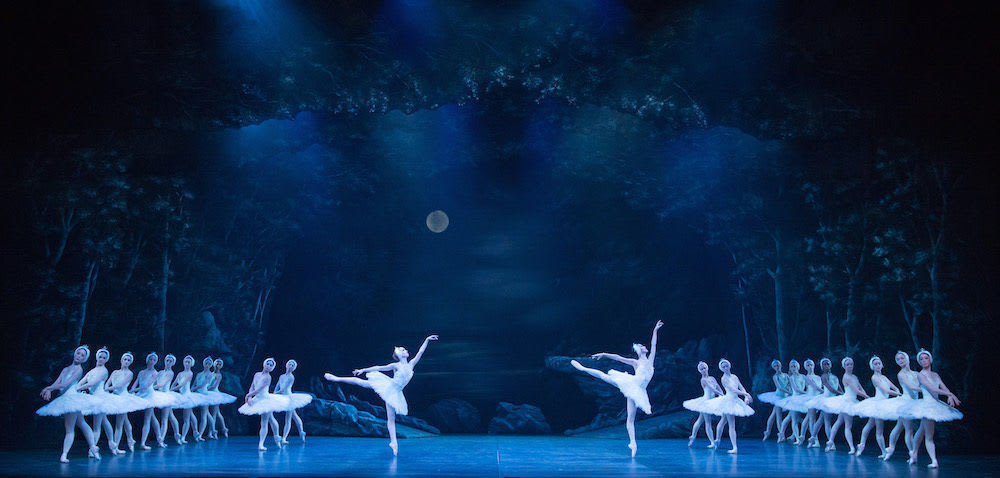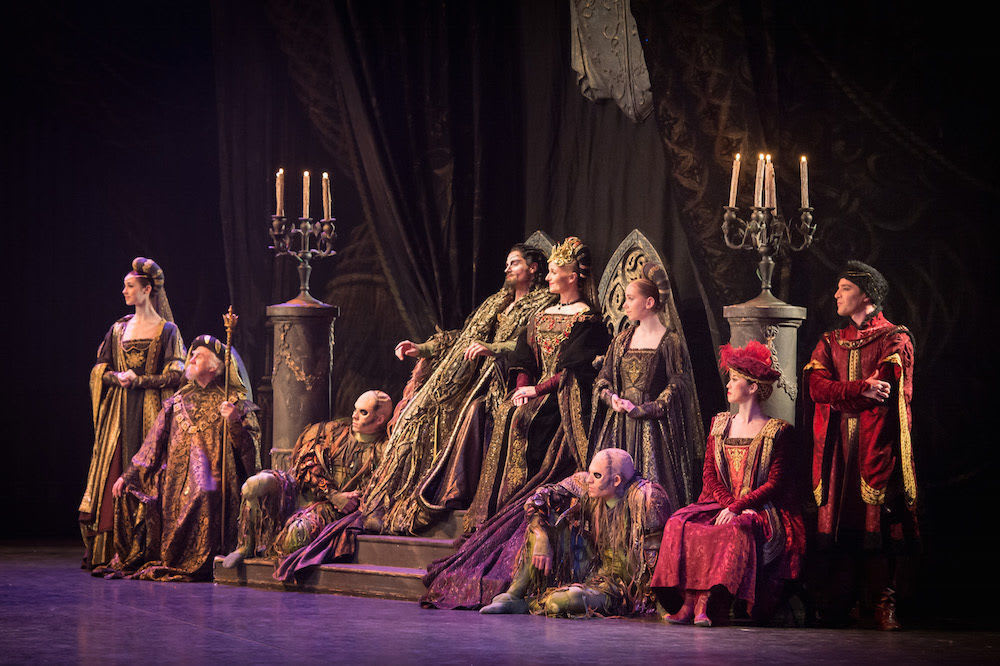 Asked by a fellow critic if Swan Lake is the ballet equivalent of theatre's Hamlet, I hesitate. And yet he is probably right. The programme notes give astounding statistics for the most performed ballet in the world.
And, of course, there are versions and party pieces the world over. Many of the ballerinas cast as Odette/Odile in this run reference former Swan Lake principals as inspirations. So, they put themselves to the test and the baton is passed on.
Derek Deane's version (not to be confused with his in-the-round production at the Royal Albert Hall) for English National Ballet is the ninth mounted by the Company. And very clear it is. A prologue has been added, clarifying how Princess Odette came to be in the clutches of wicked sorcerer Rothbart.
Alina Cojocaru is a delicate Odette, modest, sad eyes cast down, magnetic in her mystery. Commanding, and yet in need of protection. The ultimate Romantic heroine of a white ballet lit by moonlight and shrouded in early morning mists, out of which her troupe of swan maidens rises.
Who wouldn't be charmed by her: a young Prince evading his mother's demands to marry, looking for escapist sport, and ripe for magical enchantment? Impressionable youth, smitten by the extraordinary, he pledges his oath of eternal love to a vision of gentle beauty.
Needless to say the course of true love never runs smooth. In Act III, man-eagle Rothbart with a Halloween costume to covet turns Prince Siegfried's head at his birthday ball with his own daughter Odile, the Black Swan mirror image of the White.
Turn is the word. Her traditional flashy fouettés dazzle him into an electrifying frenzy of spins of his own. I imagined Cojocaru's Odile would go against the grain—she's a perfect Odette, whereas Tamara Rojo for example inclines more to Odile—but she surprises with her wicked smile and spiky attack.
Take that. Yet it is her phrasing, secure balance, and emotional attachment to the music that make her an Odette to send shivers down the spine.
Poor Prince Siegfried barely gets a look-in. He must partner attentively, look smitten, and take his chances when he can. Which he does—tenderly.
Hard to believe that tonight is Ivan Vasiliev's debut as Prince Siegfried. Regulars at the Coliseum will remember him as part of the Osipova/Vasiliev phenomenon in the Mikhailovsky Ballet's 2013 programme. Or, guesting, then as now, with the ENB, in Roland Petit's Le Jeune Homme et la Mort.
Not a natural Prince Siegfried, lack of height and regal stature Vasiliev makes up with lyricism and soulful expression. And almost restrains his Bolshoi bravura and irresistible ballon. A sturdy stallion, his fire reined in, he unleashes it, blood burning, in Act III's duet duel with Cojocaru.
He flesh and blood, she immortal, they make a fine match these two, the Romanian trained in Kiev and the Russian trained in Minsk. Both hard workers, they give it all they have: challenging the Company to rise to their demanding level. Which it does—competitive lot these ballet dancers.
Ksenia Osyanick must be one of the hardest working dancers in the Company—she is everywhere I look: in the pas de douze polonaise, as lead swan (Jia Zhang the other), one of the six princesses tempting Siegfried.
The ENB is on excellent form: James Streeter has perfected Rothbart, Crystal Costa and Fernando Bufalá are a swift flighty pair in the Neapolitan Dance, Laurretta Summerscales and Alison McWhinney delightful in the pas de trois, and the cygnets (Crystal Costa, Senri Kou, Katja Khaniukova, Anjuli Hudson) are perfectly drilled.
One expects no less from Derek Deane—after Marius Petipa and Lev Ivanov, additional choreography credited to Frederick Ashton—Deane corrals serried rows of white swan maidens like bayadère spirits in neat dreamy formations.
Peter Farmer's set design is uncluttered yet colourful and grand, and the English National Ballet Philharmonic under conductor Gavin Sutherland fills the auditorium with Tchaikovsky's familiar glorious music. What's not to like…
ENB are fielding an alluring cast. Tamara Rojo will be dancing with guest Alban Lehndorf from the Royal Danish Ballet; Erina Takahashi with guest from the Dutch National Ballet Isaac Hernández; Laurretta Summerscales with Alejandro Virelles.
And Elena Glurdjidze is giving her final performance for ENB on the last night, dancing with guest Casey Herd (now with the Dutch National Ballet).
Sitting next to a former Royal Ballet dancer, I am tempted to play spot the difference between Anthony Dowell's production and Deane's, but am swept away instead by what is in front of me. The triumph of love. The audience roars approval.
Reviewer: Vera Liber