Take Five Blues / Senseless Kindness / Laid in Earth / Echoes / Jolly Folly
Choreographers Stina Quagebeur, Yuri Possokhov, Sidi Larbi Cherkaoui, Russell Maliphant, Arielle Smith
English National Ballet
Holloway Production Studio at London City Island
–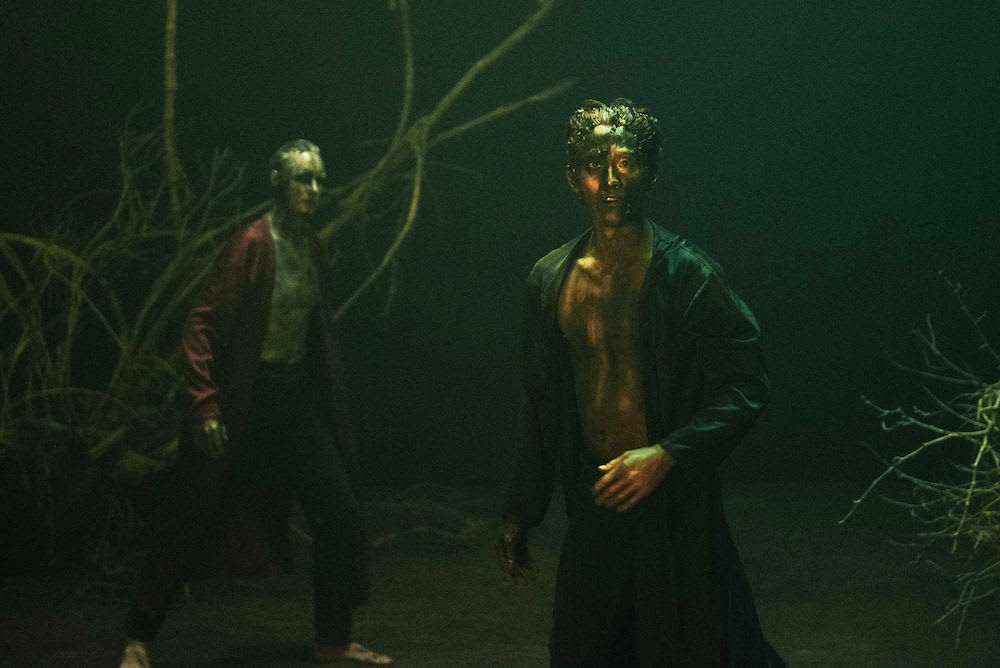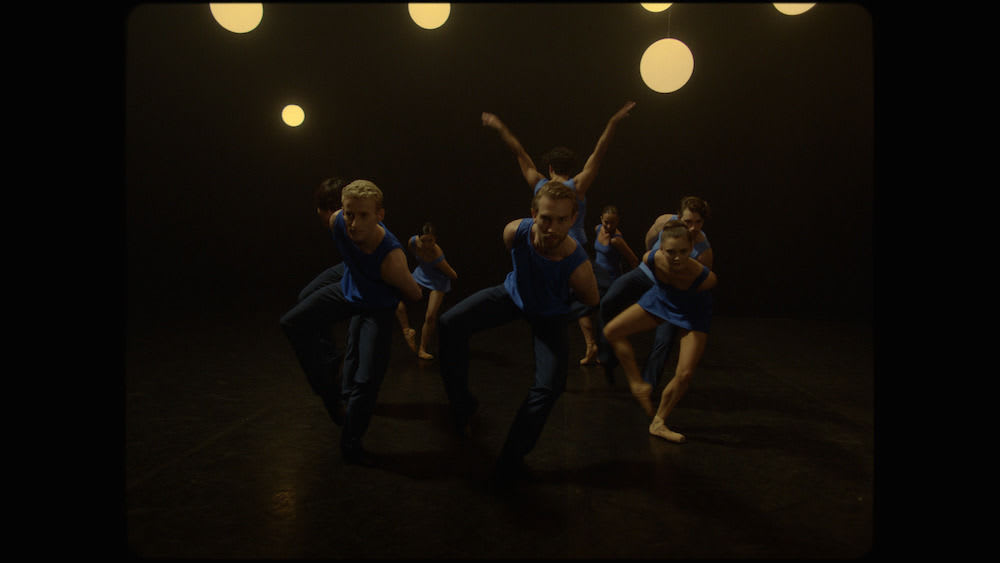 English National Ballet artistic director Tamara Rojo has commissioned five original dance films (each about fifteen-minutes in length) from established and up-and-coming choreographers to be enjoyed in the lead-up to Christmas.
The five films are a curious mix, which will satisfy varying tastes and preferences. There's lots of brooding monochrome, and it is to be remembered that these are films, the camera an integral aesthetic member of the troupe—the creative credits are long with many hands on the tiller.
Two female and three male choreographers, the women bookending the three men, and I must say the women bring a lighter touch, much needed in these depressing and weary times. Indeed, Stina Quagebeur says she wants everyone to have fun after the dreary lockdown. And young Arielle Smith, not from the ballet world, gives us a tongue-in-cheek homage to the silent era of Charlie Chaplin and his contemporaries.
Quagebeur's Take Five Blues (a film by Shaun James Grant), inspired by Nigel Kennedy's jazz and classical meld of Bach's Vivace and Desmond / Brubeck's Take Five, has eight liberated dancers (Aitor Arrieta, Matthew Astley, Fernando Carratalá Coloma, Henry Dowden, Shiori Kase, Katja Khaniukova, Rentaro Nakaaki, Angela Wood) seemingly in free improvisational mood, doing their own thing, responding to the music. Joyous, accessible, "more human" Quagebeur (costume designer, too) says.
There are overhead shots, club lighting, and white globe lights that take me back visually to the Zoological art installation by Random International) in Wayne McGregor's +/- Human at the Roundhouse in 2017. Amazing where the brain drifts, but it's the percussive music and the contemporary and classical blend (jazzy fouettés) that give it that free and easy club vibe and enthusiastic Scottish / Irish reel feel.
The final film, Smith's witty Jolly Folly (filmmaker Amy Becker-Burnett), is a musical movie treat after the male introspection (more of that later). The Klazz Brothers' Latin-infused covers (Symphonic Salsa (Cuba Danube / Cuban Sugar / Kubanischer Marsh) of, can you believe, Tchaikovsky, Strauss and Mozart set the pace.
Inspired by black and white comedy silent films of 1920s and 1930s Hollywood, photogenic boys and girls in unisex tuxedos (Georgia Bould, Joseph Caley, Julia Conway, Daniel McCormick, Ken Saruhashi, Francesca Velicu, Erik Woolhouse, Rhys Antoni Yeomans, Duracell bunnies all) have a three-act ball. It feels like a celebration. Is act three a Minecraft video game? Or a strange dream?
Senseless Kindness, a standout work (and an evolving work he says) by Yuri Possokhov, a former principal dancer with the Bolshoi Ballet, Royal Danish Ballet and San Francisco Ballet, now San Francisco Ballet's resident choreographer, working with a UK company for the first time, visits his Slavic roots with this homeopathic distillation of Vasily Grossman's 800+ page epic WW2 novel Life and Fate set to Shostakovich's "Piano Trio No 1" recorded by musicians from English National Ballet Philharmonic. His heart and soul are in it. Shadows of his ancestors…
But how does one condense the spirit of such a book into fifteen minutes, its tragedy and its hope, its vast Tolstoyan canvas of characters for an unknowing public into a dance for two couples (Francesco Gabriele Frola, Emma Hawes, Isaac Hernández, Alison McWhinney)? Even Lev Dodin of St Petersburg's Maly Drama Theatre struggled to get it all in in a three-hour production.
Thomas James's black and white 'forties film aesthetic—the long shadows on the floor, stripes, columns, sunlight through a cathedral window, imprisoning rails—gives it an old Soviet film stock look, but it is in the music where the dramatic essence resides, and Possokhov knows this. His choice of Shostakovich is astute—the man lived it, was scarred by it and one can hear it in his angst-ridden composition—the sorrow and the pity. Shostakovich also played piano for silent movies as a young man to make money, and he wrote film scores.
Thomas James again is the film director of choice for Sidi Larbi Cherkaoui's surreal, gothic "torn apart" quartet (Precious Adams, Jeffrey Cirio, James Streeter, Erina Takahashi), Laid in Earth, set to Purcell's aria (how many people have that on their funeral music list?) from Dido and Aeneas sung by mezzo-soprano Flora McIntosh, with added new electronic music by Olga Wojciechowska, a long-time collaborator of Cherkaoui. Costumes by Dries Van Noten are notable.
Pantheistic, Ovidian decomposing metamorphosis in a post-apocalyptic Louisiana swamp landscape, the camera roves uneasy and queasy, skulls are glimpsed, the sound is ominous, but the dancing is wonderful. Much is compressed into this short, but it is hardly cheering.
Nor is Russell Maliphant's meditative Echoes. Working with former collaborators—video artist Panagiotis Tomaras (Silent Lines, maliphantworks3), with portentous sound design by partner Dana Fouras, costumes by Stevie Stewart, filmmakers Michael Nunn and William Trevitt—echoes is what it is, echoes of former works, all his signature tropes in place, dark sculptural lighting, baggy clothes, martial arts movement vocabulary. Fernanda Oliveira, Fabian Reimair, Isabelle Brouwers, Eireen Evard, Giorgio Garrett, Anjuli Hudson and Junor Souza liquefy in the darkness.
Viewing dates are: 23 November Take Five Blues; 30 November Senseless Kindness; 7 December Laid in Earth; 14 December Echoes; and 21 December Jolly Folly. They will be available on ENB's Ballet on Demand for 72-hour rentals for £3.49 each, which includes access both to film and accompanying behind the scenes chats.
Reviewer: Vera Liber