Terra
Choreography Hubert Essakow
Print Room Dance Company
The Print Room at the Coronet
–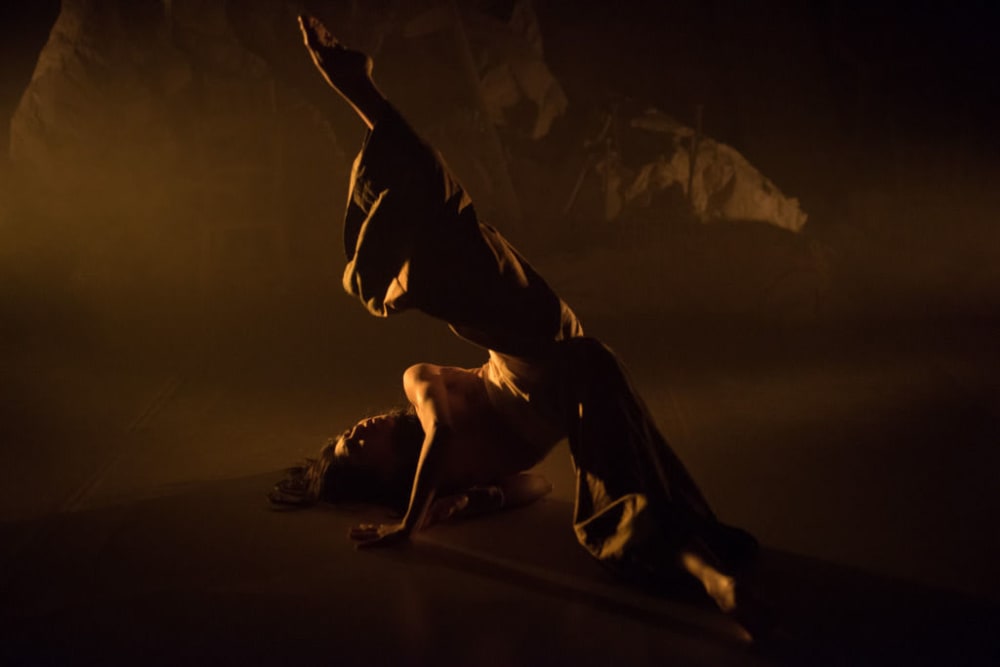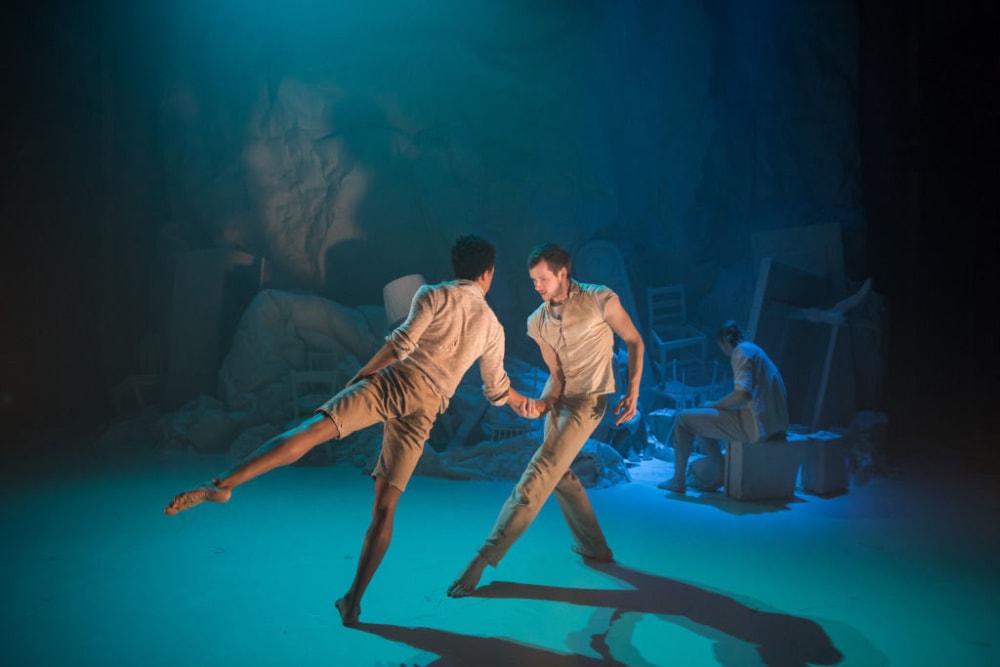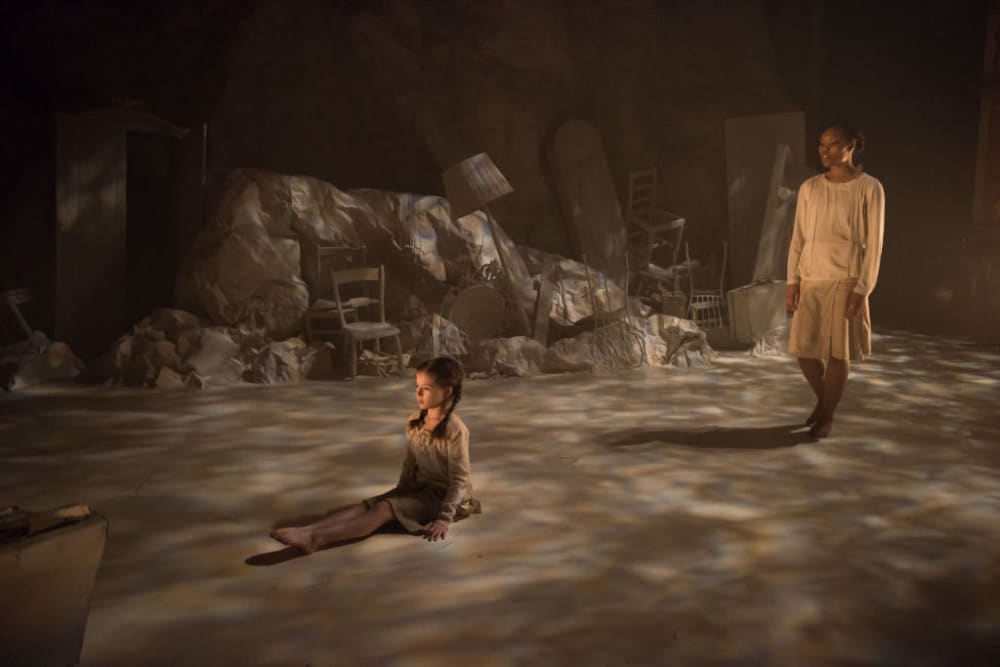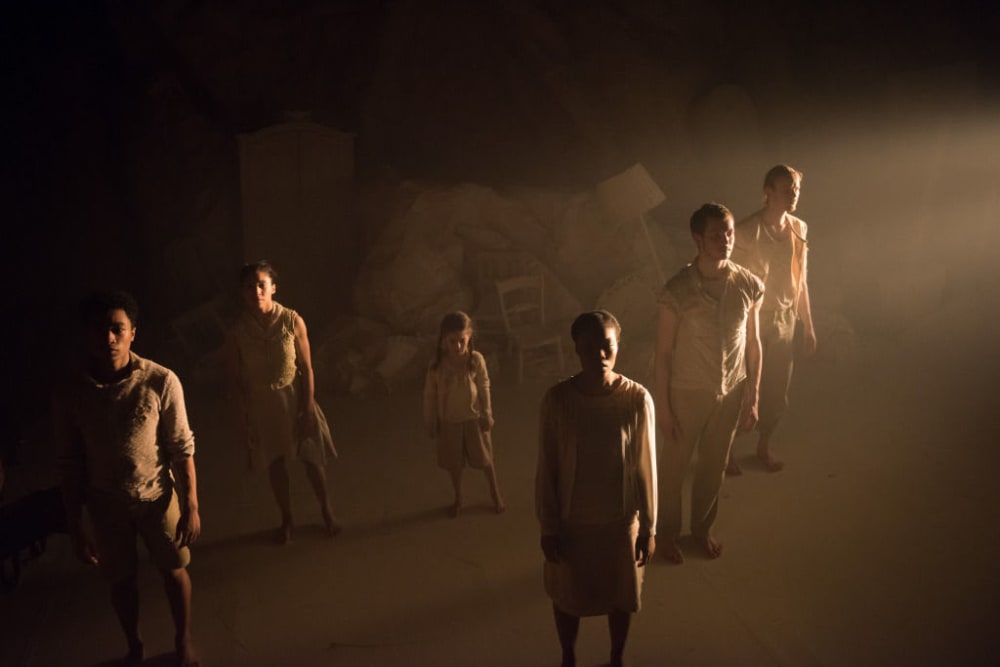 Terra—earth, our evolution on this "rock fallen from space, suspended by the spider's web of gravity…" (Ben Okri poem, Terra)—Hubert Essakow takes on the epic and confronts it with the personal.
And Essakow surrounds himself with an epic creative team: Booker Prize-winner Okri's poem interwoven with an evocative cinematic soundscape from French film composer and jazz musician Jean Michel-Bernard, and with Belgian visual artists Sofie Lachaert and Luc d'Hanis providing the ghostly set.
White landscape, a rock face, a quarry and the detritus of a house bleached white against it: an avant-garde film, a surreal anxiety dream, halfway house between life and death, purgatory, classical Greek tragedy, a journey in search of a home, Terra speaks of many things, but the journey will be all our own.
A half-naked Mother Earth (Estela Merlos) writhes in birth pangs, a prologue of intense twisting movement. Merlos, who has danced with Rambert in Merce Cunningham's Rainforest at Sadler's Wells in 2011, jogs my thoughts: several choreographers, not least Rambert's Mark Baldwin with The Comedy of Change celebrating Darwin's On the Origin Of Species, have tackled our bodies evolution and place on this planet: an eternal theme, it seems.
But Essakow's Terra is no comedy. It is apocalyptic, earnest and timely, about migration and finding shelter. Three men, two women and a girl (Constance Booth brings awe and wonder to her role) arrive on a stage bled of colour. They are in white and carry white suitcases cut in half. Plato's philosophy in action, are they looking for the other half, the one left behind, a never-ending search, a metaphor for the restless Terra.
Six characters in search of an author… Is he god, fate, or must they be self-reliant? References flood my brain, stimulated visually and aurally, but the dance leads me on. Memory is here somewhere, it's the human condition, is that what they are carrying in their bisected suitcases? In search of lost time… A piano plays; an image of two boys on a beach is conjured.
The earth rumbles, the movement is close to the ground. The rite of spring (a bassoon joins in), "the silent mother… from her we rise". Silence, just the sound of feet on the floor, what is this brave new world, are they stranded on an unresponsive organism? "Our bones are stones…"
"Civilisations spring from her patient flowering." Relationships shift, a couple perform a beautiful bird courtship dance, three dance as one, testing the ground, exploring movement, "the curving dance of time". Sculptural tableaux vivants imprint images on the eye. A helicopter is heard, are they about to be rescued?
The earth vibrates, a Babel of voices is heard, some languages I understand, some I don't—this is how a new country sounds. Foreign words bounce off the auditorium walls. Birdsong, too. The drama of life evoked in sustained collaboration, reaching for the sky, full of hope and ambition.
Promethean fire crackles and the world changes again, but that's another story. Myths, human imaginings, Essakow completes his trilogy, Flow (2012, water) and Ignis (2013, fire) coming before. Terra, "Stars … her origin", is as cold as outer space, as cold as the forbidding set, as cold as the venue. Luckily, there are fleece blankets on each seat. The old Coronet (cinema since 1916, and theatre since 1898), releases its freezing ghosts into the atmosphere.
The Print Room under Anda Winters's artistic directorship is slowly transforming a rundown derelict building into a shabby chic venue with a grand piano bar where the stalls and raked stage used to be. Go just to see its transformation.
And take in the performances whilst you're there. Rob Bridger, Luke Crook, Monique Jonas, Estela Marlos, Benjamin Warbis (formerly with Michael Clark Company) and the incredibly focused young Constance Booth, who I'm guessing must be about twelve, are very good. The stage is small and intimate, very up close and personal: in essence we're up in a closed-off area of the original theatre dress circle.
No time to read the programme notes beforehand I get the context, which has to be a positive, and enjoy the exposition, its fifty minutes holding me to the end. I remember Nina's speech in Konstantin's 'different' play in The Seagull.
Reviewer: Vera Liber