the end of history…
Jack Thorne
Royal Court Theatre
Royal Court Theatre Downstairs
–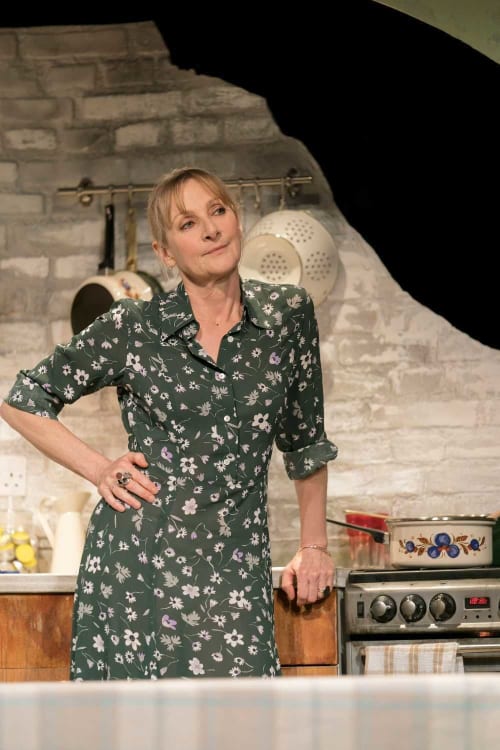 the end of history… is a 110-minute family drama with political overtones, created in three parts set at 10 year intervals starting in 1997.
As such, it might bring to mind both 2nd May 1997 by the same writer or possibly another fly on the wall, kitchen-based, family exposé, Nina Raine's Tribes.
Expressed slightly differently, having achieved fame and, no doubt, fortune as the man behind both Harry Potter and the Cursed Child and King Kong, Jack Thorne has returned to his more prosaic roots.
Many viewers might also suspect and maybe even hope that this piece is autobiographical, such is the richness of the characters and situations that develop across the decades.
In John Tiffany's lively production, viewers will instantly warm to the womenfolk in this Newbury-based family.
Lesley Sharp is Sal, a schoolteacher and dyed-in-the-wool political activist who would sacrifice family, money and practically anything else to make a lefty point. She can also talk for England, never afraid to embarrass herself or her children with meaningless verbosity.
In some ways, Kate O'Flynn's Polly is her equal, highly intelligent and intent on making her name as the next Helena Kennedy, although in the fullness of time the Cambridge graduate takes a different route, becoming a highly successful corporate lawyer.
The men all seem to be a chip off the old block that is David, played by David Morrisey. While his credentials equal those of Sal, he is ineffectual, almost always following in his beloved wife's slipstream. His moment in the limelight is via a heart-warming tribute in later proceedings.
Carl, played by Sam Swainsbury, is first seen as a university student on the brink of graduation, introducing the family to Zoe Boyle's wealthy, pregnant Harriet, the strait-laced chalk to his family's cheese, never likely to fit in with this bunch of manic-depressive eccentrics.
Finally, Laurie Davidson takes the role of younger son Tom, a gay nonentity whose destiny appears to be repetitious failure.
On the surface, Thorne has written an edgy comedy that expertly portrays an unorthodox family whose far left credentials from the 1970s are soon left far behind as the next generation begins to embrace, albeit uncomfortably at times, the new world of Thatcherite capitalism and its watered-down Blairite successor.
Looking a little deeper, the piece makes some tart observations about both the unjustified optimism of the far left in the middle of the last century, who believed that they could change the world, and, at the same time, the difficulties faced by their children, who neither embrace the beliefs to the same extent nor manage to replace them with strong alternatives of their own.
For most viewers, the main attractions in a play that is stronger on ideas than plot are likely to be starring performances from Lesley Sharp and Kate O'Flynn, whose characters are more fully fleshed-out and also more interesting than their menfolk.
Reviewer: Philip Fisher