The Future
Written and devised by the company
Little Bulb
Battersea Arts Centre
–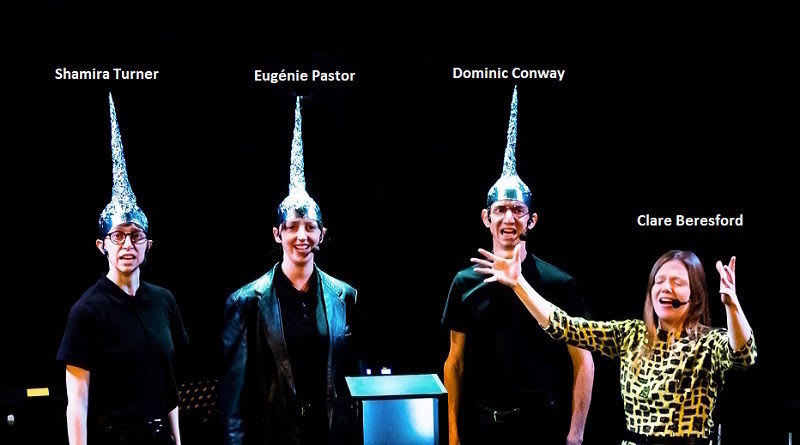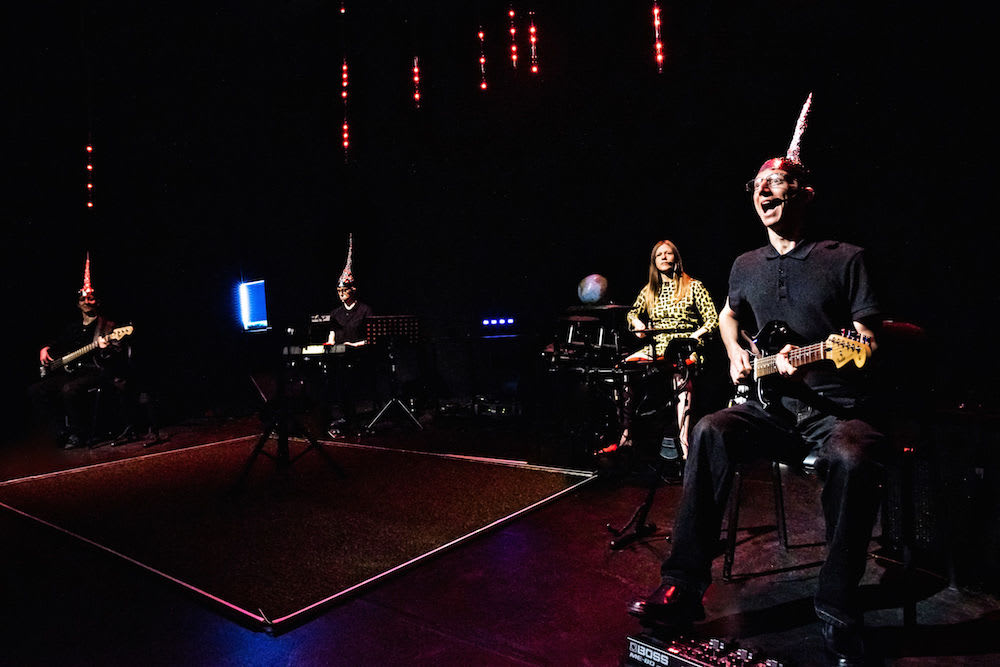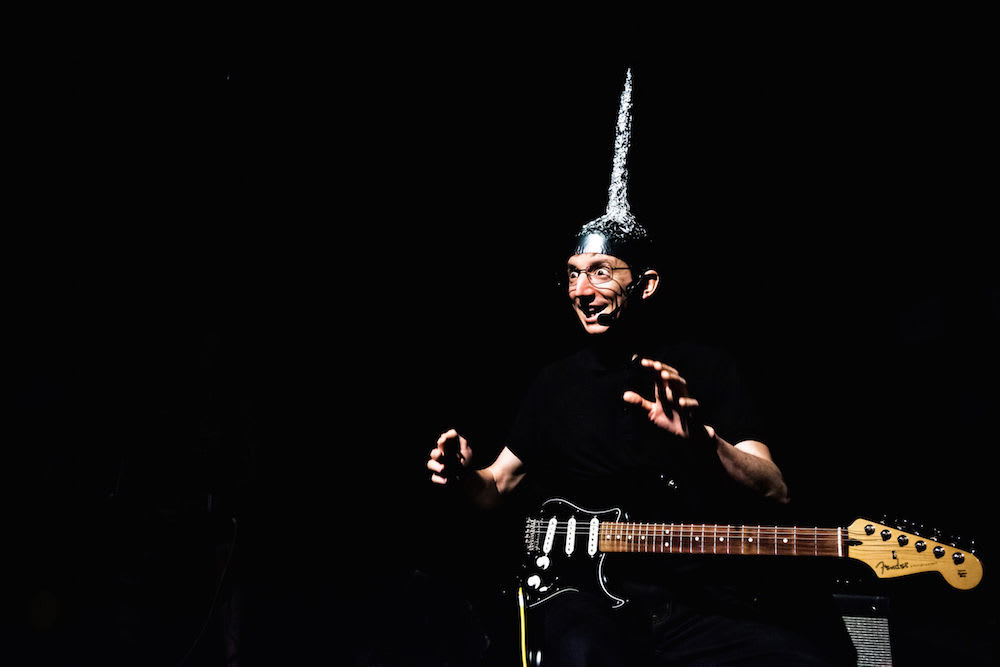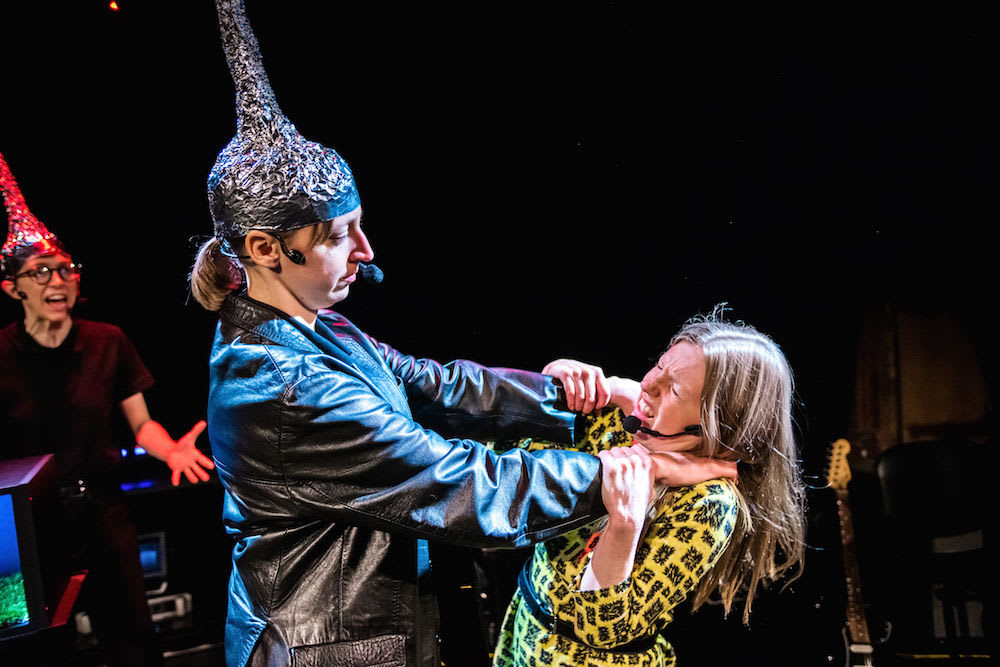 A throwback to simpler times quartet bravely takes on complex contemporary issues. The piped sounds of 1940 song "Whispering Grass" ("the trees don't need to know") set the cheekily knowing tone of Little Bulb's comic disquisition on Artificial Intelligence ("the genie in the box")—in an 'Oliver Postgate' artless style with lashings of charm. Not just pretty faces and fab musicians, then, but individuals of big brain… Hmm.
A relaxed performance, a room full of teenagers (drama or science students, I don't know), part gig, part ersatz lecture, our intrepid little band of scientists and promoter / presenter tackle a huge subject, "a musical exploration on artificial intelligence and the future of humanity". Is it a work in progress or is this rough and ready presentation with homemade props—pointy hats of kitchen foil—the height of performance art sophistication?
Who are these pointy-heads? Are they scientists doing a presentation or are they AI emulations? All is revealed at the end with books to peruse on a music stand. It turns out they are emulations—of Nick Bostrom, Swedish author of book on Super intelligence; Max Tegmark, Swedish-American writer of Life 3.0 Being human in the age of Artificial Intelligence; David Chalmers, Australian author of The Conscious Mind; British physicist David Deutsch of The Beginning of Infinity fame. Check them out, do some prep.
A clever appropriation of ideas, with the added ingredients of an infamous performance artist, 'Psychoanalyst meets Marina Abramović', whom Australian Marina tries to embody. Not quite in her audacious league, but an indicator of the smoke and mirrors of science's theoretical speculations. What about ethics, they ask.
And what about their comic accents... The four take on the accents as well as the names of their betters to bizarre effect—I mishear 'computer' and 'confusing'. Presenter Marina's (Clare Beresford, of the powerful alto voice, a monster on drums—I'm thinking Sesame Street…) Australian accent is the best of the four. I shall remain silent on the others, for it matters not. A funny voice always gets a laugh.
If their accents can be faulted, their musicianship cannot—Dominic Conway is a star on guitar. I still see him as Django Reinhardt in Orpheus, which I saw three times. And who is this on bass but his Eurydice, Eugenie Pastor, playing Max (I think—there is no programme, not even a free cast list). With Shamira Turner as Nick on keyboard and synth.
If you've seen them before, be it in adult or children shows—Extravaganza Macabre, Wail, Antarctica (for under 5s), The Night That Autumn Turned To Winter, you'll need no telling to see them. The wonder of childhood is till with them.
Ten years since they met at the University of Kent, they have a core following, but spread the word. Their charm is their secret element. And their guileless sincerity. That you can't manufacture. Written and devised by the company, directed by Alexander Scott, it's an hour riff on complex physics, made simple. Or if you can't follow the 'science', sit back and enjoy the musical interludes.
"Part scientific conference, part apocalyptic public service announcement, Little Bulb present a mind-bending musical evening of cosmic rock and prophetic polyphonic singing as we journey to... The Future." The polyphonic singing you must hear. And Conway's guitar playing.
An Edinburgh Fringe show crossed with a TEDx talk, a small scale, big hearted show, with a prelude and a coda, The Future is safe in their hands. Utopian optimistic visions, but beware of the Midas touch, and the rogue element. Pitfalls are acted out, throats are cut, the pointy-heads turn on each other. Look at Adam and Eve. Eh, how did that get in? All problems are solvable. And a song makes it all better.
Reviewer: Vera Liber