The Little Match Girl
Director and choreographer Arthur Pita
DanceEast co-production
Lilian Baylis Studio, Sadler's Wells
–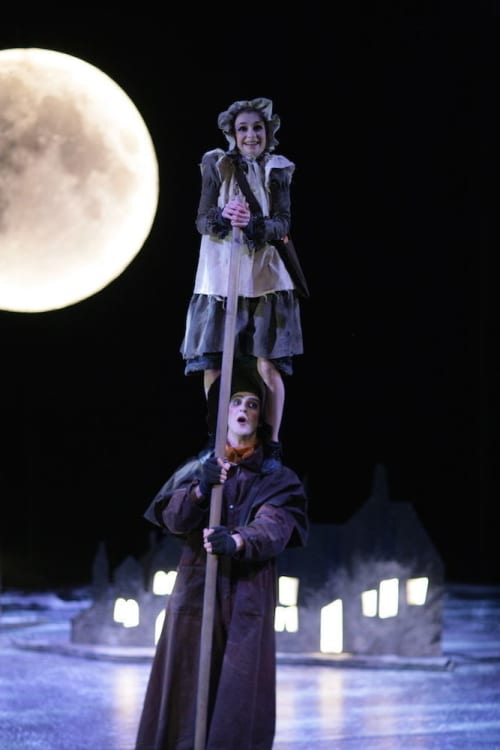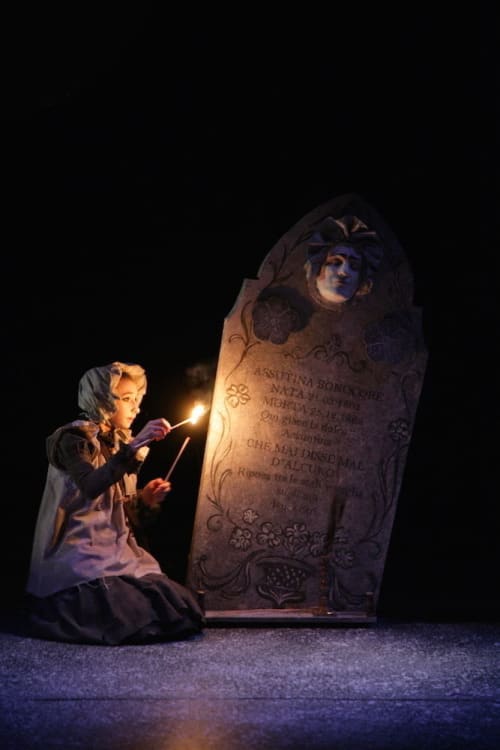 Seventy uninterrupted minutes of dance theatre magic for all ages: if it were a disc I'd have it on repeat. So, get your skates on for the most flawless family treat (5+), you won't regret it. The snug Lilian Baylis studio, where The Little Match Girl sold out last year, seats only a hundred and eighty.
Grateful that Arthur Pita has not been tempted to expand The Little Match Girl or take it into a bigger venue—why spoil perfection—I'd love as many people as possible to share the delight in finding such a gold nugget amongst some of the expensive dross that passes as festive fare.
An emotional roller coaster ride, laughter and tears, wit and glee, Hans Christian Andersen's touching tale that pulls at the heart and conscience is transformed by Pita into a five-star show: characterisation, performance, design, lighting detailed to the finest meticulous degree, and music to move the body and soul from one-man band Frank Moon (I'm definitely Moon-struck) on a variety of instruments—and space travel. What more could you want?
Perhaps like Oliver Twist, more of the same. And it is very like Oliver Twist—there's an 'Artful Dodger' and a young 'Fagin'—which is one reason why Pita has it sung in Italian, to differentiate, and it proves a great blend, that demonstrative Neapolitan sound with the expressive content, which brings to mind Benjamin Disraeli's oft-quoted apposite words, encapsulated in a charming cosy heart-warming but above all entertaining production, a hard fist in a soft glove.
"Two nations; between whom there is no intercourse and no sympathy; who are as ignorant of each other's habits, thoughts, and feelings, as if they were dwellers in different zones, or inhabitants of different planets; who are formed by a different breeding, are fed by a different food, are ordered by different manners, and are not governed by the same laws: the rich and the poor."
After being bullied, robbed of the little she has—competition is tough on the street—turned away like smelly vermin from doors behind which Christmas feasting is greedily guzzled—only the lamplighter and a passing gentleman are briefly kind to her—her late grandmother, Nonna Luna, comes to her rescue from beyond the grave.
A brilliant gothic scene, when Nonna's arms reach from the tombstone and cradle the Little Match Girl to eternal rest, is transformed with the twist of a disk in the sky into a scene on the moon. A miniature moonbuggy races across the stage, a huge spaceman appears and lifts her up in gravity and carefree dance. Wow he repeats: wow indeed.
The nineteenth century brought into the twenty-first in delightful performance. On the day that British astronaut Tim Peake launches into space, I see the Little Match Girl find a permanent home on the moon, where she happily lights all the stars in the sky: how's that for coincidence…
She also has a part in the astronaut's stalled lunar module take-off—those matches do come in useful when the most advanced technology lets you down. Combine a trip to The Little Match Girl with a visit to the Cosmonaut exhibition at the Science Museum and you've covered all bases.
Petite Corey Claire Annand, animated Valentina Golfieri, tall Karl Fagerlund Brekke and multi-talented countertenor and dancer Angelo Smimmo reprise their roles of a year ago—it's as if time has stood still. I can't wait for this time next year for my annual fix.
Winner of Olivier, Southbank Sky Arts and Critics Circle National Dance Awards, Pita's star rises and rises: from successes as diverse as Mischief and The Metamorphosis to Facada for Natalia Osipova and Ivan Vasiliev, his work for children and adults is a rich mix.
Reviewer: Vera Liber