The Master and Margarita
Mikhail Bulgakov
Complicite / Simon McBurney
Barbican Theatre
–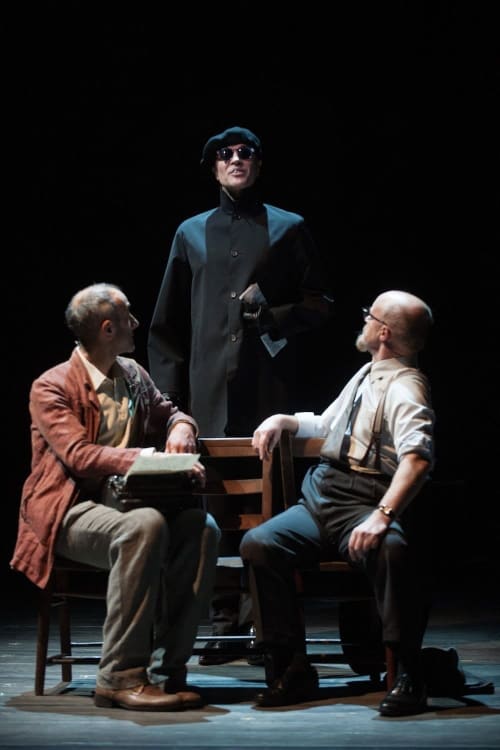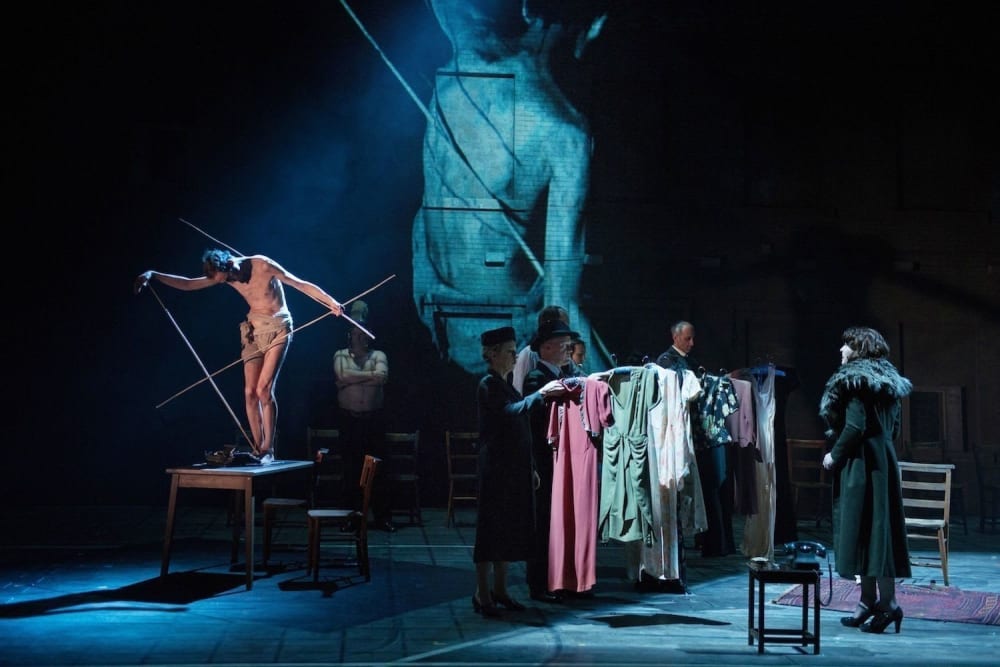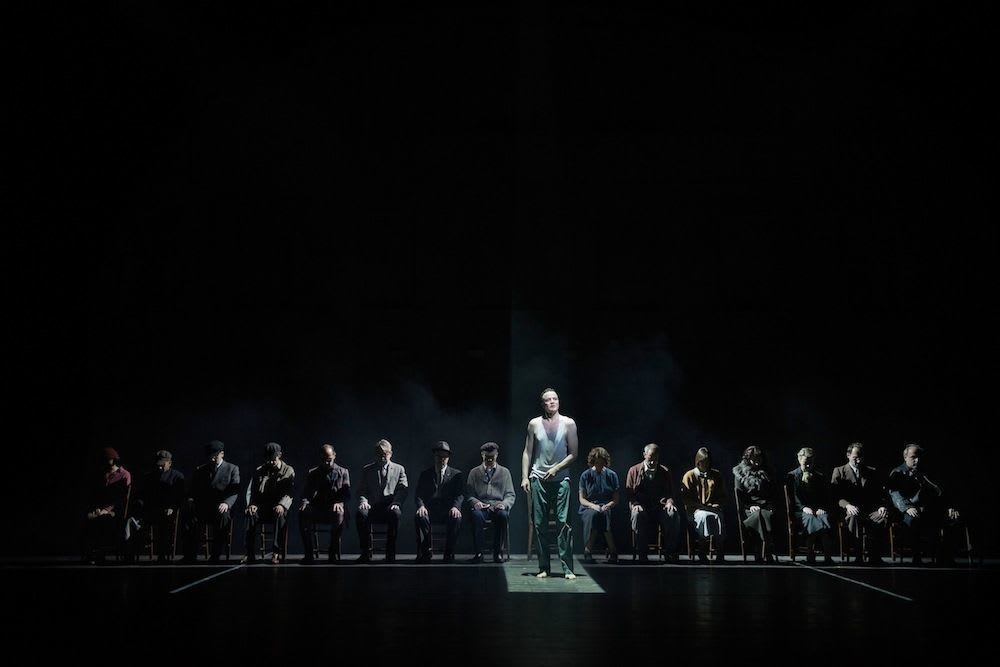 A production that emerged in November 2011 at the Theatre Royal Plymouth, sold out at the Barbican in March of this year, did a summer tour of Europe, culminating at Le Palais des Papes in Avignon, is back at the Barbican over the Christmas holiday period.
But, tightly-packed with cultural allusions, sly digs, slapstick humour, and mythology, The Master and Margarita, Mikhail Bulgakov's complex autobiographical novel, a historically-loaded, bitter Soviet political and social satire full of diabolical pranks and sinister revelations, is a Passion story of eternal life, a compassionate never-ending story of mercy and forgiveness.
More subdued than on the previous visit—in search of a deeper intellectual truth director Simon McBurney can't resist tampering with its triple helix—this Christmas polished production is probably clearer for those who do not know the book. But what it has gained in clarity it has lost in Grotowskian rawness, in emotional energy that grabbed the throat and squeezed the tear ducts.
There are inevitable cast changes—an uninhibited Susan Lynch replaces Sinéad Matthews (now at the Young Vic in The Changeling) as Margarita; Angus Wright (now in Michael Grandage's Privates on Parade) has been replaced by a Max Wall-ish Toby Sedgwick as Koroviev and David Annen takes on Henry Pettigrew's role of Judas of Kariot.
In this reshuffle, the doubling has altered too: a doubling which made greater sense before when betrayer Judas and informer Aloysius Mogarych were one and the same. When the Devil's helper Koroviev doubled with Pilate's secret policeman Afranius.
One misses these clever links between Moscow and Jerusalem, though thankfully most of the original cast remain: Tim Mullan as Pilate, Cesar Sarachu an emaciated Christ, Richard Katz as Ivan Bezdomny and the ensemble acting is sleepwalking slick.
And thank goodness, the exceptional Paul Rhys is still the electrifying Master—in every sense—playing the Devil in his own story. It is the telling of the Master's love story and the story of his novel's troubled genesis in a cold climate to Ivan Bezdomny (pseudonyms fashionable in Russia at the time, this one meaning homeless) in Stravinsky's mental clinic, the Master also homeless and nameless (take away the documents and you remove the man), that McBurney has brought more to the fore.
It is Ivan to whom the Master's hat passes (not a skull cap as in all the photographs of Bulgakov wearing his wife's handiwork, but a black homburg), and it is Ivan, standing centre stage at the mic (mics are used for narration, inner thoughts and asides to comic effect) with hat on his head, who inserts some biographical detail and the novel's epigraph into the fantastic tale. Previously it was Margarita. So that's a shift.
Subtly, the production has become more serious, though I wish McBurney would curtail the Variety Show and throw some water over the cat, which irritates (I know it's supposed to) with its punk potty mouth, buggery, and grim delight in bodily fluids. And, in any case, the cat (Behemoth not only means hippopotamus in Russian but was the name of a satirical journal) is too scrawny (puppet by Blind Summit) for my liking. Both hold up proceedings.
McBurney must be as gripped by the novel as many before him—responses evolve, too—and once in its grip one can't help but continue searching for a clarification of Bulgakov's cryptic trails, clues, cross-references.
Web sites are dedicated to this end; there are tours of the book's Moscow sites; endless exegetic reams have been written about it. The novel has over seventy named characters, and Russian Bulgakov encyclopedias exist to explain them.
As do diaries, not least his last (third) wife's in which she communicates with him in her dreams, and memoirs about the Stalinist dystopia they lived in, waiting for the knock on the door.
Denser than on a first rushed reading, the novel never ceases to intrigue, and takes some unpicking. I've spent forty-five years engaging with it since it first burst into British Russian university departments. Interpretation has followed interpretation in many art forms. The more one studies it the more questions arise, the more one becomes insecure, as McBurney has found.
Dostoyevskian moral philosophy, Gogolian grotesquery, Pushkin quotes, nineteenth and twentieth century Russian satire finding common cause, the Faustian myth turned on its head (Bulgakov called it his anti-Faust novel), Western religious philosophy, the Gospels including the apocryphal, cinematic cuts and dissolves, and operatic voices take unique form in a novel like no other.
And McBurney has made sense of it in three and a half hours stage time. Decoded and re-coded it in triple-layered scenes, knitting the novel's three threads, uniting its cosmic time scales, Pilate's Jerusalem with the Master's Moscow of the 1920s-40, the Devil and his entourage the supernatural link, two love stories in parallel—the Master and Margarita's, and Pilate's and Yeshua's—cowardice and sacrifice intertwined.
The fantastical elements are a crucial parallel reality that cultists fail to address, but which McBurney brings out in overlapping and simultaneous scenes, and with back projection of past and contemporary conflagrations.
Still the best stage production of The Master and Margarita I've seen, and I've seen many. This is my fifth viewing of McBurney's—I saw the Plymouth production, the March Barbican production twice, and the Avignon production this summer.
Production values are high, Es Devlin's set design incorporating contemporary technology, video design by Finn Ross, 3D animation by Luke Halls, sound design by Gareth Fry, lighting by Paul Anderson, costumes by Christina Cunningham and some simple sleight of hand tricks.
Has McBurney exhausted its theatrical potential? I wonder. The production was being filmed on press night, so there will be a record of it. One would hate it to vanish into thin air, riding with the four horses of the apocalypse.
McBurney has reshuffled the molecules of an intelligent production, tinkered with the novel's Gordian knot structure in a cacophony of scenes, firing on all his creative cylinders. He has turned it into stardust.
"Something terrible has happened to me. Please come", pleads the Master. Cometh the hour, cometh the man… McBurney has found the crack in the wall. "In this city anything is possible."
Reviewer: Vera Liber