The Mountaintop
Katori Hall
JMK Trust and Young Vic in association with Desara Bosnja
Royal Exchange Theatre YouTube
–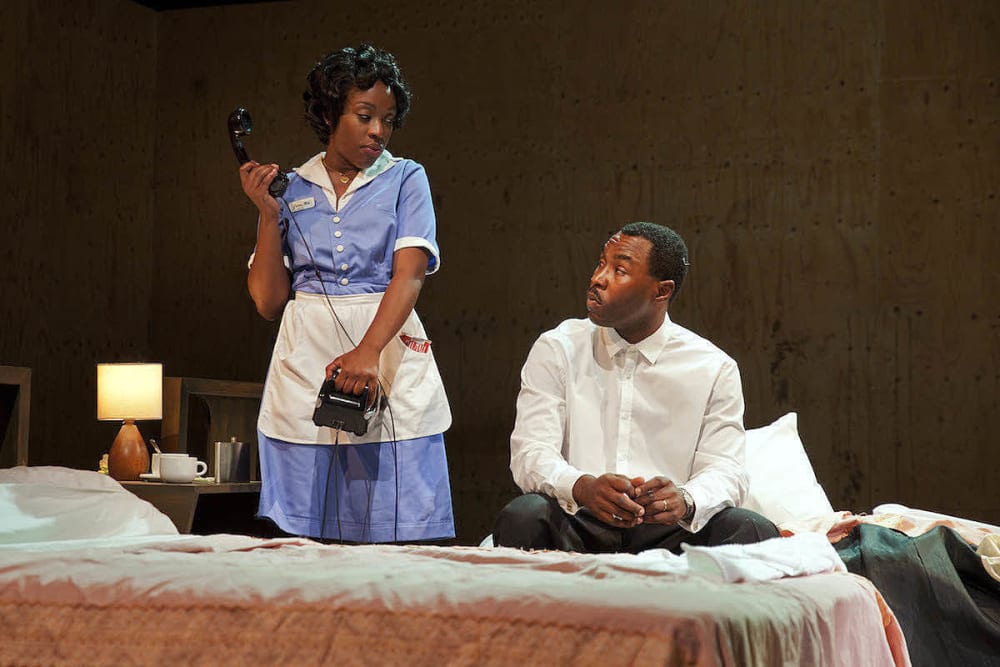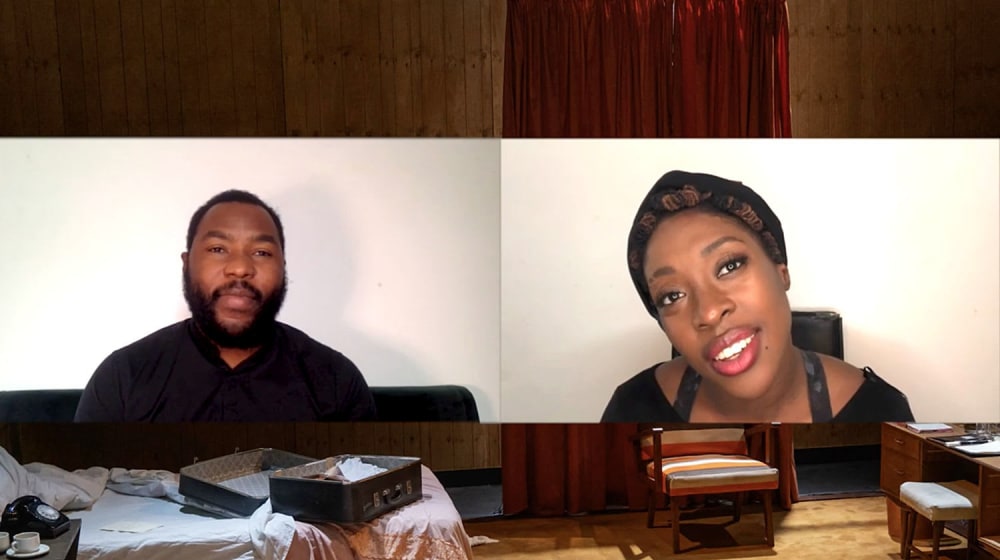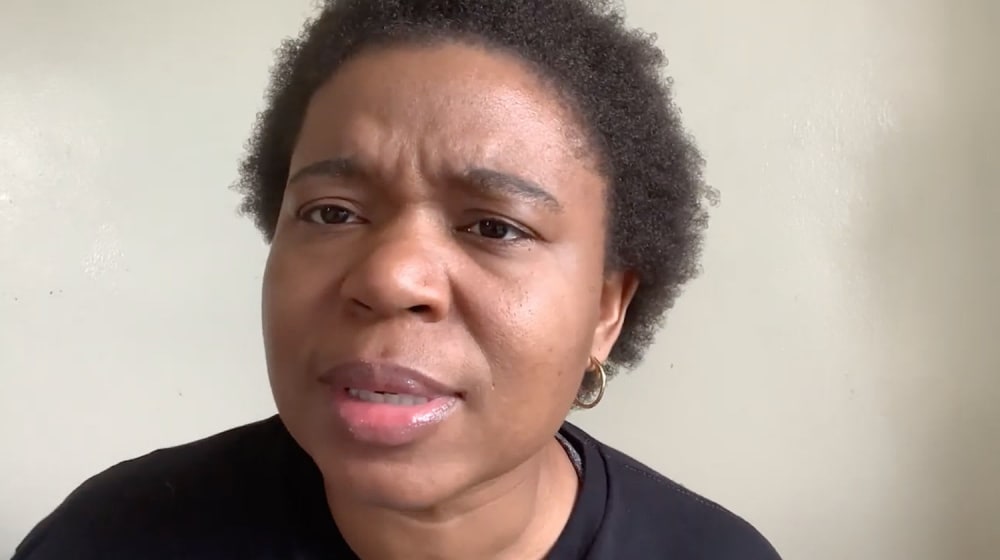 Current Joint Artistic Director of Manchester's Royal Exchange Theatre Roy Alexander Weise directed a revival of Katori Hall's The Mountaintop, first seen in London in 2009, at the Young Vic in 2016, a production that toured with a partially changed cast. Weise has reassembled his original cast for this online revival, billed as a 'digital reading' but neither actor in this two-hander appears to be referring to a script—or, if so, they are hiding it well—but there are added stage directions, I'm guessing read by the director himself.
If there is any doubt about what prompted this online revival, playwright Katori Hall speaks for five minutes at the start about how the rights for which Dr Martin Luther King was fighting more than fifty years ago are still being fought for now. Donations are requested from viewers "to raise funds to support the legal costs incurred by those incarcerated whilst protesting" to the Mid-South Peace and Justice Center's Black Lives Matter Community Bail Fund, plus The Hideaway in Manchester and Emergency Release Fund in New York.
The play opens on screen with the image of a small motel room; superimposed over this is the video feed of Gbolahan Obisesan against a blank wall as we hear the opening stage directions. A similar video feed of Ronke Adékoluejo appears later. Obisesan is alone, shouting for his cigarettes to be delivered, phoning for room service to bring him up some coffee, shocked by the smell of his own feet as he takes off his shoes. The young, pretty maid (he clearly notices her looks), Camae, on her first day in the job, brings his coffee and stays to chat, to keep him company, also slipping him some of her own cigarettes (Pall Malls, his favoured brand) and a drop of medicinal whiskey in his coffee.
This is all pretty standard stuff for a two-hander in a hotel room, but well-written with some sharp dialogue. What makes this different is that the man is Dr Martin Luther King Jnr, the motel is in Memphis where he has just delivered his "I've been to the mountaintop" speech in support of striking sanitation workers and the date is 3 April 1968; anyone who knows their American history (or was listening to U2 in the '80s) will know that he was shot dead the next day.
On the surface, this is less a play about politics than about a man showing his human flaws, flirting with the maid while telephoning his wife to tell her he forgot to pack her toothbrush, being put right on some of his views about women and the working classes by a young black woman who even has the gall to demonstrate what he should say in his sermon the next day as she stands on the bed wearing his shoes delivering an impassioned speech that is more Malcolm X than King.
Later, he suspects that she has been planted to spy on him by the FBI and smashes up the room looking for bugs, then it all becomes somewhat metaphysical, which is a little jarring at first to a UK audience; as my late colleague Othniel Smith said of a different production of the play, "the fact that it takes religion and spirituality seriously... is something of a novelty over here." At this point, King is forced to confront his mortality and question his place in the world, while Camae explains to him that he has been chosen by God to do what he has done, and that others will take up the baton after him and continue the fight.
While the politics are in the background of a human story between two people (or so it seems at first), they are ever-present and, inevitably, come into the foreground as Camae challenges King's ideas and methods (she has seen him on the TV in Woolworths) and finally become his legacy, ending with a montage of images of struggles against oppression from that day in 1968 right up to the present time, including the now-familiar image of George Floyd with the words "I can't breathe". After his vision of the future, King considers a time he will never live to see when the things he has fought against are "no more".
Technically it isn't perfect, with some frozen video, sudden edits, wandering lip-sync and slight delays between lines that make the pace feel slow in some parts, especially without the visual aspects of the play, but the performances of Obisesan as King and, especially, Adékoluejo as Camae leap off the screen. It isn't the same as seeing King smashing up his hotel room or Camae stood on the bed delivering a firebrand speech, but it still works well enough to deliver the story and a message that is still, sadly, a key issue for our time.
Reviewer: David Chadderton