The Strange Undoing of Prudencia Hart
David Greig
Royal Court and National Theatre of Scotland
London Welsh Centre, King's Cross
–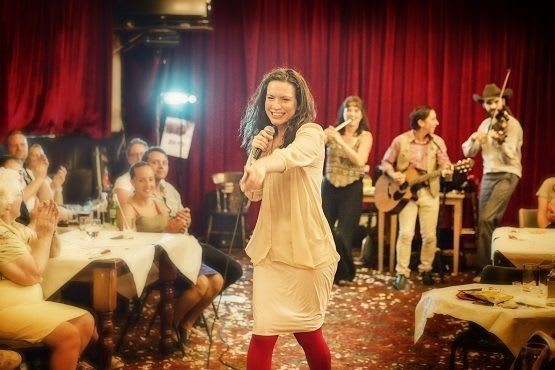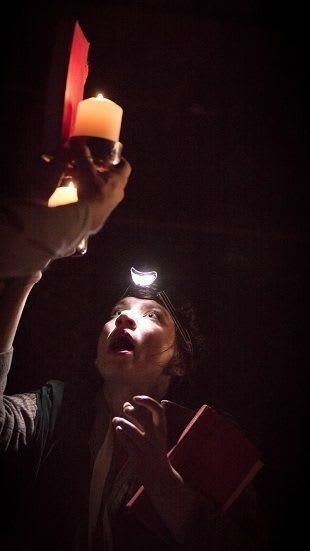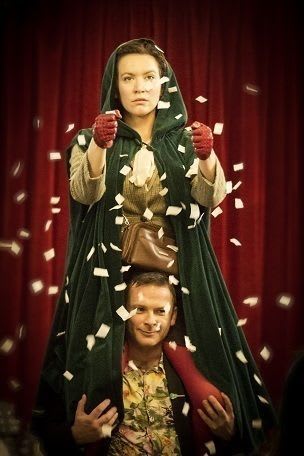 David Greig has always stretched himself. For every fun-filled Peter Pan or Charlie and the Chocolate Factory, there will be a searing Dunsinane or Damascus and somewhere between, intelligent entertainment such as Midsummer and Prudencia Hart.
This National Theatre of Scotland production, brought to London in association with the Royal Court, is designed to be performed in bars and now, rather ironically, finds itself in a Welsh community centre in England.
Its subject matter could not be more Scottish, a vision of contemporary life and love through the prism of the Border Ballads, stories of derring-do from around Shakespeare's time.
Greig has written a script the majority of which is delivered in witty rhyming couplets by a multi-talented cast of five.
They have their work cut out in a sweltering London, but under Wils Wilson's direction give their all.
The opening sees Melody Grove, taking over as the straight-laced titular academic, attending a conference in Kelso at Midwinter 2010. There, she is bored and insulted by her fellows and, along with boorish colleague, Paul McCole's Colin Syme, finds herself snowed in, chilly SFX created by the audience.
What had seemed like a worthy, musically-enhanced tale of poetic exploration transforms when, in an Asda car park, Prudencia encounters David Mackay playing hotelier Nick—a name to conjure with. He brings her to his B&B, which has hidden depths and a library to die for.
From there until close to the end of the 2½ hours, Prudencia Hart enters her own diabolical Border Ballad, providing rich entertainment.
This owes much to the home-spun musical accompaniment composed by performer, Alasdair Macrae and delivered by the actors, Annie Grace's voice haunting us all, as well as Georgina McGuinness's simple design aesthetic that is determinedly low tech but inventive and highly effective.
You will certainly not have a chance to see anything else quite like this intoxicating production outside Scotland. Indeed, even north of the border its like might not reappear for a generation. Therefore head down to Grays Inn Road while you have the chance. You will not be disappointed.
Reviewer: Philip Fisher