Tosca
Giacomo Puccini, libretto by Luigi Illica and Giuseppe Giacosa
English National Opera
London Coliseum
–

Listing details and ticket info...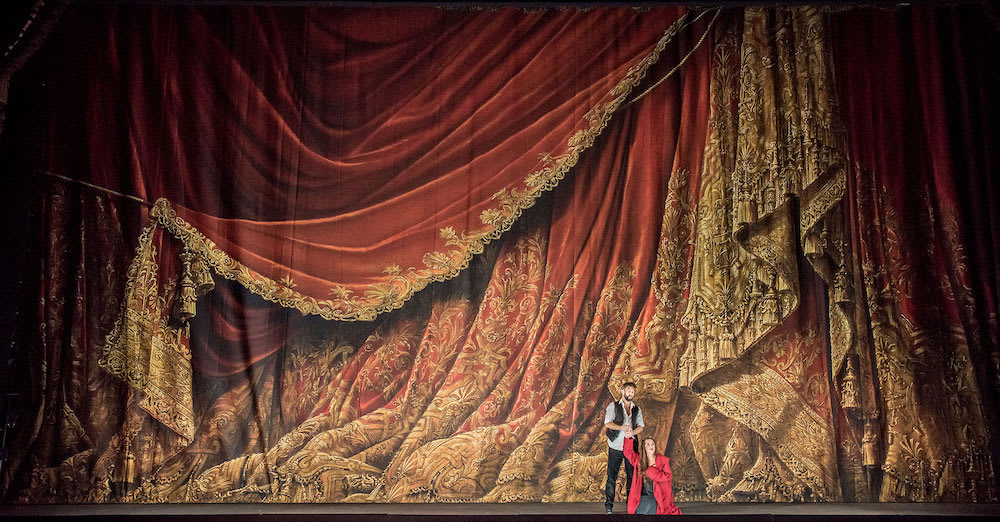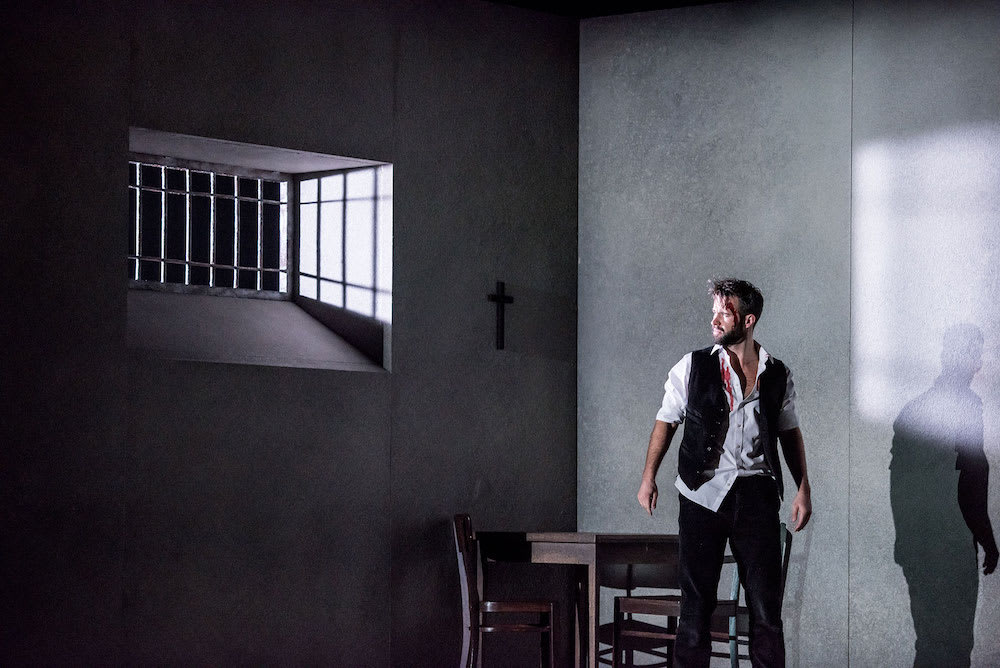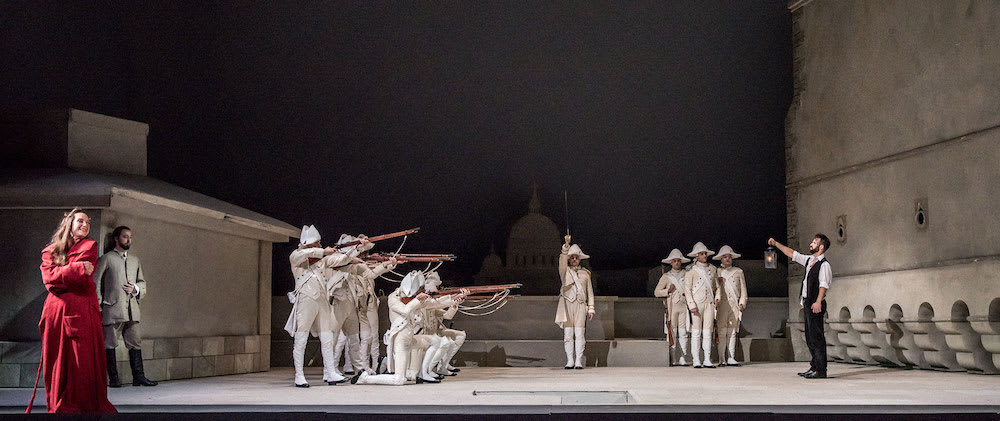 How well do you know Puccini's Tosca? Very well, no doubt, it's a popular opera. Well, tonight's feels freshly minted, if still in the traditional mould. Director Christof Loy's first production for ENO, seen at The Finnish National Opera in 2018, it is a must for both aficionados and first timers. Some will always find things to quibble about, but sceptic that I am about opera not in the original language, I am won over by the clarity of the production and some terrific performances. Visually it is stunning, the splashes of red, black and white.
It may be traditional, but look out for a mix of costume styles and cinematic influences. The court ladies and effete aristos are in spectral white, as are the soldiers who form the execution squad, pawns in the game between royalist and republican. Or are they already the afterlife? The church congregation in black could have stepped out of a Roberto Rossellini film, and Cavaradossi could be a modern dress Sydney Carton.
Christian Schmidt's stage design is opulent: the church and Scarpia's palace are as grand as the real thing. And simple: Cavaradossi's cell where he awaits death at dawn (the slanted piercing lighting is perfect) and dreams of Tosca, and the ghostly white stone ramparts where the drama resolves. Scarpia's sign of encroaching and enveloping power is in the plush red curtain (a metaphor auguring ill—descending like a guillotine behind the lovers) that sweeps across the back and impedes escape.
We know that the sham execution will be real, even though Tosca thinks it will be a stage set. After all, she is a diva used to faking life on stage, performing for the royal family. She tells Cavaradossi to die well—he does, he does, very realistically, with a lantern in his hand.
There's the tragedy. She's religious, trusting, naïve and jealous, easy to bait by Scarpia, who baits her as Iago did Othello. Taking inspiration from a French play La Tosca by Victorien Sardou (for Sarah Bernhardt), who might have taken it from Giordano's André Chénier, and even Ponchielli's La Gioconda (Ponchielli taught Puccini), Puccini and his librettists have a rich subject in the post French Revolution Napoleonic wars. Buy the programme, which is full of such interesting links.
Betrayal on many levels, love, lust, politics, religion, hypocrisy (Scarpia is happy to blaspheme in church, kiss the cardinal's ring), conflict, torture, false hope, the corruption of power—one can always find contemporary parallels. Scarpia alone at that long table—who does that bring to mind? The performances have to be convincing enough to draw us in. They are. One always listens out for the well-known arias, the lyrical duets, the duelling voices, all well matched tonight.
I am completely absorbed in the tragic tale. Swept along by Irish soprano Sinéad Campbell-Wallace's Tosca—what a powerful voice, and what a passionate match for Adam Smith's Cavaradossi, a dream team, he making his ENO debut. His voice jolts one to attention, a star in the making.
American baritone Noel Bouley was also to be making his ENO debut as Scarpia, but as fate would have it he's been unwell and can't sing—instead, another singer would be ventriloquizing for him at the side whilst he goes through the motions. I don't quite catch the name, but I think it is Roland Wood. I recollect this also happened with The Valkyrie last year at ENO. It's that time of year with so many viruses floating around. But what calibre of singers in the ENO stable to be able to pull up such a first-rate substitute... South African bass Msimelelo Mbali also makes his mark as escaping prisoner Angelotti.
Hearing it in English, in Edmund Tracey's excellent translation, seems to tune my ear in a different way, focussing more on the sounds coming from the orchestra pit under the baton of British conductor Leo Hussain. And they are wondrous—those ominous church bells... And that dying fading sound at the end of act 2.
But I do wish some audience members would wait till the end of an aria before shouting and stamping with approval. "E lucevan le stelle / the stars were shining", sung with such power and emotion by lyric tenor Adam Smith, is so beautiful, so crucial in the tragic denouement, that one ought to hear it to the end before roaring like a football crowd.
Under-21s are offered free tickets and there are discounted tickets for anyone under 35 for all ENO performances. There are thirteen performances in all, do try and catch one. A thriller to match any on television or in the cinema: a brilliant opening to the 2022/23 Season at the London Coliseum.
Georg Zlabinger is the associate director, Olaf Winter is the lighting designer, Federico Pacher is the associate set designer, Uta Baatz is the associate costume designer, Kimmo Ruskela is the associate lighting designer.
Reviewer: Vera Liber