Who's Afraid of Virginia Woolf?
Edward Albee
Steppenwolf
Booth Theatre, New York
–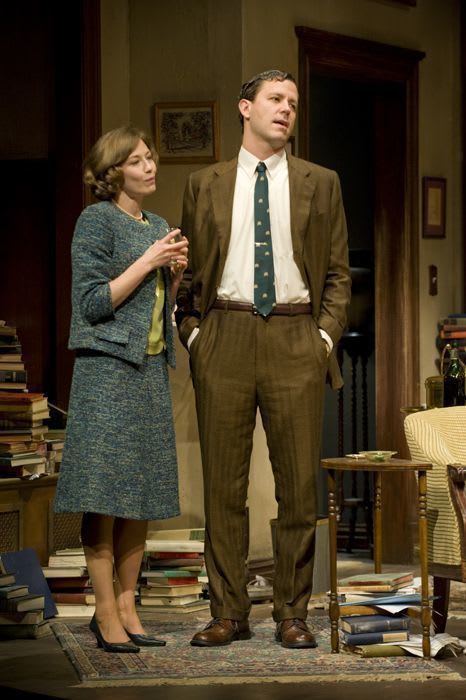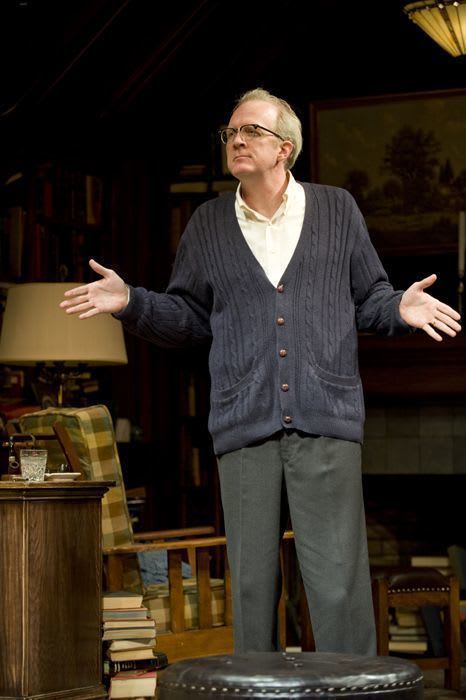 This Broadway production of Who's Afraid of Virginia Woolf? opened 50 years to the day after the play's première.
Such an occasion deserves something special and, almost inevitably, Chicago's excellent Steppenwolf company has come up with the goods, courtesy of Pam MacKinnon and her excellent cast.
In typical Steppenwolf fashion, this production benefits from painful realism, leaving all present wrung out by the end of 3¼ gruelling hours of marital war games in the duelling owners' overly-elaborate, book-piled living room / study.
In that sense, Albee's play follows a glorious line that might include The Taming of the Shrew, Private Lives and Look Back in Anger.
The central casting features one of America's most versatile theatre practitioners. Tracy Letts is on a roll. After his August, Osage County conquered Broadway and the National, Killer Joe has recently been turned into a movie directed by William Friedkin.
In addition to writing punchy plays, Letts is also an adept director and, as he proves here, a fine actor.
He plays mediocre college professor George opposite Amy Morton as Martha. She will be known to British viewers as the actress who created the part of married daughter Barbara in August.
The pair strike sparks off each other with astonishing alacrity, frequently leaving viewers uncertain whether their outlandishly provocative behaviour is part of some unsavoury game or in earnest.
Equally bemused are the two innocent, young house guests who arrive at two in the morning for a show of marital fireworks the like of which they will never previously have encountered.
Broadway debutants Madison Dirks as Nick and Carrie Coon as Honey practically manage to match the virtuosity of the leads, which is paying them the highest of compliments. In particular, Miss Coon makes a wonderful job of a character who gets to the point of hopeless drunkenness very early on. It was hard to believe at any point thereafter that the actress was sober and merely portraying a young woman under the influence, so convincing was her acting.
In the same way, it would have come as no surprise to learn that Letts and Miss Morton hate each other off stage, nor that Dirks has a serious rivalry with the leading man, who in turn alternates between timid subservience and magnificent moments of masterful aggression.
Who's Afraid of Virginia Woolf? really is a great play and this cast proves the point beyond doubt. On one level, the play gets right to the heart of what marriage can mean, seen from two perspectives. On another, it is surely suggesting that the inheritors of the names of the Washingtons have discovered that the Great American Dream is now long soured.
This is made all too clear as one realises that the younger couple represent the youthful hope that their elders had once shared but which is now translated into defeated resignation bordering on utter despair.
It is great news when Broadway can commemorate an anniversary in such fine style and perhaps some enterprising London producer might see whether there is any chance of a transfer.
Reviewer: Philip Fisher